Roundup: A look at where Indiana, Big Ten programs stand in way too early 2021-22 rankings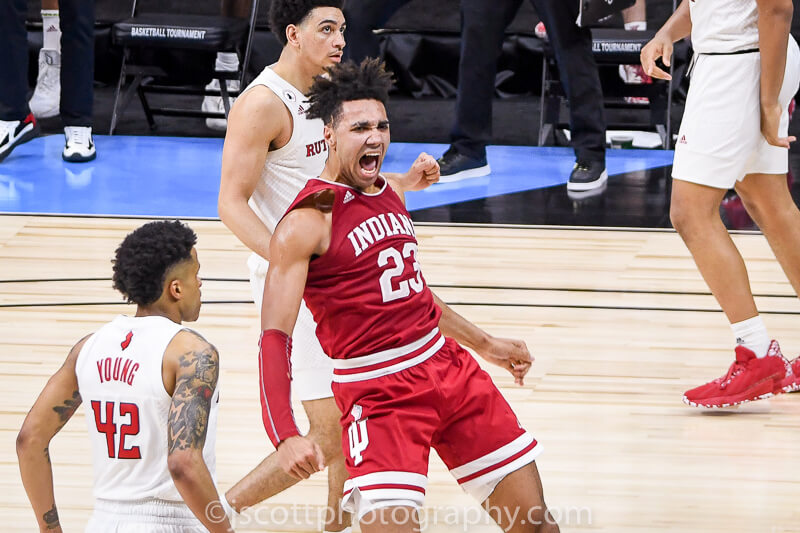 With the deadline to withdraw from the NBA draft now behind us, Big Ten rosters for the 2021-22 season have mostly taken shape.
Various national rankings have been updated in recent days as a result and Indiana is in the top 25 in one set of rankings and in the top 35 in two others.
Here's a look at where the Hoosiers and several other Big Ten programs stand with about four months to go until the regular season tips off:
The Andy Katz Power 36 on NCAA.com
These rankings are the most bullish on Indiana for next season as the Hoosiers check-in at No. 22.
According to Katz, "Trayce Jackson-Davis should flourish under Mike Woodson. IU is my sleeper pick for a deep run."
Several other Big Ten teams are in the top 36 as well, including Purdue (7), Michigan (9), Ohio State (11), Maryland (16) and Michigan State (24).
Given the order of the teams, Katz currently views Indiana as the fifth-best team in the conference entering the 2021-22 season.
The Jon Rothstein Power 45
Rothstein updates his rankings on a daily basis and in his most recent update, Indiana comes in at No. 33.
Interestingly, Rothstein projects an Indiana starting lineup as follows:
G Xavier Johnson
G Tamar Bates
G Miller Kopp
F Trayce Jackson-Davis
C Race Thompson
Other Big Ten teams in his top 45 include: Purdue (6), Michigan (7), Maryland (16), Ohio State (19), Michigan State (27), Illinois (34), Rutgers (36).
The ESPN way-too-early top 25
These rankings, maintained by Jeff Borzello, haven't been refreshed since late June. Indiana, however, is not among the top 25 here.
The Big Ten teams ranked include Ohio State (5), Purdue (6), Michigan (7), Maryland (14) and Michigan State (24).
Given that ESPN has yet to account for the departures of Duane Washington Jr., Darryl Morsell and Aaron Wiggins, it stands to reason that the Buckeys and the Terrapins will be taking a tumble once those changes are accounted for.
The CBS Sports top 25 and 1
Indiana is not in the mix here, either, in these rankings that are updated daily by Gary Parrish of CBSSports.com.
The Big Ten, though, is well represented.
Michigan is the top Big Ten team at No. 5 followed by Purdue (9), Maryland (18), Ohio State (19) and Michigan State (22).
Bart Torvik Ratings
These computer rankings are updated diligently and Indiana comes in at No. 30 here. Torvik publishes his statistical projections that help power these rankings and here's what Indiana's looks like: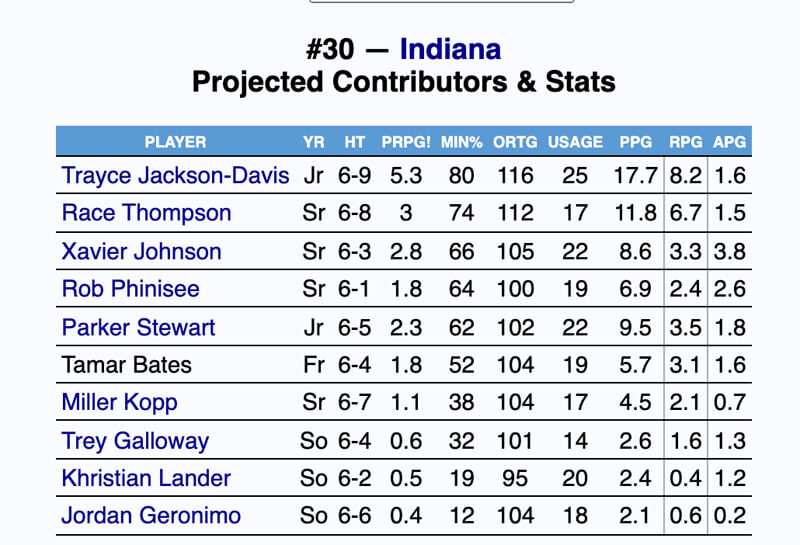 Other Big Ten teams in Torvik's top 50 include: Michigan (3), Ohio State (5), Purdue (6), Maryland (17), Michigan State (20), Illinois (25) and Northwestern (38).
Filed to: