6-Banner Sunday: Name, Image and Likeness Era Begins in College Athletics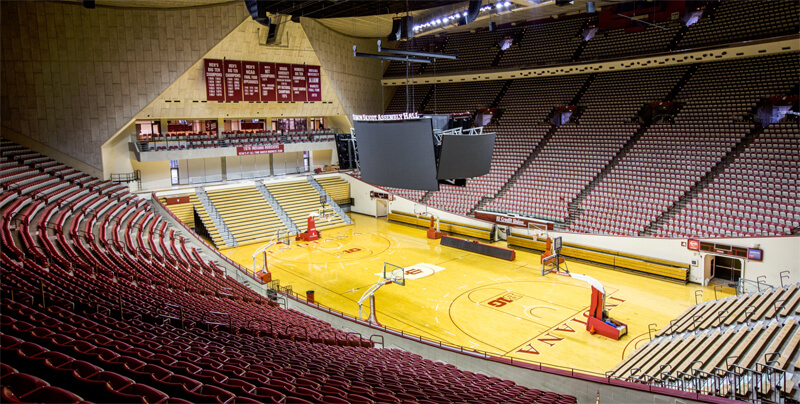 6-Banner Sunday is Inside the Hall's weekly newsletter in partnership with The Assembly Call. Nearly 8,000 Indiana fans receive the newsletter each week. In addition to appearing each week on the site, you can also opt to receive 6-Banner Sunday by email. A form to subscribe via email is available at the bottom of this week's 6-Banner Sunday.
Welcome to another edition of 6-Banner Sunday, a joint production between The Assembly Call and Inside the Hall where we highlight the five most essential IU basketball stories of the past week, plus take a look at how the other IU sports programs are doing.
It's finally here.
Changes to the NCAA's restrictive name, image, and likeness (NIL) rules have been discussed for many years — really ever since Ed O'Bannon successfully sued the NCAA. As with most things under the NCAA umbrella, however, change has been almost ludicrously slow.
But earlier this week, push came to shove and the NCAA was forced to act, or at least step aside, as a number of state laws came on the books that prevented the NCAA from restricting NIL laws for college athletes anymore. And rather that try to lord over a landscape with different rules in different states, the NCAA decided to relent so the schools and conferences can figure it out (for now).
And so, now the wild, wild west of open NIL rules in college sports begins. It's going to be fascinating to watch play out, especially at a school like Indiana that spent the last year preparing to hit the ground running if and when this day came.
That, and more, in this week's edition of 6-Banner Sunday.
• Indiana unveils policy for name, image and likeness
• Hoosiers will play at Syracuse in 2021 Big Ten-ACC Challenge
• Class of 2022 wing Brice Sensabaugh earns IU scholarship offer
• Pair of 2023 big men receive scholarship offers from IU coaching staff
• Hood-Schifino visits, Big Ten rosters continue to take shape for next season
• Hoosier Roundup
Banner #1 – Indiana unveils policy for name, image and likeness
The NCAA finally has a direction and guidance for name, image and likeness for its student-athletes. On Wednesday, the NCAA announced that it had approved a policy that offers guidance to athletes across all of college athletics on how to benefit from their name, image and likeness.
Given that NCAA announcement, many schools were ready with their own policies that were unveiled shortly after. Indiana, which has been at the forefront of NIL in college athletics, released its policy on Wednesday evening just hours after the NCAA announcement.
According to the policy, Indiana student-athletes can be "contacted directly in a variety of ways to arrange or discuss potential NIL agreements, including through Opendorse Deals or by connecting with them through their social media accounts, many of which are listed on the IUHoosiers.com roster pages for their respective sports."
Indiana also published this document with frequently asked questions on its name, image and likeness policy. Several IU men's basketball players already have deals in place as a result of the new name, image and likeness guidelines.
Banner #2 – Hoosiers will play at Syracuse in 2021 Big Ten-ACC Challenge
Another piece of Indiana's non-conference schedule for the 2020-21 season was revealed early last week as ESPN announced the matchups for the 2021 Big Ten-ACC Challenge.
For the second straight season, Indiana will play a road game in the challenge as the Hoosiers will travel to the Carrier Dome to take on Syracuse.
Syracuse finished last season ranked No. 42 in the KenPom ratings and as of Friday, is ranked No. 59 in Bart Torvik's preseason ratings for next season.
Here's the full list of matchups for the 2021 Big Ten-ACC Challenge:
• Notre Dame at Illinois
• Iowa at Virginia
• Indiana at Syracuse
• Minnesota at Pittsburgh
• Northwestern at Wake Forest
• Duke at Ohio State
• Florida State at Purdue
• Clemson at Rutgers
• Virginia Tech at Maryland
• Michigan at North Carolina
• Louisville at Michigan State
• Nebraska at NC State
• Miami at Penn State
• Wisconsin at Georgia Tech
Banner #3 – Class of 2022 wing Brice Sensabaugh earns IU scholarship offer
Indiana continued to expand its list of targets in the class of 2022 when it offered a scholarship to Lake Highland Prep (Fla.) wing Brice Sensabaugh last Monday.
An unranked prospect nationally, Sensabaugh battled knee injuries over his last two high school seasons, but has emerged this spring and summer as a target for several high-major programs.
In recent weeks, Sensabaugh has received scholarship offers from Indiana, Northwestern, Florida, Cincinnati, Virginia Tech, Ole Miss, Vanderbilt, Georgia Tech, Xavier and FIU.
In an interview with Inside the Hall, Sensabaugh said his primary contact with the Hoosiers thus far has been assistant coach Yasir Rosemond.
"Coach (Yasir) Rosemond, he reached out to me first," Sensabaugh said. "He described that he liked the way I played and that he felt my game was smooth. He liked how I competed, how I got up and down the floor and defended. He pursued me and got me on the phone with coach (Mike) Woodson. And they ended up extending a scholarship, which I am extremely grateful for and it's something that I'll be looking into in the future."
Banner #4 – Pair of 2023 big men earn scholarship offers from IU coaching staff
Two rising juniors added scholarship offers from Indiana on campus visits this week.
Bradley-Bourbonnais (Ill.) forward Owen Freeman visited Bloomington on Monday and left with a scholarship offer. Freeman, a 6-foot-9 forward, also has offers from Illinois, Ohio State, Butler, Iowa, Marquette, Purdue, Wake Forest, Western Illinois and Wisconsin.
Austin Parks, a 6-foot-9 center from Memorial High School in Saint Mary's, Ohio, visited campus on Wednesday and also landed a scholarship offer from the Indiana coaching staff. Parks also holds scholarship offers from Cincinnati, Dayton, Ohio State, Ohio, Toledo and West Virginia.
Banner #5 – Hood-Schifino visits, Big Ten rosters continue to take shape for next season
One of Indiana's top recruiting targets in the class of 2022, Montverde Academy guard Jalen Hood-Schifino, completed his official visit to Bloomington early last week.
Hood-Schifino, who was at one time committed to Pittsburgh, is rated the No. 26 player nationally in the 2022 class by the 247Composite and also took official visits recently to Tennessee and Georgetown. Hood-Schifino shared a few photos from his visit over on his Instagram page.
In Big Ten roster news, Duane Washington will not return to Ohio State next season and will stay in the NBA draft, which is a significant blow in the backcourt for the Buckeyes. Ohio State did receive good news, however, when EJ Liddell announced he will return to Columbus for his junior season. Iowa's Joe Wieskamp is staying in the NBA draft after a strong performance at the NBA combine last month. Kofi Cockburn, who played his first two college seasons at Illinois, is also considering a transfer while also keeping his name in the NBA draft pool.
On this week's episode of Podcast on the Brink, Alex Bozich of Inside the Hall and Dylan Burkhardt of UMHoops spoke for nearly an hour on Big Ten rosters for the upcoming season and touched on nearly every program in the league.
Banner #6 – Hoosier Roundup
Ari is off for the next few weeks, but we'll keep the Hoosier Roundup going.
• Have you seen what Kyle Schwarber has been doing? He's on one of the greatest home run binges of all time and was just named NL Player of the Month … before getting hurt on Friday night.
• Indiana had a record number of athletes earned the Big Ten Distinguished Scholar Award
• The field hockey team unveiled its new schedule.
• The football team secured another impressive commitment on the recruiting trail.
• Lilly King is confident with another Olympics approaching … as she should be!
• The women's soccer team added two new assistant coaches.
• The women's basketball team announced a grad transfer.
Thanks for your continued support for The Assembly Call. We'll be back next weekend with a new roundup.
Now go enjoy yourself a 6-banner Sunday.
— Jerod Morris and Alex Bozich … co-writers this week!
Filed to: