Q & A: Class of 2022 wing Brice Sensabaugh discusses exploding recruitment, Indiana scholarship offer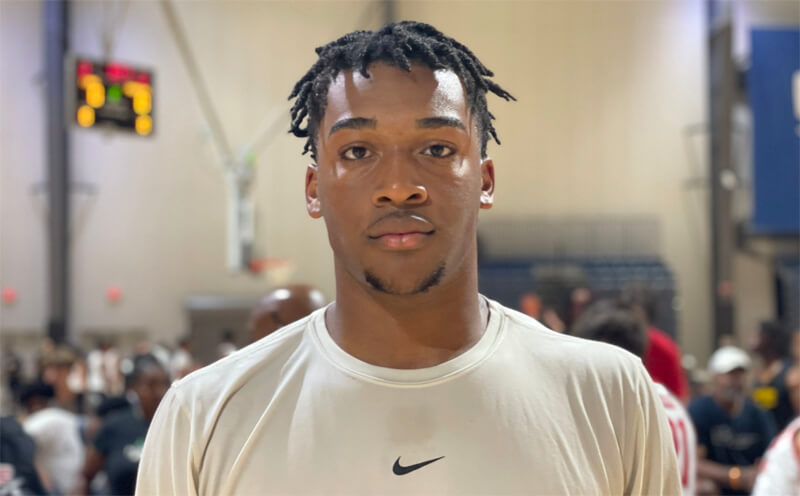 It's been a busy couple of days for class of 2022 wing Brice Sensabaugh, who has added a flurry of scholarship offers following his performance at the GBCA camp in front of college coaches last weekend.
The 6-foot-6 wing is currently unranked by 247Sports, but is quickly become a priority for high major schools. Florida jumped in with a scholarship offer on Tuesday for Sensabaugh, who plays Lake Highland Prep in Orlando. Sensabaugh visited the Florida campus on Tuesday.
Inside the Hall caught up with Sensabaugh late Tuesday to discuss his growing recruitment, the Indiana offer and conversation with Yasir Rosemond and Mike Woodson and more. Our complete Q & A is available below:
What have the last few weeks been like with all of the new scholarship offers?
"I wouldn't even say the past few weeks. I would say the past few days, actually, the last two and a half days. I've gotten more phone calls and texts than I have in the last ten months. I think the Georgia event (GBCA camp) was great to me. I loved competing and had a great time. It's been great, but I'm going to keep my head on firm and stay humble. I appreciate everything that is going on, but I'm going to keep level headed."
Just from doing some research, it looks like you battled some injury problems the last couple of years. What specifically were you dealing with and how did that impact your last two high school seasons?
"I had two meniscus surgeries. The first one, I was only out for like a month and a half, two months and I got hurt again. It was probably one of the hardest times in my life. I was going through some stuff that no 16-year old should ever go through. But I stayed true to God and I kept my head straight and I kept my head down and worked. I worked super hard and I came out of the two surgeries better than what I went in. And I'm just glad that I was able to display my hard work this past weekend. It's definitely paid off."
When would you say that you got back to 100 percent in terms of what you could do basketball wise?
"So my second surgery was September 28 (2020) and I was out until around late February (2021). That's when I started to get back to full speed."
You led the GBCA camp in scoring. What was working for you at the camp? What do you attribute the strong performance there to?
"Really, to be honest with you, I wasn't paying attention to anything other than trying to win. I have a super high competitive spirit and I hate losing. So whatever it took to win is what I did. And everything that comes with it is great. I just try to go out and win every time."
Indiana offered a scholarship on Monday. What was the conversation when they offered and what have you heard from them in terms of how they want to recruit you and what they like about your game?
"Coach (Yasir) Rosemond, he reached out to me first. He described that he liked the way I played and that he felt my game was smooth. He liked how I competed, how I got up and down the floor and defended. He pursued me and got me on the phone with coach (Mike) Woodson. And they ended up extending a scholarship, which I am extremely grateful for and it's something that I'll be looking into in the future."
You've visited Vanderbilt recently and Florida earlier today. When you go on visits, what are you trying to learn about these programs and what are you looking for ultimately when you do decide where you want to go to school?
"I really look to see how the staff and the players get along. And how the players and staff treat me. A family environment is definitely something that is important. I definitely pay attention to the academic side of the school because that comes before basketball. And then I'm focused on what the coaches have to say and how honest they are with me and if they express their confidence in me. It's definitely important to me that the coaching staff will back me if I end up going to their school."
What would you say are the strengths and weaknesses are of your game?
"I feel like my strengths are definitely my ability to get to the basket and finish and also shoot the ball. I feel like I'm a pretty polished all-around offensive threat.
"I want to sharpen and simplify my game. Depending on the school I go to, I know I'll have to modify my game to the role I'll be playing. I also want to work on my motor a little bit more. A lot of coaches have said they like my motor, but I feel like I can always work on that. Being able to run for days is definitely something that can help you in the game of basketball."
In terms of managing the process right now, it's definitely changed for you recently. What's it been like for you to have all of these new offers? It has to be rewarding for this to happen, but managing it has to be an adjustment as well, right?
"I'll go back to the time to the time I spent working in the dark with no attention at all for the past six or seven months while I was hurt. I feel like all of this attention is just a testament to the work I put in. I'm not going to say that I expected it, but I was definitely looking for it. I knew the work I was putting in was going to pay off eventually. There was a point in time where I had lost all of my confidence and I didn't even want to play basketball anymore. But I saw it through and I kept working. All of the attention is great, but what I went through back then has definitely helped me and made me a better person. I feel like I'm able to handle it pretty well."
Filed to: Brice Sensabaugh