Woodson eager to begin implementing new defensive philosophy at Indiana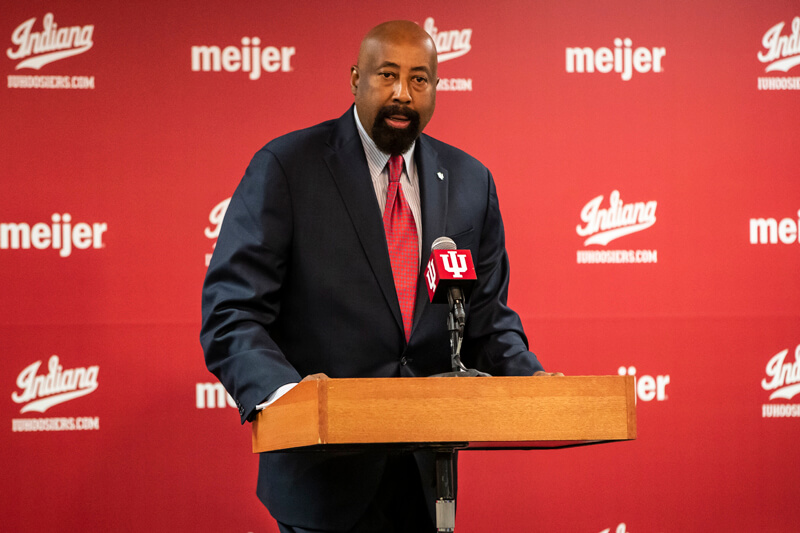 Indiana fans had a love-hate relationship with the pack line defense.
When the pack line was effective, the Hoosiers could play with and beat any team in the Big Ten. In Archie Miller's second season, the Hoosiers swept Michigan State with a pair of strong defensive performances.
And last season, Indiana beat Iowa twice, including an 81-69 stifling of the Hawkeyes in Iowa City.
But from the onset of Miller's tenure, there were pain points for the pack line that never completely went away. In Miller's first game as Indiana's coach, the Hoosiers were torched by Indiana State in Bloomington. The Sycamores hit 17 3-pointers in front of a stunned Assembly Hall crowd, spoiling Miller's debut as IU's coach.
Just a month later, Fort Wayne nailed 17 more 3-pointers in a 92-72 trouncing of Indiana in Bloomington. Skepticism of the system was established in Miller's first season as a result of those performances and never truly subsided.
Indiana did show improvement defensively under Miller from the Tom Crean era, but the Hoosiers were always vulnerable on the perimeter.
As Mike Woodson begins his first set of workouts with the 2021-22 roster next week, there will be a reset defensively and a move away from the pack line philosophy.
"Defensively, we are going to try to be a hard-ass team where we get after people and get stops and then rebound the ball and go try to have fun offensively," Woodson said on May 26. "That's kind of my mindset going in."
It shouldn't be surprising that Woodson, who played four seasons for Bob Knight from 1976 to 1980, would want to implement a more traditional man-to-man defense. Knight, who won three national championships at Indiana, built the IU program on a defense-first mentality.
Woodson, who has spent the entirety of his coaching career in the NBA prior to his arrival at Indiana in March, went into specifics on what Indiana players will focus on first defensively.
"The ball is the first and most important piece when you start building a defense," Woodson explained. "And somehow I got to get players to have pride in guarding the ball and not beg for help. That's where it starts."
It's not that Woodson is opposed to the help defense that the pack line required to be effective.
Woodson believes that help is an important concept for his teams to grasp after establishing the baseline expectation that every player is responsible for tracking the ball and their main.
"There is a lot of pieces in place that I got to put in because I'm very picky when it comes to defending," Woodson explained. "But it all goes hand in hand. Great defensive teams learn to protect the paint and they learn to get out to shooters. It's all about effort and putting forth just the will to defend. It ain't going to be perfect."
Not only will it be an adjustment for Woodson coaching in college for the first time, it will be a new system to learn for Indiana's returning players who have only played the pack line in college.
The opportunity to begin working on the new concepts will begin next week when the Hoosiers conduct their first workouts as a team.
Freshman Tamar Bates has already arrived in Bloomington as have Pittsburgh transfer Xavier Johnson and South Florida transfer Michael Durr, according to their Instagram stories posted Thursday. Freshman Logan Duncomb is expected to arrive today.
"I know I get to start on the floor with these guys on the 10th, so I'm looking forward to that," Woodson said. "I'm really looking forward to that, because, again, you never know what you got until you put them on the floor and start doing drills and giving them schemes and things of that nature on both ends of the floor.
"My biggest hurdle I think is how quickly can they pick it up. You just don't know until you get out and start practicing."
Filed to: Mike Woodson