6-Banner Sunday: Indiana fills open scholarship with signing of Michael Durr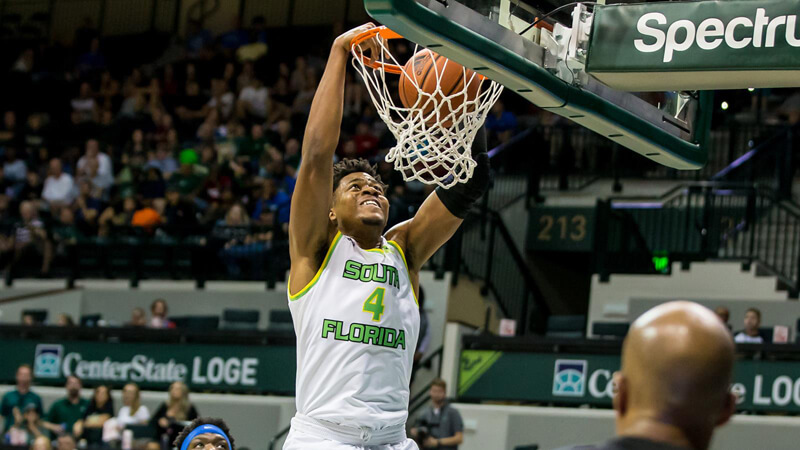 6-Banner Sunday is Inside the Hall's weekly newsletter in partnership with The Assembly Call. More than 7,500 Indiana fans receive the newsletter each week. In addition to appearing each week on the site, you can also opt to receive 6-Banner Sunday by email. A form to subscribe via email is available at the bottom of this week's 6-Banner Sunday.
Welcome to another edition of 6-Banner Sunday, a joint production between The Assembly Call and Inside the Hall where we highlight the five most essential IU basketball stories of the past week, plus take a look at how the other IU sports programs are doing.
This week saw both a new addition to the roster and next year's schedule. We also have an honor for an incoming Hoosier freshmen and a special award for Assembly Hall.
Here is this week's edition of Assembly Call radio. Also, Jerod Morris had an exclusive interview with former IU great Brian Evans in 'Hoosier Storytime'.
• Indiana lands South Florida transfer Michael Durr
• Indiana adds Merrimack to 2020-2021 Schedule
• Isaac Green set to join staff as a graduate assistant
• Indiana signee Tamar Bates named to 2021 Jordan Brand Classic roster
• Assembly Hall voted Big Ten's best arena
• Hoosier Roundup
Banner #1 – Indiana lands South Florida transfer Michael Durr
This week Indiana added some front court depth with the addition of South Florida transfer Michael Durr. Durr played three years for the Bulls and has two years of eligibility remaining because of the NCAA's COVID-19 policy.
Landing Durr helps to soften the blow of Joey Brunk's departure to Ohio State this offseason. The Hoosiers now have two new big men on the roster for next season with Durr and incoming freshman, Logan Duncomb. This move will allow Duncomb time to make the adjustment to the physicality of the Big Ten, as well as allowing Trayce Jackson Davis to spend some time at his more natural position at the four spot. It also gives Indiana another big man in the fold assuming Trayce Jackson Davis makes the decision to go to the NBA at the end of next season.
Banner #2 – Indiana will play Merrimack as part of 2021-2021 schedule
Last week the Big Ten released each Big Ten team's opponents for next season, and this week it was reported that Indiana will play Merrimack of the Northeastern Conference next season. Merrimack is in just its third year of NCAA Division 1 competition. This matchup should allow Indiana an opportunity to develop some team chemistry before the rugged Big Ten season gets underway.
That is something that was largely lacking during the COVID impacted non-conference schedule last season. The only other definite non-conference opponent on the schedule so far is a matchup with Notre Dame in Indianapolis. Expect more news like this in the coming weeks as the Hoosiers fill out their schedule for next season.
Banner #3 – Isaac Green set to join Indiana staff as graduate assistant
Inside the Hall has a great story on the addition of Isaac Green as a graduate assistant for the men's basketball team.
Get familiar with the name, because I have a feeling that it is a name that will become awfully familiar to college basketball fans in the future.
Remember, this is the same way a young Mike Krzyzewski got his start, as a graduate assistant at Indiana under Coach Knight.
Banner #4 – Indiana signee Tamar Bates lands on 2021 Jordan Brand Classic roster
Incoming freshmen Tamar Bates was named to the 2021 Jordan Brand Classic Roster along with six other Big Ten players. Bates is the number 28 player in the country and a five-star recruit per 247sports.com composite rankings. He was a late addition to the roster after new IU coach Mike Woodson took over.
Bates comes to Indiana from the IMG Academy where he averaged 11.4 points on 40% three-point shooting. Before going to the Academy, he was a star on the Piper High School basketball team in Kansas City. As a junior he averaged 22.1 points and 5.0 rebounds in competition there.
Banner #5 – Assembly Hall voted the Big Ten's best arena
Assembly Hall was voted best Big Ten arena in a fun little Twitter poll conducted by Fox College Hoops. In the poll, Assembly Hall garnered 43.6% of the vote, while Purdue's Mackey Arena came in a distant second at 33.3%. The Breslin Center was third with 16% of the vote.
The fact that Indiana has the second largest following on Twitter of any college basketball team in the country helped Assembly Hall claim the top spot. It is a well-deserved honor for an amazing place to watch a college basketball game.
Banner #6 – Hoosier Roundup
IU Soccer's NCAA Tournament run ended in the national championship game, while baseball has struggled all week.
• Soccer lost the National Championship to Marshall in overtime. As I wrote in the Assembly Call Community after, it was a miracle the Hoosiers made it all the way to the title game, given their struggles in the midfield all season.
• Baseball lost to Michigan in their series finale. It got worse throughout the week as a struggling Illinois pitching staff befuddled the Hoosiers in a 3-2 loss. It then hit rock bottom this weekend with two losses to Nebraska, ending the Hoosiers Big Ten Title hopes and putting the NCAA Tournament in jeopardy. I wrote a column for the Assembly Call Community about the struggles of Friday starter Tommy Sommer.
• Football welcomed a couple of new additions to the team.
• Softball wrapped up their season with a 3-2 win over Maryland.
• Track and Field saw a strong second place finish for the women at the Big Ten Championship. This qualified 35 Hoosiers for the NCAA East Preliminaries.
• Rowing finished fifth at the Big Ten Championships.
• Men's Golf placed ninth at the NCAA Regionals in what was a turnaround season for the team after several years of major struggles.
Thanks for your continued support for The Assembly Call. We'll be back next weekend with a new roundup.
Now go enjoy yourself a 6-banner Sunday.
Matt Moore (@MattHoopsGuy1)
Staff Writer
The Assembly Call
Filed to: