A closer look at the Michael Durr addition and his potential impact at Indiana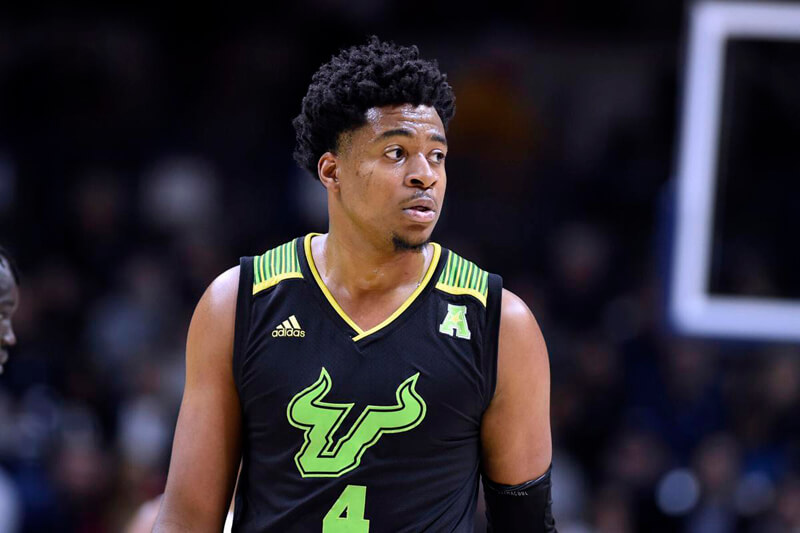 Earlier this week, Indiana filled its scholarship that was made available following Jerome Hunter's departure with South Florida transfer Michael Durr.
The 7-footer, who is originally from Atlanta, played three seasons in the American Athletic Conference and was a three-star recruit out of high school.
Over three seasons for the Bulls, Durr averaged 6.7 points, 6.5 rebounds and shot 47.2 percent from the field over 87 games.
In an interview with Inside the Hall's Tyler Tachman shortly after announcing his commitment on social media, Durr cited his belief in new coach Mike Woodson and his prior relationships with assistant coaches Yasir Rosemond and Kenya Hunter as the driving factors in his decision:
On his relationship with the coaching staff:

"I know coach Ya (Yasir Rosemond). He's actually from Atlanta. He's been around and he was at a different school before he came to Indiana. Coach (Kenya) Hunter coached at UConn and they were in the same conference as my previous school. We played against each other and he was very familiar with my game. And coach (Mike) Woodson, obviously everybody knows about him. Once he started recruiting me and giving me his pitch I was on board."
Durr is one of three transfers that the Hoosiers have added to the program since Woodson's hiring in late March and each player is expected to make an impact next season.
In Durr's case, he addresses a need for legitimate size and also depth in the frontcourt that has been lacking in Bloomington.
Unlike Indiana's big men in recent seasons like De'Ron Davis and Joey Brunk, Durr should be able to provide more in terms of athleticism, mobility and rebounding. While Davis and Brunk were certainly capable of carving out space in the paint at times and scoring at the rim efficiently, they were also more limited from an athleticism standpoint.
Indiana's 2019-20 season, arguably Archie Miller's best in Bloomington, was a difficult watch in the frontcourt because Davis and Brunk offered little in terms of moving around the floor and clearing the way for opportunities for Trayce Jackson-Davis.
Watching Durr on film, he's very active on the glass and also at challenging shots. While his block totals are low for a player of his size, he does get off the floor well and an emphasis on developing that part of his game this summer could lead the improvement. He was fourth in the AAC last season in offensive rebounding percentage (11.8) and third in defensive rebounding percentage (23). His block percentage was eighth-best in the conference.
While the focus when evaluating players entering a program are often skewed towards their offensive capabilities, a good part of Durr's value should lie with making Indiana a more versatile team in the frontcourt defensively. Durr should help relieve some of the pressure defensively from Jackson-Davis and Race Thompson, who were often undersized at the rim against some of the Big Ten's best bigs. He's not overpowering physically, but at 250 pounds, he is big enough to hold his own in most situations.
From an offensive standpoint, there are things to like and also areas where Durr's improvement could lead him to a more prominent role.
As he makes his way to Bloomington next month, Durr said the pitch from the coaching staff was centered on him playing the five:
On the recruiting pitch from Mike Woodson:

"Basically how he can help me take my game to the next level. That was very big for me because that was what I was looking for. Go to a situation where they can help me and my game take the next jump. Also with the team he said he's having next year, I just felt like this was the right choice."

On how he fits in with the program:

"I fit right in. Being the five-man down low. He's very familiar with my game so he knows the things I can do. He just wants to help me take it to the next level."
He's steadily shown improvement as a free throw shooter over his career. As a freshman, Durr knocked in just 53.8 percent on 104 attempts. He improved to 63.3 percent from the line as a sophomore on 79 attempts and last season, he shot 79.3 percent on 58 attempts.
Durr's improvement and comfort level with his shooting stroke led him to attempt 19 3-pointers as a junior last season and he knocked in just four of those attempts (21.1 percent).
It remains to be seen whether the Indiana coaching staff is going to give him the liberty to hoist the occasional 3-pointer, but if he can exhibit some improvement there, it will be a good tool for him to have in an IU offense that is expected to be more of an open concept.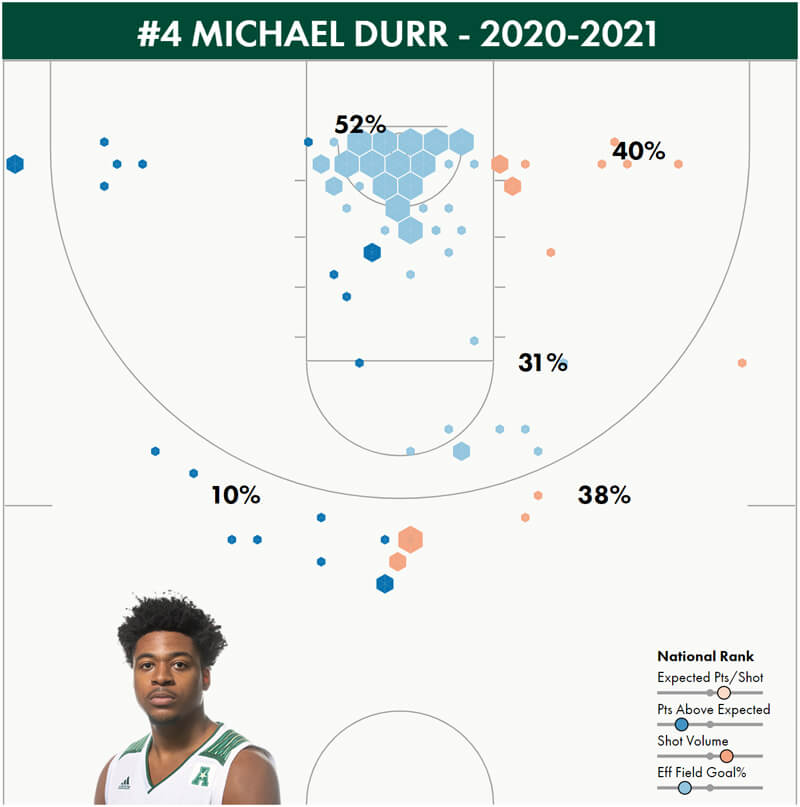 Durr's 2-point shooting last season wasn't great as he knocked down 44.5 percent of his 2s overall and 42.6 percent in AAC play. Synergy Sports considered him to be "average" in terms of his finishing in post-up situations at just .767 points per possession. He did shoot 52.3 percent at the rim and 46.8 percent of his field goal attempts overall came at the rim, according to Hoop-Math.
One theme with what Indiana has done in terms of roster turnover the last two months is that Woodson and the staff felt the roster needed more experience at just about every position.
In Durr, Miller Kopp and Xavier Johnson, Indiana is adding a trio of players that have started a combined 240 games in college.
While the roles of all three additions are unlikely to be the same as their previous stops, getting older guys to mix in with a solid nucleus that has plenty of experience should make Indiana less reliant on its young players in Woodson's first season.
In a Big Ten that will continue to reward experience and quality depth across positions, filling the gaps the staff saw on the roster via the transfer portal rather than with all freshman should be conducive to Woodson's goal of winning right away at Indiana.
Filed to: Michael Durr