Isaac Green takes the next step in his young coaching career as a Graduate Assistant at Indiana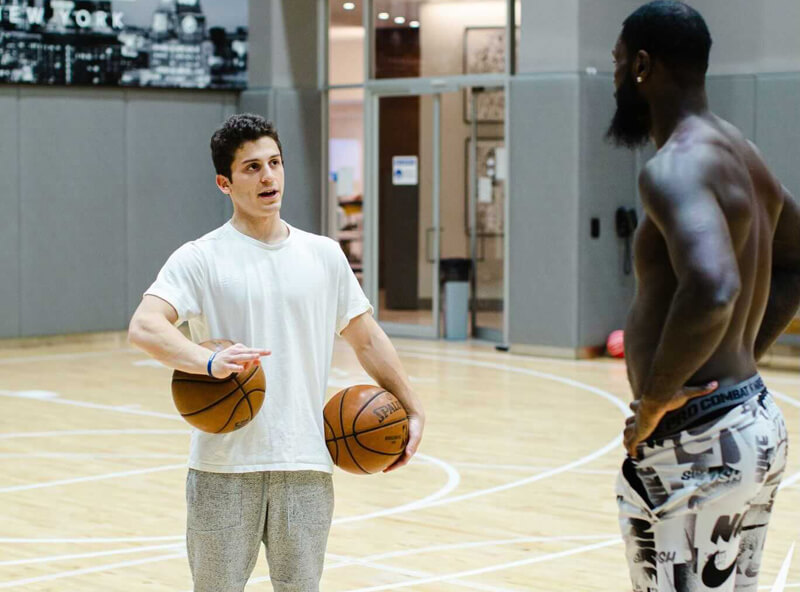 At around 8 a.m. on April 7, Mike Woodson told Isaac Green that he wanted to have a meeting. It had to be in-person because that's how Woodson operates. The problem: Green was in his hometown of New York City finishing up online classes. Woodson was in Bloomington. It was about an 11 and a half-hour drive away.
But Green didn't hesitate. This opportunity — a chance to coach at IU — was one that he had been waiting for.
"I got right in my car and drove right out there," Green said.
He hopped in his red 2014 Jeep Wrangler, lowered his foot on the gas pedal and drove straight through without stopping to sleep. He made a few bathroom breaks and food stops. Other than that, he didn't want to slow down.
"My friends always joke with me that I have to stop and pee like five times on the ride," Green said. "But I tried to just exhaust the duration of the miles that it said on the GPS. If it said another 100 miles on the road, I tried to everything in my power to control myself for those 100 miles."
At around 6:30 a.m. on April 8, Green was waiting outside of Cook Hall for his meeting. By the end of the conversation, Woodson offered Green a job as a graduate assistant on the IU coaching staff. Green accepted.
"It was such a good opportunity for me to be around such a knowledgeable staff at a familiar and special place to me," Green said. "(Have a) selfless approach. Unwavering at all costs, a commitment to building a winning culture."
Green is just 21 years old. On Tuesday, he finally had his wisdom teeth removed. The week before, he officially graduated from IU's Kelley School of Business. Yet Green has already worked with enough NBA players to fill an All-Star roster. James Harden, Carmelo Anthony, Russell Westbrook and Blake Griffin are among those Green has trained.
Green's passion for coaching began when he was ten years old. On his 11th birthday, Green remembers, his dad bought him a book about coaching with tips from Dean Smith, Roy Williams and Mike Krzyzewski. He studied coaching techniques and how to build a culture.
When Green was 15 years old, he got his first coaching job as an assistant in the PSA Cardinals AAU program based in New York. He helped with the 17U team that included future pros Ty Jerome, Omari Spellman and Mo Bamba.
But being so young in the industry, Green heard criticisms that he didn't belong. In response, he let his mentality and actions speak for themselves.
"Anytime that you're enthusiastic, have a good attitude and treat people the right way, people will love having you around and you can make your impact in any team," Green said. "Whether that be in sport or business or school. Good energy is hard to come by."
A few years ago, Green started working with and learning from well-known New York-based trainer Chris Brickley. Green spent the last year assisting with workouts while completing online coursework.
He has tried to absorb all the knowledge he could, especially noting the work ethic of top-tier athletes. One time, after landing in New York around 12 a.m., Donovan Mitchell texted Green that he wanted to get shots up. Green would also often meet Cole Anthony for late-night training.
"The unwavering commitment of what it takes to be great," Green said. "The work ethic, the consistency in your habits, and the passion that it takes to be the best in your field. Being able to translate some of those experiences to IU. Being able to take that foundational skillset and learn and learn and learn."
Then, during their meeting in April, Woodson talked about how IU molded him into the person he is today. It was a feeling that Green could directly relate to after leaving his home in New York to study in Bloomington.
"It's not just a school, it's not just a basketball program, it's a place where a lot of people have grown from young men to men," Green said.
Over the years, Green has continued to study the craft. He's pulled from the coaching approaches of Phil Jackson, Nick Saban and Sean McVay among others. Now, Green will have a chance to work with the Indiana players, many of which he already has pre-existing relationships with.
"Just building a relationship with each guy, obviously uniquely because everyone is different," Green said. "Just showing them that you really care about them, their development as a person and development as a player."
On Sunday, Green will make the trip back to Bloomington to start his new job. But first, he has to fully recover from the procedure on his wisdom teeth.
Filed to: Isaac Green