6-Banner Sunday: Big Ten opponents set and Jerome Hunter leaves the program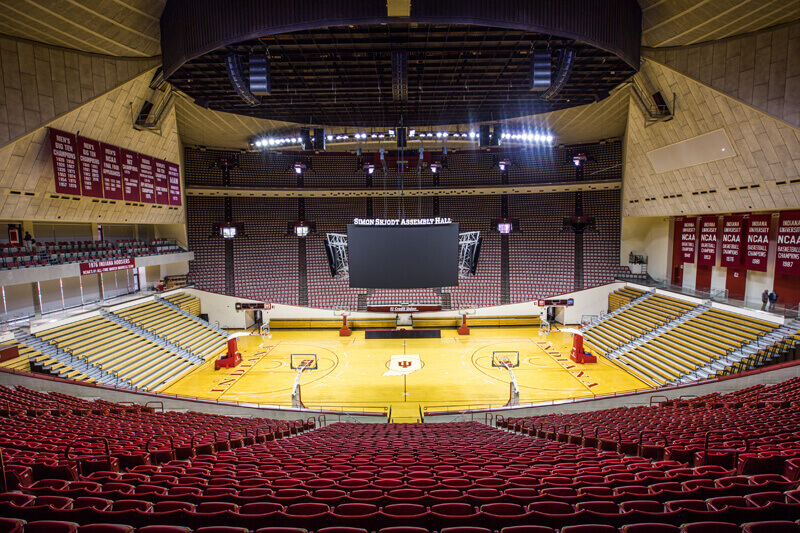 6-Banner Sunday is Inside the Hall's weekly newsletter in partnership with The Assembly Call. More than 7,500 Indiana fans receive the newsletter each week. In addition to appearing each week on the site, you can also opt to receive 6-Banner Sunday by email. A form to subscribe via email is available at the bottom of this week's 6-Banner Sunday.
Welcome to another edition of 6-Banner Sunday, a joint production between The Assembly Call and Inside the Hall where we highlight the five most essential IU basketball stories of the past week, plus take a look at how the other IU sports programs are doing.
Let's begin this week with a quick note from Jerod Morris…
After doing a fantastic job writing this newsletter over the past year, last week was Tyler Tachman's last edition of 6-Banner Sunday. He will be interning at The Oregonion this summer. We wish him the absolute best during what will be a great opportunity for his young and promising career.
In the meantime, Tyler is still doing some writing here at Inside the Hall, and he even got retweeted by Dickie V this week. Not bad, Tyler. Not bad.
Make sure you are following Tyler on Twitter: @Tyler_T15. And if you've enjoyed his work over the last year, please be sure to tell him.
Stepping into Tyler's shoes for 6-Banner Sunday, and following in the footsteps of the many terrific student writers who preceded him, will be Matt Moore.
Unlike Tyler and the last few 6BS writers, Matt is not a current IU student. But he is a lifelong IU fan who has been writing about the Hoosiers for FanSided's Busting Bracket website. He is also a member of our private IU basketball discussion community, which is where we connected.
So please join me in welcoming Matt to the world's longest-running and most widely circulated weekly IU basketball email newsletter.
And while Matt may have thought that getting started in mid-May would mean a quiet, ho-hum week, the never-ending world of Indiana basketball news had other ideas with a player departure, a new coach, a Tonsoni takeover, and another IU sports program reaching the cusp of adding another star.
In this week's edition:
• Jerome Hunter will not return for the 2021-22 season.
• The 2021-22 Big Ten opponents were announced.
• Xavier Johnson sees himself as a mentor.
• Keith Smart hired as an assistant coach at Arkansas.
• Indiana men's soccer advances to national title game.
• Hoosier Roundup
Banner #1
Jerome Hunter will not return for 2021-22 season
Coach Mike Woodson and the men's basketball program announced on Thursday that forward Jerome Hunter will not be returning to Indiana for the 2021-22 season. No reason was given for Hunter's departure.
At first glance, Hunter seemed to be a great fit for Mike Woodson's wide-open, pro-style offense. It does not seem like fit was the problem.
If the decision to leave was Hunter's, perhaps he was concerned with the battle for playing time at his position. With the addition of Miller Kopp, and the hope for a broadening of Race Thompson's game to make him more of a perimeter threat, minutes may have been hard to come by for Hunter.
There was disciplinary action taken against Hunter this past season, in the form of an in-season suspension for apparent team rules violations. Not much was said by the previous coaching staff as to what landed Hunter in Archie Miller's doghouse.
With that said, Hunter had made it through the first wave of transfer portal madness without hinting that a move was impending. It seemed as though the roster for next season had taken shape. Yet, we find ourselves here, weeks later, with Jerome Hunter on his way out.
The silver lining to Hunter's departure is the roster is already deep and there are still several good players in the transfer portal, meaning Indiana could add another helpful piece to their roster for next season.
Indiana does not appear to have any interest in 'rebuilding'. They are ready to win now. If they can find someone who will help them do that right away, they'll use the scholarship.
Coach Tonsoni led a discussion about Jerome Hunter's departure on this week's edition of Assembly Call Radio. He was joined by his sons Brent and Brandon in the first "Tonsoni Takeover" episode. Both of Coach's sons were D1 managers (at Indiana State and Indiana, respectively) so they had an in-depth conversation about what it's like behind the scenes at a big-time college basketball program.
Banner #2
The 2021-22 Big Ten opponents were announced
The Big Ten released each team's conference opponents for next season. Below is a look at what Indiana is facing in the Conference next season:
HOME & AWAY – Maryland, Minnesota, Nebraska, Ohio State, Penn State, Purdue, Wisconsin
HOME ONLY – Illinois, Michigan, Rutgers
AWAY ONLY – Iowa, Michigan State, Northwestern
A couple of things jump out.
Number one, Indiana only has to face Michigan once, and that game is in Bloomington. No return trip to Crisler Center in 21-22 is probably a good thing. Michigan is the reigning Big Ten Champion and brings in the number one recruiting class in the country this coming season. Having the Wolverines only at Assembly Hall, hopefully with 17,000-plus hungry Hoosier nation in attendance, is the ideal scenario.
Michigan State is also a one-timer next year which is always a good break, even if the game is played in East Lansing. All in all, Indiana's draw for next season looks rather good.
Banner #3
Xavier Johnson sees himself as a mentor
The Herald Bulletin out of Anderson had a great piece this week on Indiana's new addition at the point, Pitt transfer Xavier Johnson. In the article, linked below, writer Kevin Brockway wrote:
Johnson said he would like to serve as a mentor to Lander. "I really do want to help Khristian become one of the best point guards as well, just having the same leadership role and just coming in, being ready," Johnson said.
Johnson's attacking style should be a great model for Lander, and both young men will need to be focused on limiting turnovers and becoming more consistent as shooters (especially Lander).
Last year, Lander looked like a young man who had indeed classified up a year. His youth showed, but so did his potential. Xavier Johnson is a guy who has been through the ACC fire a couple of times and has proven his ability to impact a basketball game on both ends. Lander can learn a lot from "X," and competing against him in practice should be good for the young sophomore.
Indiana should be deep at the point guard position, with Robert Phinisee logging some minutes there too.
Banner #4
Keith Smart hired as an assistant coach at Arkansas
This week we learned that Hoosier legend Keith Smart has been hired and assistant coach by the Arkansas Razorbacks. Smart is best known for his 1987 baseline jumper that propelled Indiana to its last national championship. He went on to have a cup of coffee with the San Antonio Spurs before spending several years playing overseas and in the CBA.
Smart turned to coaching in 1997, sliding over a few seats from his role as a player with the CBA's Fort Wayne Fury into the head coach's seat. From there he managed to land an NBA coaching gig as an assistant coach with the Cleveland Cavaliers in 2000.
Eventually, Smart earned himself a trio of head coaching opportunities in the League, with Cleveland, Golden State, and Sacramento. His NBA head coaching record is 93-170. His last NBA job was as an assistant with the New York Knicks. He was terminated in 2019 along with his head coach, David Fizdale, after the Knicks failed to show the expected improvement.
Even with all that experience, Smart's current foray into college basketball coaching will be his first. He has always been an NBA guy. Interestingly enough, Keith's new boss at Arkansas, Eric Mussleman, is also a former NBA guy. Perhaps that is why Mussleman saw the value of bringing Smart in.
In other coaching staff news, it appears Indiana has landed on Isaac Green as a graduate assistant. The story of his interview with Mike Woodson is a good one, and he clearly has the background to be successful in his new role.
Banner #5
Indiana men's soccer advanced to national title game
It is a shame that so many people around Indiana do not realize how good Indiana University men's soccer is, with eight national championships already and the program now just one game away from number nine.
The Hoosiers will face Marshall on Monday evening for the national championship.
There is a great article in the Indy Star that is worth a read: Indiana's return to College Cup anything but ordinary and I also recommend this piece about the Yeagley family legacy in Bloomington, written by the Hoosier Network's Jared Kelly: A dynasty of destiny: Inside college soccer's greatest family
The Assembly Call's own Aaron (Ari) Shifron has been in Cary, North Carolina this weekend and covered Indiana's thrilling semi-final win over the second-seeded Pitt Panthers. You can read his in-depth account and analysis inside of the community.
Banner #6
Hoosier Roundup
Besides soccer, baseball continues to chase a Big Ten title with just a handful of games left.
• Before beating Pitt in the College Cup as described above in Banner #5, soccer beat Seton Hall to get there. Off the pitch, star forward Victor Bezerra was named a finalist for the MAC Hermann Trophy, which goes to the player of the year in college soccer and is considered the most prestigious award in the sport.
• Baseball beat Nebraska to take three out of four games last weekend. They announced a makeup game with Illinois Tuesday, before a huge series next weekend with Nebraska (and Ohio State) who is 1/2 game ahead of IU for first place in the Big Ten. So far this weekend they have split their first two games with Michigan.
• Teri Moren was named a coach for Team USA at the u19 World Cup.
• Football added Old Dominion to the schedule for 2025.
• A couple of swimmers earned post graduate scholarships.
• Softball had a couple players earn Big Ten honors and a former player gets to compete for the Israeli National Team. This weekend they beat Maryland to open the series before losing twice on Saturday.
• Water Polo handed out their postseason awards.
• IU's new Pfau Golf Course was once again honored as one of the best in North America.
Thanks for your continued support for The Assembly Call. We'll be back next weekend with a new roundup.
Now go enjoy yourself a 6-banner Sunday.
Filed to: