Mike Woodson isn't afraid to adapt coaching philosophies, embrace a modern style of play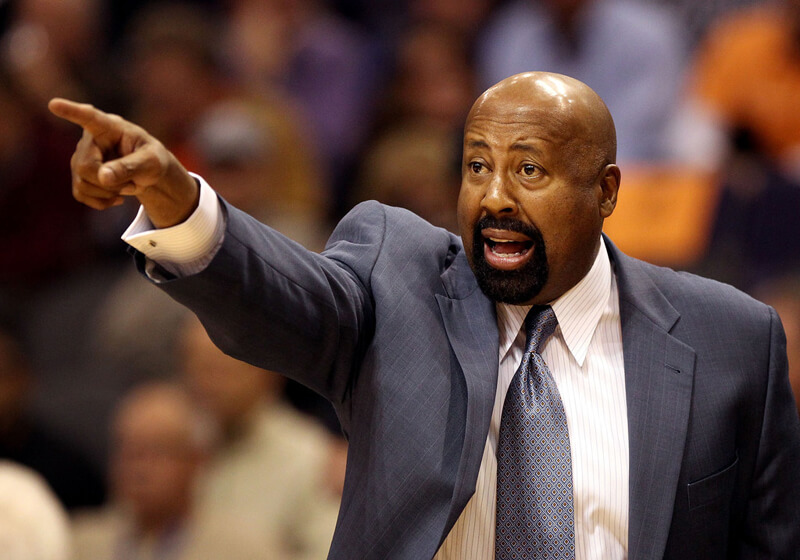 By the end of his introductory press conference, Mike Woodson made it clear that embracing a modern style of play at Indiana would be a priority. Woodson, who turned 63 years old in March, spent his playing career at Indiana during a different era of basketball, one that wasn't filled with positionless athletes or defined by a style increasingly focused on the 3-point shot.
But less than 24 hours into his tenure at Indiana, Woodson made it evident that his old-school past wouldn't shape his current coaching philosophy. He talked about implementing a four-out one-in offensive system that highlights versatile athletes in a free-flowing system. He made a point to emphasize that he understood the importance of 3-pointers.
"The style has changed," Woodson said back in March. "And it's a beautiful style."
Over the last month, Indiana's offseason acquisitions have reflected Woodson's vision.
Xavier Johnson, a playmaking guard from Pittsburgh, was added from the transfer portal. Then, class of 2021 four-star shooting guard Tamar Bates, who shot 39 percent from deep last season at IMG Academy, committed to Indiana after re-opening his recruitment. Finally, Northwestern transfer Miller Kopp, a stretch forward and career 36 percent 3-point shooter, made his pledge to the Hoosiers.
Woodson's forward-thinking isn't only evident in the makeup of Indiana's roster. In a number-driven world, he's open to utilizing analytics to guide his coaching decisions. Over the last five or six years in the NBA, Woodson has focused on the increasing pool of numerical resources at his disposal.
"Analytics is huge," Woodson said on a recent call with reporters. "I used to use it for combinations of who played well together on my ball club, what combinations worked. A lot of time you base it on the minutes that a particular combination plays together or how well guys that come off the bench click together."
Figuring out playing rotations will be one of the key questions heading into next season. Indiana currently has 13 scholarship players, all of which are capable of vying for significant time on the court. The only player that's likely a lock in the starting lineup is third-team All-American Trayce Jackson-Davis.
This offseason, most of the chatter about Indiana's new system has revolved around the offensive game plan. But Woodson doesn't want the importance of defense to get lost.
"I'm a big proponent of guys that compete on the defensive end," Woodson said. "If you don't, you won't play… I know defense wins basketball games. I know defense will put you in position to win every game. It ain't going to be just about our offense."
In man-to-man defense, Woodson wants Indiana to be able to switch multiple positions in ball-screen situations. But unlike his predecessor Archie Miller, Woodson expressed a willingness to play zone defense if the situation presents itself.
Woodson wasn't always this open to philosophical changes. Early in his coaching career, he was solely focused on directing a hard-nosed man-to-man defense because that's what he played at Indiana under Bob Knight.
But as time went on, Woodson understood that adapting was imperative. To this point, he remembered back to a 2010 NBA Playoff series when he was the head coach of the Atlanta Hawks. The Hawks were trailing the Milwaukee Bucks 3-2 in the first round when Woodson decided to change his defensive strategy.
"I said 'what the hell, let's play two-three zone,'" Woodson says now with a chuckle. "I'd never played zone in the pros."
The decision paid off. In the third quarter of game six, Woodson made the defensive wrinkle, confusing the Bucks and sending them into a scoring-drought of more than seven minutes.
The Hawks outscored the Bucks 29-11 that quarter, tallying 19 unanswered points. Atlanta won the game, holding Milwaukee to just 33 percent from the field and 27 percent from deep. The Hawks won again in game seven and advanced to the next round.
"It caught Scott Skiles off-guard," Woodson said. "I won't be close-minded to playing zone."
But Woodson's coaching philosophy isn't just centered around the X's and O's. At the forefront of his pitch to develop players and get them to the NBA, he said, is pushing them to buy into consistently playing with tenacity.
"When I look at young players, if you're not willing to compete and play hard, your days in the NBA will be numbered because the next guy is more hungry," Woodson said. "That's going to be my biggest challenge going forward with this team because I think they got to play harder… It's my job to make it happen."
Last season, Indiana was unable to achieve any semblance of consistency, partly due to the fact that the coaching staff wouldn't deviate from its primary game plan. But so far, whether it be with the ever-changing style of play or the specific needs of Indiana's current team, Woodson's ability to pinpoint flaws and make changes, along with the willingness to evolve as a coach, could prove to be imperative as Indiana hopes to regain its footing on the national stage.
Filed to: Mike Woodson