What To Expect: Rutgers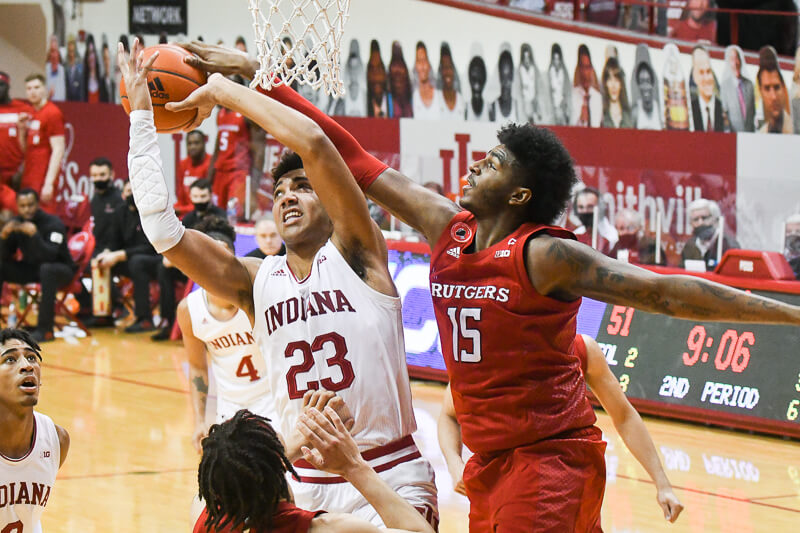 Indiana will look to avoid a sixth straight loss when it takes on Rutgers tonight in the 2021 Big Ten tournament at Lucas Oil Stadium in Indianapolis. The Scarlet Knights are 14-10 overall and finished 10-10 in Big Ten play.
Tonight's game will tip at 6:30 p.m. ET on BTN with Brandon Gaudin and Shon Morris on the call:
At just 12-14 overall with a 7-12 record in Big Ten play, Indiana has been a major disappointment in Archie Miller's fourth season in Bloomington.
The Hoosiers have dropped five straight games and will miss the NCAA tournament and NIT unless they can make a run this weekend in Indianapolis. Indiana is just 1-2 all-time in the Big Ten tournament under Miller with losses to Rutgers and Ohio State and a win last season over Nebraska.
The disappointment from the Indiana fanbase for the program's performance under Miller is justified. Two other programs that hired coaches in the same offseason as Indiana – Illinois and Ohio State – are set to be high seeds in this year's NCAA tournament.
Indiana, meanwhile, can't point to many positives under the last four seasons under Miller. After a steady improvement in the KenPom ratings over Miller's first few seasons, Indiana has fallen in Pomeroy's rankings this season. And while it's true that Indiana may have made the NCAA tournament last season, it would not have been as a top seed.
When Fred Glass announced the dismissal of Tom Crean in the spring of 2017, he touted expectations of Big Ten championships and deep NCAA tournament runs as requirements for the program's next leader. As Miller's fourth season appears to be coming to a conclusion, neither of those goals are anywhere close to being achieved.
THE FIRST TWO MEETINGS WITH RUTGERS
Rutgers swept the regular season with Indiana, beating the Hoosiers 74-70 in Bloomington on Jan. 24 and 74-63 in Pisataway on Feb. 24.
In the first meeting, Rutgers came to Simon Skjodt Assembly Hall on a five-game losing streak with its season at a crossroads. The Scarlet Knights held Indiana to 35 percent shooting on 2s and got 19 points from Geo Baker in the victory. Rutgers controlled the game for a majority of the second half and led by as many as 14 points with 11:54 to play.
Indiana's inability to finish plays against Rutgers inside the 3-point arc was the storyline of that matchup. Myles Johnson controlled the paint with five blocked shots and Trayce Jackson-Davis was held well below his season average with 13 points.
In the rematch in Piscataway, Indiana raced out to a 23-8 lead by the 8:08 mark of the first half before crumbling at the RAC. Rutgers got red hot from the perimeter to close the first half and hit seven of its final eight 3-point attempts before intermission. That allowed the Scarlet Knights to flip a 15-point deficit into a four-point halftime lead.
The game was over by the midway point of the second half and Rutgers led by as many as 20 points in the final four minutes. Baker was once again a problem for Indiana as the senior guard exploded for 20 points in the Rutgers win. Ron Harper Jr. added 20 points of his own and the Scarlet Knights went 11-of-28 on 3s (39.3 percent).
Johnson once again controlled the paint with seven blocked shots, but Jackson-Davis did put together a much better performance with 21 points while Al Durham Jr. added 20 points of his own. Still, Indiana shot a putrid 32.6 percent on 2s and its three other starters (Rob Phinisee, Race Thompson and Armaan Franklin) combined for two points.
TEMPO-FREE PREVIEW AND KEYS TO THE GAME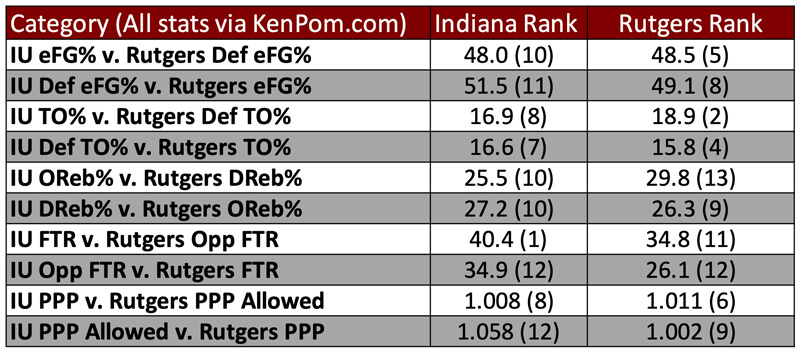 • Will Myles Johnson dominate defensively again? Johnson, a member of the Big Ten all-defensive team announced earlier this week, dominated the paint in the first two meetings. Johnson's presence in the paint and at the rim is a major reason that Indiana has settled for long 2s often this season against the Scarlet Knights. And when the Hoosiers have attacked, they've either been blocked by Johnson (12 times) or had their shots contested. Unless Indiana can figure out a way to relieve some of that pressure and produce some more favorable looks, it could be yet another game where the Hoosiers labor to score.
• Indiana must find its confidence: For those who have watched Indiana closely the last couple of weeks, it's clear that this group lacks confidence. The Hoosiers had four off days to prepare for Thursday's game, but will it make a difference?
"It's a reset," Durham said Wednesday. "It's a clean slate. Everything is 0-0. We've just come in every day and worked as hard as we could. Tried to get back to the basics. We've just been practicing hard. And sticking to the game plan that coach has for us. We're going in with a different mindset, I would say."
• Containing Baker and Harper Jr. from the perimeter: Both players have been tough covers for Indiana in the first two matchups and Indiana must do a much better job contesting shots from the perimeter if it hopes to have success on Thursday night. While the packline defense has always been susceptible to giving up open 3-pointers, Rutgers has really taken advantage against Indiana. In the first two meetings between the teams, the Scarlet Knights have made 19 3-pointers. Fifteen of those makes have come from Baker and Harper Jr.
WHAT IT COMES DOWN TO
The KenPom projection is Rutgers by two with a 54 percent chance of victory for the Scarlet Knights. The Sagarin numbers like Rutgers by one. The Vegas line opened as a pick 'em, but favors Rutgers by three as of Thursday morning.
Indiana's season will end with a loss on Thursday night as the Hoosiers won't make the NIT with a 12-15 record. A win would set up a meeting with Illinois on Friday night at Lucas Oil Stadium. Realistically, Indiana needs to make it to Sunday to make the NIT and it needs to win the Big Ten tournament (something the program has never done) to make the NCAA tournament.
Rutgers, meanwhile, has won two of its last three, but did lose 72-51 at Nebraska on March 1. The Scarlet Knights are solidly in the NCAA tournament field as a No. 9 seed in the latest projection from Andy Bottoms.
Filed to: Rutgers Scarlet Knights