6-Banner Sunday: Indiana drops ninth straight game to Purdue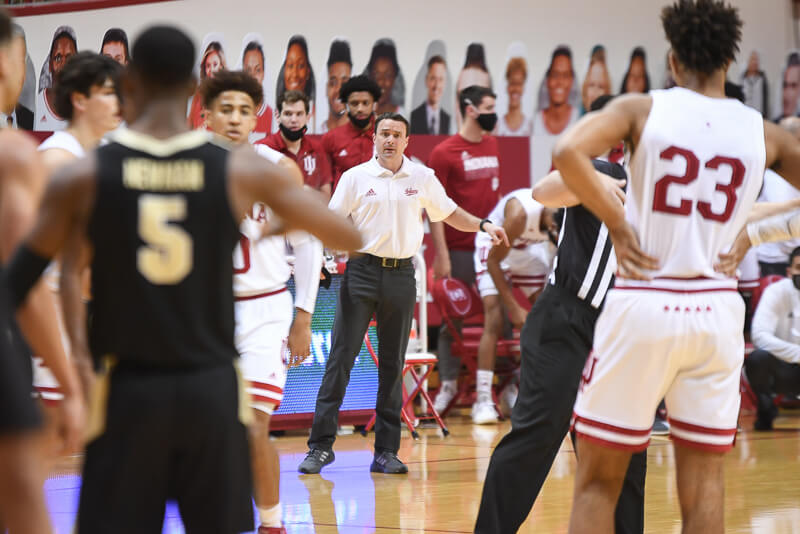 6-Banner Sunday is Inside the Hall's weekly newsletter in partnership with The Assembly Call. More than 7,500 Indiana fans receive the newsletter each week. In addition to appearing each week on the site, you can also opt to receive 6-Banner Sunday by email. A form to subscribe via email is available at the bottom of this week's 6-Banner Sunday.
Welcome to another edition of 6-Banner Sunday, a joint production between The Assembly Call and Inside the Hall where we highlight the five most essential IU basketball stories of the past week, plus take a look at how the other IU sports programs are doing.
Indiana finished this week 0-2, losing to both Michigan State and rival Purdue. That extends Indiana's losing streak to five games. The Hoosiers finished the regular season with a 12-14 overall record and a 7-12 mark in the Big Ten.
On Saturday, Indiana fell to Purdue 67-58 in Mackey Arena. That makes zero wins in the last nine matchups against Purdue and Archie Miller still hasn't beaten the Boilermakers in his tenure at Indiana.
Indiana fell short 64-58 to Michigan State in an NCAA tournament bubble matchup on Tuesday. It was an offensive struggle for both teams as neither shot better than 38 percent from the field. The loss severely hampered Indiana's chances of making it into March Madness.
Armaan Franklin has missed the last three games due to a bone bruise he suffered in his foot during the second half of the Rutgers game. Archie Miller said that he didn't expect Franklin to play the rest of the regular season, so there's still a chance he could return in the Big Ten tournament. However, Miller said after the Purdue game that Franklin has made little progress.
Race Thompson also underwent minor facial surgery last week after taking a hit to the face during the Michigan State game. He had previously suffered a facial injury during practice. He did still play against Purdue, but further injured himself by rolling his ankle awkwardly in the second half and playing limited minutes after.
Now, Indiana's final chance of turning its season around will come during the Big Ten tournament next week. The Hoosiers will have to run the table to have any hopes of making the NCAA tournament. IU will be the 10 seed and open at 6:30pm Thursday on BTN against the seven seed, which will be either Maryland or Rutgers.
You can listen to this week's edition of Assembly Call radio here and the newest Podcast on the Brink here.
• Purdue topples Indiana at Mackey Arena
• Indiana comes up short against Michigan State
• Big Ten to allow limited fan attendance at conference tournament
• Armaan Franklin earns scholar-athlete recognition
• Joey Brunk speaks to media for first time since injury
• Hoosier Roundup
Banner #1
Purdue topples Indiana at Mackey Arena
Even without playing its best basketball, Purdue beat Indiana 67-58.
Indiana got off to a fast 7-0 start, but then it's offense went ice-cold, going more than seven minutes without hitting a field goal. In the first half, the Hoosiers had a variety of open looks, but hit just 1-of-13 3-pointers. Purdue turned the ball over 8 times in the opening 20 minutes, but Indiana could only turn it into six points. Purdue led by nine at the break.
Just over five minutes into the second half, Indiana cut the deficit to just four points with momentum and the ball. But then Purdue embarked on an 8-0 run. Later, Indiana clawed back to within five. But it was the same story as Purdue strung together a 6-0 run.
Indiana finished shooting just 38.5 percent from the field, 22 percent from beyond the arc and 72 percent from the free throw line. The opportunities were there for the Hoosiers, but they couldn't take advantage.
Banner #2
Indiana comes up short against Michigan State
For the second time this season, Indiana was unable to contain Michigan State guard Aaron Henry down the stretch of the game. Henry carried the Spartans to victory on Tuesday night, scoring 18 second-half points on 6-of-9 shooting.
"He's a great driver," Miller said of Henry. "And to his credit, he made some big baskets there late."
Indiana was unable to get into any type of consistent offensive flow, shooting just 33 percent from the field. They also made just 2-of-20 attempts from beyond the 3-point arc. Rob Phinisee was the only Hoosier to score in double-figures with 16 points. Trayce Jackson-Davis struggled for the second consecutive game, scoring a season-low nine points.
"The ball didn't go in," Miller said. "I mean period. They're inside-out threes, they're drive and kick threes, they're one-two step tee-ball threes and they didn't go in. There's not a whole lot to talk about."
Overall, it was a choppy game as 45 total fouls were called. Jordan Geronimo picked up three fouls in the first half alone. But the Spartans were able to fight through whistles and prevail in the slugfest.
Banner #3
Big Ten to allow limited fan attendance at conference tournament
The Big Ten tournament, which is set for March 10-14 at Lucas Oil Stadium, will allow a limited number of fans, the conference announced on Thursday.
A "limited capacity of 8,000 attendees" will be permitted to attend games. Tickets will be on sale and distributed by the university ticket offices.
The tournament was originally scheduled to take place in Chicago but was moved to Indianapolis in early February. Other than the game against Florida State, this will be the first time that Indiana will play in front of fans (other than family and friends) this season.
Indiana will be the ten seed in the Big Ten tournament and they'll be matched up against Maryland or Rutgers on Thursday.
Banner #4
Armaan Franklin earns scholar-athlete recognition
Sophomore guard Armaan Franklin was named as Indiana University's Male Scholar-Athlete of the Month.
Franklin has been one of the most improved players, not only in the Big Ten but in the country this season. In his freshman season, he averaged just 3.7 points and 1.6 rebounds per game. This season, however, he's averaging 11.6 points and 4.2 rebounds per game.
Franklin, though, has dealt with his share of injuries this season. In early-January, he turned his ankle and was sidelined for a few games. Then, in the second matchup with Rutgers, he suffered the bone-bruise in his foot and hasn't played since.
Regardless of how this season finishes, Franklin figures to be a key piece for the future of Indiana basketball.
Banner #5
Joey Brunk speaks to media for first time since injury
Speaking to the media for the first time since his back surgery, Joey Brunk said that he's still undecided about whether he will utilize his extra year of eligibility and play for Indiana next season. The senior big man hasn't appeared in a game all season due to the injury.
"When the timing's right, we'll have those conversations," Brunk said.
Brunk emphasized how difficult it's been for him to watch from the sidelines this season. He said, though, that he tries to be a positive influence on his teammates, despite being unable to play.
"I try to be an encouraging voice, make sure we're all on the same page," Brunk said. "I try to talk to a lot of the guys, especially going out of halftime, on some things maybe that I saw."
Brunk will finish his master's degree this spring and has been completing a partnership with the Indianapolis Zoo to satisfy a requirement for his major in parks and recreation. If he would return next season, Brunk said, he'd have to figure out the best plan to continue his academic work.
Banner #6
Hoosier Roundup
Baseball became the latest sport to get underway. They opened the weekend 2-1 with one more game to go Sunday. Also, Women's Basketball achieved their highest ranking in program history as they continue to win heading into the Big Ten tournament. Also, Volleyball, Softball, Women's Soccer and Men's Tennis got victories this week, while Swimming and Diving barely missed a Big Ten Championship.
• Baseball had three players named to the Big Ten Preseason Watch List and were picked to finish second in the conference. They opened the season falling to Rutgers before knocking off Minnesota and the Scarlet Knights in a rematch.
• Women's Basketball made the top 10 in the country for the first time in program history. They proved they were worthy of the ranking knocking off Iowa as well as Purdue. They will head to the Big Ten Tourney as the No. 2 seed.
• Men's Soccer had their match with Penn State postponed after COVID issues in the Nittany Lions program.
• Volleyball was swept by Purdue but split with Maryland.
• Softball split a series with Minnesota to finish their opening weekend 4-2.
• Women's Soccer knocked off Iowa but lost to Penn State. Also, Melanie Forbes was named TopDrawerSoccer's Player Of The Week. Forbes was also honored by the Big Ten as was Bethany Kopel.
• Swimming and Diving finished runner-up to Michigan at the Big Ten Championships.
• Women's Tennis fell to Nebraska.
• Men's Tennis beat Michigan State before being edged by Penn State.
• Wrestling is competing at the Big Ten Championships.
• Several Track and Field team members received bids to the NCAA Indoor Championships. As a result IU coach Ron Helmer was named the Regional Coach Of The Year.
• Rowing is ranked No. 11 in a preseason poll.
Thanks for your continued support for The Assembly Call. We'll be back next weekend with a new roundup.
Now go enjoy yourself a 6-banner Sunday.
Tyler Tachman – Student Intern The Assembly Call
Filed to: