Five takeaways from Indiana's loss to Michigan State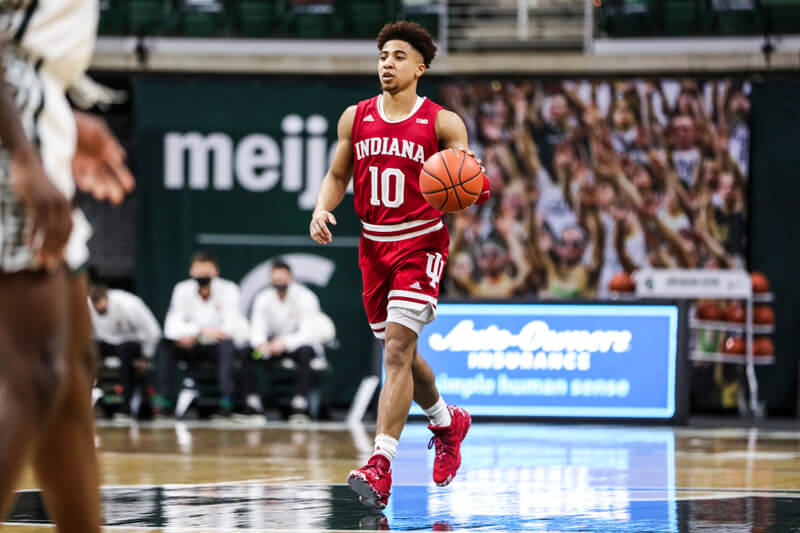 Indiana's path to make the NCAA tournament has essentially evaporated as the Hoosiers fell to Michigan State 64-58 Tuesday night at the Breslin Student Events Center. Indiana has now lost four consecutive games and needs a win against Purdue and a long run in the Big Ten tournament to secure a bid into March Madness.
Indiana head coach Archie Miller was asked after the game if he felt like his team was pressing about making the NCAA tournament, to which Miller quickly answered "No."
As a follow-up, he was asked about why the Hoosiers hadn't been winning recently. Seemingly agitated, Miller's response was: "We're playing good teams."
Here are five takeaways from Tuesday's loss to the Spartans:
• Aaron Henry takes over down the stretch: The final ten minutes of Tuesday's game were reminiscent of the final ten minutes of Indiana's loss to Michigan State on Feb. 20. Michigan State wing Aaron Henry got whatever he wanted on the offensive end, scoring 18 second-half points on 6-of-9 from the field.
"He's a great driver," Miller said of Henry. "And to his credit, he made some big baskets there late."
After Indiana's loss in the first matchup, Miller said that the Hoosiers didn't have anyone to match up with Henry defensively. In the first half on Tuesday, however, Henry was held to just four points on 2-of-7 shooting from the field.
But in the second half, the Hoosiers couldn't contain Henry again. He scored 12 points in the final four and a half minutes of the game, delivering dagger after dagger.
"They were going to him pretty much every time," Rob Phinisee said. "They had a lot of pin downs. I feel like we didn't front the post like we should have to try to deny him the ball."
On the offensive end, Indiana went cold and was unable to answer Henry's big shots.
• Hoosiers put up poor offensive performance: Indiana failed to get into any type of consistent offensive flow, shooting just 32 percent from the field. They also made just 2-of-20 attempts from beyond the 3-point arc.
"The ball didn't go in," Miller said. "I mean period. They're inside-out threes, they're drive and kick threes, they're one-two step tee-ball threes and they didn't go in. There's not a whole lot to talk about."
Rob Phinisee was the only Hoosier to score in double-figures with 16 points and carried the load on offense. Other than that, the Hoosiers were awful.
Trayce Jackson-Davis had a season-low nine points. Al Durham scored only three points and was 0-of-7 from the field. Jerome Hunter was 2-of-7 and Race Thompson was 3-of-7.
Indiana knocked in 20 free throws, but it took them 29 attempts to get there. Overall, it was more of the same struggles.
• Rob Phinisee emerged as lone bright spot: The inconsistent play of Rob Phinisee has left him to be highly-criticized this season. But on Tuesday, he was one of the only Hoosiers to put up solid production. He scored 16 points, grabbed six rebounds and dished out four assists.
Early in the first half, he showed a flash of explosiveness when he attempted to dunk on a Michigan State defender. Phinisee's aggressiveness throughout the game was evident, as he didn't shy away from taking shots, although he wasn't very efficient, finishing the game 6-of-16 from the field.
Phinisee looked much closer to the point guard that IU has needed the entirety of this season. At this point, though, it may be too late.
"Just bounce versus Purdue," Phinisee said. "We just have to really bounce back tomorrow at practice and get after it."
• Foul fest hampers rhythm throughout the game: The officiating crew wasn't shy about blowing their whistles throughout the game. There were a plethora of touch fouls called, which disallowed either team to play with consistent physicality. A total of 45 fouls were called in the game.
"We did a decent job of trying to play through it," Phinisee said. "But I know it's kind of hard where the possessions keep stopping."
In the first half, Indiana was whistled for ten fouls while Michigan State was called for nine. Jordan Geronimo picked up three fouls in just eight first-half minutes. Jackson-Davis, Thompson and Durham each had two before the break.
There were even more stoppages in the second half. The Hoosiers were called for 14 fouls while the Spartans were whistled for 12. Jerome Hunter picked up four fouls in the second half alone. Durham ended up fouling out.
• Trayce Jackson-Davis struggles: Trayce Jackson-Davis owned Michigan State for 34 points in the meeting in late-February. On Tuesday, though, it was a totally different story. For the first time all season, Jackson-Davis failed to score in double figures, finishing the game with nine points on 1-of-5 shooting.
Like many other Hoosiers, Jackson-Davis was limited with foul trouble. He finished the game with four fouls and was never able to get in a rhythm on offense. In the second half, he was 0-of-3 from the field and 2-of-4 from the free-throw line.
"They did a much better job of not giving him as deep of catches," Miller said. "He didn't have an easy time once he did catch the ball because of the overall bodies in and around the basket."
There was a moment in the second half where Jackson-Davis appeared visibly frustrated in the huddle. Joey Brunk consoled him on the sideline. In the postgame press conference, Miller said he couldn't recall what happened.
This was the second consecutive game that Jackson-Davis has struggled mightily. Against Michigan on Saturday, Jackson-Davis was held to 3-of-12 from the field for 10 points and just four rebounds. Much like Indiana as a team, he has regressed rather than peaking during the final week of the regular season.
(Photo credit: IU Athletics)
Filed to: Archie Miller, Michigan State Spartans, Robert Phinisee, Trayce Jackson-Davis