The Minute After: Michigan State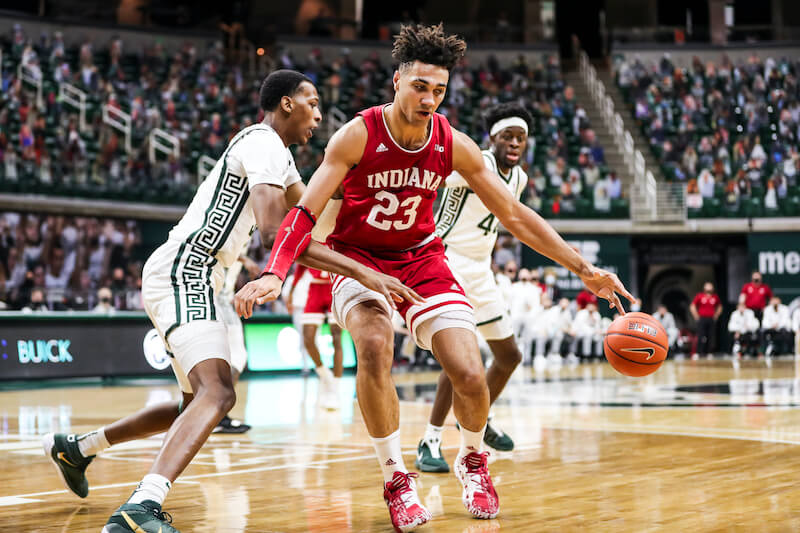 Thoughts on a 64-58 loss to the Spartans:
The Hoosiers fought hard in this game. They battled in a foul-heavy, ugly, offensively-challenged contest.
But in the end, in a game they absolutely had to have to cling to any NCAA tournament hopes, it just didn't happen.
The Spartans, and specifically Aaron Henry once again, were better down the stretch. It proved to be the difference, and the Hoosiers are now under .500.
Henry willed Michigan State to victory in this one. As both teams struggled mightily to score and whistles never seemed to end, Henry pumped in 12 points in the final 4:34 of the contest, taking it to whatever defender Indiana threw at him. He scored 18 of his game-high 22 points in the second half. Indiana scored just eight points in that final 4:34.
Unlike the Spartans, who were able to ride their best scorer down the stretch, Indiana didn't have that option tonight. Trayce Jackson-Davis scored just nine points in this one, a season-low. Against Michigan State last time out, Jackson-Davis had a career-high 34 points, tied for the most points an opponent has scored on the Spartans in the Tom Izzo era.
But though they chose to mostly single cover Jackson-Davis in this one again, the results were much better for the Spartans tonight. His post defenders were able to deny him the ball time and again, while Michigan State's perimeter defenders sunk in to make it even harder to enter the ball into him. And when Jackson-Davis was able to get the ball, the results weren't great. Marcus Bingham Jr.'s size flustered Indiana's sophomore. Other shots he took were just plain bad. It didn't help he was in some foul trouble in this one. The sophomore finished just 1-of-5 from the field and could be seen angry and yelling during a huddle in the second half.
The Hoosiers were above their season average from the line (20-of-29, 69 percent), but made just 2-of-20 from 3-point range and shot just 32.7 percent from the field. They scored only .89 points per possession.
In a season he's taken some flak for inconsistent play and failing to show up, Rob Phinisee played with an aggression rarely seen this season. While he was just 6-of-16 from the field, Phinisee scored a team-high 16 points and hit the team's only two 3-pointers of the night. He came ready to play. But Al Durham finished 0-of-7, air balling a 3-pointer late in the contest when Indiana was trying to keep pace down the stretch.
This is now Indiana's fourth straight loss. And baring a deep run in the Big Ten tournament, it's unlikely the Hoosiers head to the NCAA tournament this season. Adding insult to injury, the Hoosiers close out the Big Ten season against Purdue in West Lafayette, a team Indiana hasn't beaten in the Archie Miller era.
Spirits are already low in Hoosier Nation. A loss to Purdue to end the regular season seems particularly cruel.
(Photo credit: IU Athletics)
Filed to: Michigan State Spartans