What to expect: Northwestern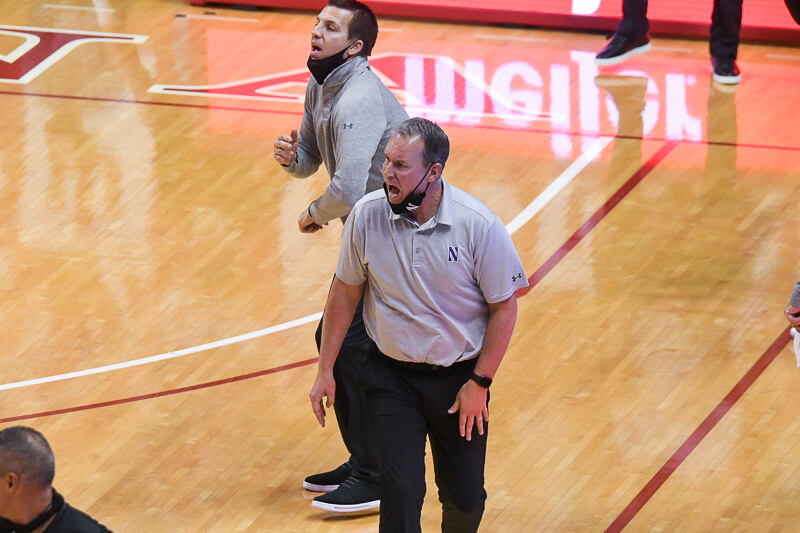 Indiana will look for its third road win of the season when it travels to Northwestern for a Wednesday evening game. The Wildcats are 6-10 overall, 3-9 in Big Ten play and have lost nine straight contests.
Wednesday's game will tip at 5:30 p.m. ET on BTN with Chris Vosters and Len Elmore on the call:
Indiana's path to the NCAA tournament is clear: get to .500 or better in Big Ten play. While the Hoosiers are currently in the field in the latest projection from bracketologist Andy Bottoms, this position is far from secure.
At 10-8 overall and 5-6 in league play, Indiana is firmly on the tournament bubble for a third straight season under Archie Miller. With only three home games remaining on the schedule (Minnesota, Michigan State, Michigan), the Hoosiers are going to have to earn their way into the dance by winning some games away from Bloomington.
Wednesday's tilt offers a chance to avenge a 74-67 loss to Northwestern back on Dec. 23 and build some momentum heading into a pivotal Saturday matchup against No. 4 Ohio State in Columbus.
THE FIRST MEETING
Indiana's loss to Northwestern just two days before Christmas in its Big Ten opener was disappointing for many reasons. Defensively, the Wildcats torched Indiana for 1.106 points per possession, the third-worst defensive performance to date for the Hoosiers this season.
Northwestern dominated the game inside the 3-point line by connecting on 67.7 percent of its 2s in the win. By spreading out the IU defense, the Wildcats were able to generate a ton of easy looks in the paint and at the rim. Northwestern shot 12-of-16 on dunks and layups and Indiana only blocked two shots in the loss.
Turnovers, which have stung Indiana in several losses this season, were a major issue against the Wildcats. Indiana committed 16 turnovers and posted a season-worst turnover percentage of 23.9.
The win was no fluke for Northwestern, which took the lead early in the contest and built a 15-point cushion in the first half. The Wildcats led for more than 29 minutes and thanks to some late-game heroics from Chase Audige, were able to pull away in the game's final minutes.
After a nearly invisible first half in which he logged just three minutes after picking up two fouls, Audige exploded for 17 second-half points in 15 minutes. That performance provided some confidence Audige, who is now averaging 12.5 points per game and has scored 14 or more points in five of the team's last 10 games.
TEMPO-FREE PREVIEW AND KEYS TO THE GAME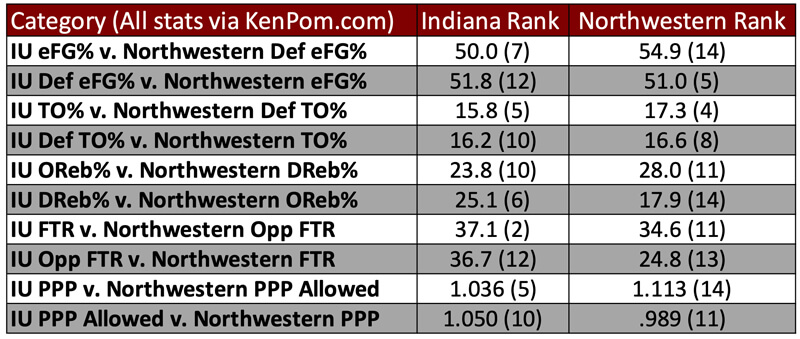 • Exploit Northwestern's shaky defense: Northwestern is putting up little resistance defensively in Big Ten play. The Wildcats are allowing conference opponents to score 1.113 points per possession and shoot 55.3 percent on 2s. A lack of a true post defender makes Northwestern vulnerable in the paint as no Big Ten team is blocking fewer shots than the Wildcats. Indiana exploited this well enough in the first matchup as Trayce Jackson-Davis went for 22 points on 9-of-12 shooting from the field. As such, the Hoosiers should provide their star forward with a steady diet of touches and let him go to work on Wednesday.
• Clean things up defensively: Indiana's defense crumbled in the first matchup back on Dec. 23 as Northwestern was able to spread the Hoosiers out in the halfcourt. Indiana struggled to stop dribble penetration, didn't rotate well and the result was Northwestern making 21 of its 31 2-point field goal attempts. Northwestern will definitely try to spread the Hoosiers out again and Indiana is going to have to be much sharper with its help defense and in stopping straight-line drives.
• Take care of the ball: Indiana has been much better overall in recent weeks as its turnover percentage of 15.8 ranks fifth in the Big Ten through Monday's game. There was some slippage in recent losses to Rutgers and Illinois, but Indiana's turnover percentage of just 13.2 was a big factor in its win on Sunday over Iowa. Northwestern is a poor rebounding team and also struggles to get to the line and defend without fouling. The only one of the four factors where Northwestern ranks better than 11th in the league defensively is turnover percentage. If Indiana takes care of the ball, Northwestern's defense will struggle to get stops against the Hoosiers in the halfcourt.
WHAT IT COMES DOWN TO
Indiana's NCAA tournament positioning is perilous and every game means something for the Hoosiers the rest of the way. A loss on Wednesday wouldn't be catastrophic. But given this matchup presents Indiana's best remaining chance for a victory in Big Ten play, the Hoosiers need to cash in on the opportunity.
The KenPom projection likes the Hoosiers by two with a 60 percent chance of victory. The Sagarin ratings like Indiana by three and the Vegas line opened on Tuesday night with IU as a 2-point favorite.
Filed to: Northwestern Wildcats