The Minute After: Northwestern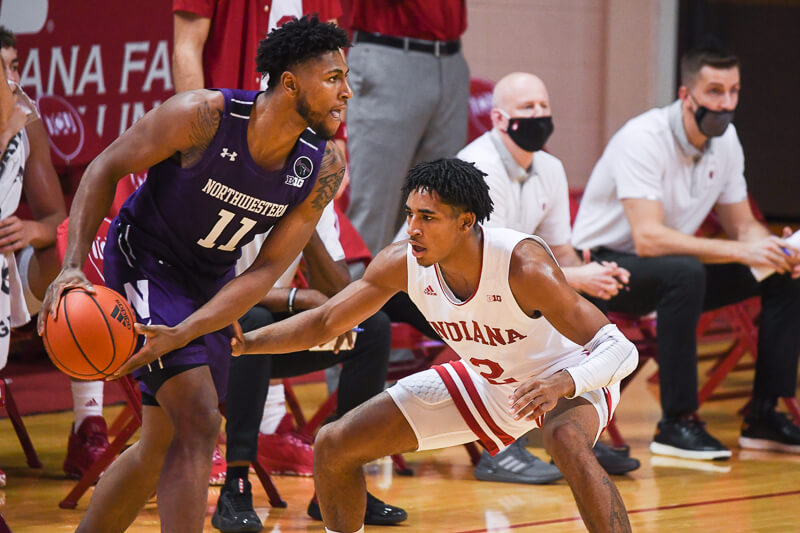 Thoughts on a 74-67 loss to the Wildcats:
Fresh off an upset win against Michigan State, the Wildcats proved tonight inside Assembly Hall that victory was no fluke. This team can flat out play. Couple that fact with a Chris Collins game plan that knocked Indiana on its heels, and you end up with a seven-point win for the Wildcats. This was a game many had earmarked as a W for Indiana before the Big Ten schedule really heats up. So much for that.
Northwestern's strategy stymied the Hoosiers in the first half. On defense, the Wildcats aggressively doubled-teamed Trayce Jackson-Davis to get the ball out of his hands. They forced the Hoosiers into late shot clock possessions and then later went to a 3-2 zone. The 3-2 zone took IU out of its typical wheel offensive motion and left the Hoosiers stumped. Unlike the 2-3 zones Indiana has carved up earlier this season by getting the ball to the middle, the corners are the weakness of a 3-2. Indiana simply didn't seem ready or prepared for this defensive wrinkle from Northwestern and spent possessions stagnant and passing it around the perimeter, gaining no advantage.
On offense, the Wildcats spread out the pack line, forcing Indiana to defend them more 1-on-1 in open space. Without its team defense on a string, IU's elite play on that side of the ball just wasn't there. Northwestern was getting a lot of what it wanted on offense, helping the Wildcats amass a 15-point lead (33-18) at the 5:31 mark of the first half.
"We were really ready to play," Collin said after the contest. " …. We had great preparation."
Like they did against Butler over the weekend, the Hoosiers stormed out of the gates in the second half, turning defense into offense, Jackson-Davis dunking and preening and flexing as Indiana erased a nine-point halftime deficit and turned it into four-point lead at 54-50 with 8:56 to go. During Indiana's run to gain the lead, Northwestern tried the 3-2 zone again, but the Hoosiers adjusted at halftime and they ran sets to get open 3-point looks in the corner, hitting both their attempts. Collins abandoned the 3-2 zone from there on out.
But the Wildcats kept on coming, playing with great confidence, a sense of purpose and a lot of emotion.
"I think our guys were determined to not make that a one-time thing," Collins said after the game of his players' approach after the MSU win.
Northwestern also got a tremendous individual performance from Chase Audige. The William & Mary transfer scored all 17 of his points in the second half, including 11 in the final 3:01 of the game. As he dropped tough, clutch shots from all over the court on the Hoosiers, Indiana just didn't do enough on the other end to keep pace.
With tonight's win, Northwestern became the first team all season to post more than a point per possession on Indiana's defense (1.11). The Wildcats' 63 eFG% was also a season-high from an opponent. Beyond Audige, they received efficient contributions from Miller Kopp (5-of-6), Boo Buie (4-of-8), Pete Nance (4-of-7) and Ryan Young (4-of-6). They made 11-of-13 (84.6 percent) from the line and 36.8 percent (7-of-19) from deep.
Indiana posted its third straight strong shooting game from distance, (38.9 percent, 7-of-18), but shot just 11-of-16 (62.5 percent) from the line and continues to rely quite heavily on Trayce Jackson-Davis (22 points) and Armaan Franklin (16 points). Race Thompson exploited a matchup for a nice offensive second half on his way to 11 points. Trey Galloway continues to play strong defense, make the right plays and is passing (team-high three assists) at a high-level. He also chipped in a 2-of-2 mark from 3-point range this evening as well to finish with six points. Al Durham and Rob Phinisee combined to go 1-of-9. Indiana turned it over on 24 percent of its possessions, which did not help matters.
With Indiana's defense below its elite level tonight, the Hoosiers had less margin for error. They needed to match Northwestern's offense down the stretch and it just didn't happen. (Indiana landed at 1 point per possession for the evening.)
Northwestern is now No. 52 on KenPom. The Wildcats are no slouches. There are still 19 games left in the Big Ten slate and plenty of opportunities for Indiana to pick up quality wins. But as tonight proved, Indiana will have no gimmes this season in conference play.
Filed to: Northwestern Wildcats