Big Ten power rankings: December 28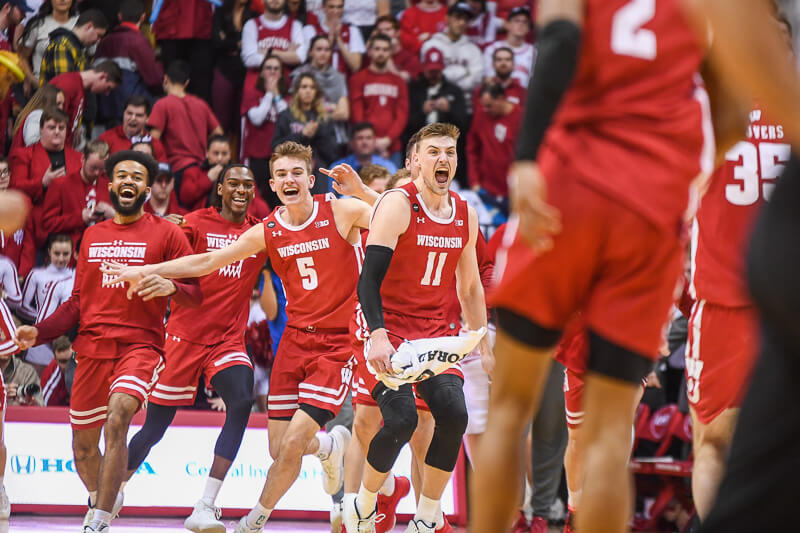 The Big Ten schedule is now in full swing as each program in the league has already played a pair of games and five programs have played three or more.
This week should bring further clarity as 20 percent of league play will have elapsed by Sunday. Our Big Ten power rankings will run each Monday through the end of the regular season:
14. Nebraska (0-2, .877 PPP, 1.056 PPP allowed)
The Huskers have been the Big Ten's worst offensive team by a large margin this season, ranking 148th nationally in KenPom's adjusted offensive efficiency through nine games. Still, Nebraska hung with both Michigan and Wisconsin in the first half in its first two league games and it won't be surprising to see this group record an unlikely conference win or two this season.
13. Penn State (0-2, .999 PPP, 1.15 PPP allowed)
The Nittany Lions had Illinois down 15 early in the first half at the Bryce Jordan and then collapsed defensively in a 98-81 loss last Wednesday. Penn State has solid guard play, but its frontcourt has taken a step back with the graduations of Lamar Stevens and Mike Watkins. Penn State showed it was capable of beating a good team when it crushed Virginia Tech 75-55 on the road in the Big Ten-ACC Challenge back on Dec. 8 and will be looking for its first conference win on Wednesday night in Bloomington.
12. Maryland (0-2, .977 PPP, 1.104 PPP allowed)
Maryland is 5-3 overall, but hasn't beaten a team ranked better than 119 in the KenPom ratings. The Terps are experienced in the backcourt under Mark Turgeon with Eric Ayala, Darryl Morsell and Aaron Wiggins all back in College Park, but the talent level overall in the program is down from where it's been in recent seasons. Maryland was robbed of a chance for a deep NCAA tournament run last season due to the pandemic, but with a fanbase that already has significant questions about its coach, Turgeon could be headed towards the hot seat if this team underwhelms.
11. Michigan State (0-2, 1.029 PPP, 1.196 PPP allowed)
It will be surprising if the Spartans appear this low again on the power rankings this season, but after being beaten handily by both Northwestern and Wisconsin, this spot is justified for now. Michigan State's defense is ranked just 61st in the country right now by Pomeroy and has been shredded twice already in league play. Michigan State has a chance to get some positive momentum this week with road games at Minnesota and Nebraska, but this group currently looks lost without Cassius Winston to lead the way.
10. Indiana (0-2, .953 PPP, 1.073 PPP allowed)
The Hoosiers got off to a terrible start in the first half of a home loss to Northwestern last Wednesday and then couldn't come up with enough loose balls or defensive stops in a 69-60 loss at Illinois on Saturday. Trayce Jackson-Davis and Armaan Franklin have both been reliable for Archie Miller, but the offense beyond those two is shaky right now, as is the overall depth. Indiana's defense is still ranked in the top 10 nationally, but the Hoosiers need more from Al Durham Jr. and Rob Phinisee to avoid another finish in the bottom half of the league.
9. Minnesota (1-1, 1.057 PPP, 1.184 PPP allowed)
Marcus Carr showed why he's one of the nation's best point guards when he erupted for 30 points in a 102-95 overtime win over Iowa last week at the Barn. The Gophers got a key home non-conference win over Saint Louis on Dec. 20 and could be one of the 10 or 11 Big Ten teams with a legitimate chance to make the 2021 NCAA tournament.
8. Ohio State (1-2, 1.029 PPP, 1.01 PPP allowed)
The Buckeyes own a nice home win over Rutgers, but have already come up short in a pair of road losses at Purdue and Northwestern. Ohio State has been a putrid 3-point shooting team so far at 30.9 percent overall, but have been excellent in terms of taking care of the ball, offensive rebounding and getting to the foul line. Harvard grad transfer Seth Towns has now been active for three games and scored 11 points in 17 minutes in the loss at Northwestern.
7. Purdue (2-1, .989 PPP, 1.014 PPP allowed)
Purdue's offense is heavily predicated on making 3s and so far, the Boilermakers have been pretty good from behind the arc this season. Overall, Purdue is shooting 38.7 percent from distance and the Boilermakers are hitting 35.8 percent in conference play. Redshirt freshman Brandon Newman is 19-of-42 (44.2 percent) from behind the arc in 10 games and redshirt junior Sasha Stefanovic is 29-of-57 (50.9 percent).
6. Michigan (2-0, 1.015 PPP, .908 PPP allowed)
How good is Michigan? It's a question that is tough to answer right now and quite possibly for the foreseeable future. The Wolverines are 7-0, but don't have a KenPom top 50 win and don't play a KenPom top 40 team until Wisconsin comes to Ann Arbor on Jan. 12. 7-foot-1 center Hunter Dickinson looks like he'll be a legitimate contender for Big Ten freshman of the year and is shooting a ridiculous 72.9 percent on 2s.
5. Rutgers (2-1, 1.104 PPP, 1.08 PPP allowed)
The Scarlet Knights have been red hot on 3s to begin conference play and currently lead the conference at 42.1 percent from distance. Rutgers has a relatively thin rotation that was further depleted when freshman Cliff Omoruyi recently went down with a knee sprain. Without Omoruyi available, Rutgers suffered its first conference loss at Ohio State on Dec. 23. The Scarlet Knights also made the curious decision to allow its players to go home for Christmas, which didn't take place anywhere else in the league.
4. Iowa (1-1, 1.166 PPP, 1.110 PPP allowed)
We've seen this story before with a Fran McCaffery team: An elite offense and a defense that can't stop dribble penetration. Iowa is going to batter a lot of teams with its elite offense, but it was exposed in recent losses to Gonzaga, when it gave up 99 points and Minnesota, when it allowed 102 points. Luka Garza is still the Big Ten's best player and will continue to put up monster numbers, but the Hawkeyes are still no better than the third or fourth-best team in the conference until they prove capable of putting up some resistance defensively.
3. Northwestern (3-0, 1.109 PPP, 1.0 PPP allowed)
The Wildcats are the surprise team in the Big Ten with wins over Michigan State, Indiana and Ohio State to begin league play. Picked to finish last in the conference in the preseason media poll, Northwestern stunned Michigan State at home to open league play and then won at Indiana to prove that win was no fluke. Northwestern then trailed for a large chunk of the second half at home against Ohio State before Boo Buie and Chase Audige hit a couple of huge shots for a one-point win. The Wildcats can shoot the ball, which gives them a chance to sustain this early success.
2. Illinois (3-1, 1.185 PPP, 1.014 PPP allowed)
Illinois played three games last week and finished 2-1 with a loss at Rutgers, a win at Penn State and a win over Indiana on Saturday. In the win over the Hoosiers, junior guard Ayo Dosunmu exploded for 18 points in the final 10 minutes and sophomore Kofi Cockburn got the better of Trayce Jackson-Davis in the post in a 69-60 win. Illinois is an elite offensive team, has two of the five best players in the conference and has a pair of freshman in Adam Miller and Andre Curbelo who are already playing major roles.
1. Wisconsin (2-0, 1.185, 1.014 PPP allowed)
Wisconsin is the Big Ten's most experienced team and while it may not have the ceiling of Illinois, the Badgers play to their strengths as well as any team in the country. Wisconsin put on a clinic offensively in an 85-76 win at Michigan State on Christmas Day. The Badgers scored 1.25 points per possession, shot 57.6 percent on 2s and only committed seven turnovers. Over the game's final 16:25, Wisconsin outscored Michigan State 43-25. Wisconsin isn't quite at the level it reached with Bo Ryan at the helm, but Greg Gard, now in his sixth season, is proving to be more than adequate as his replacement.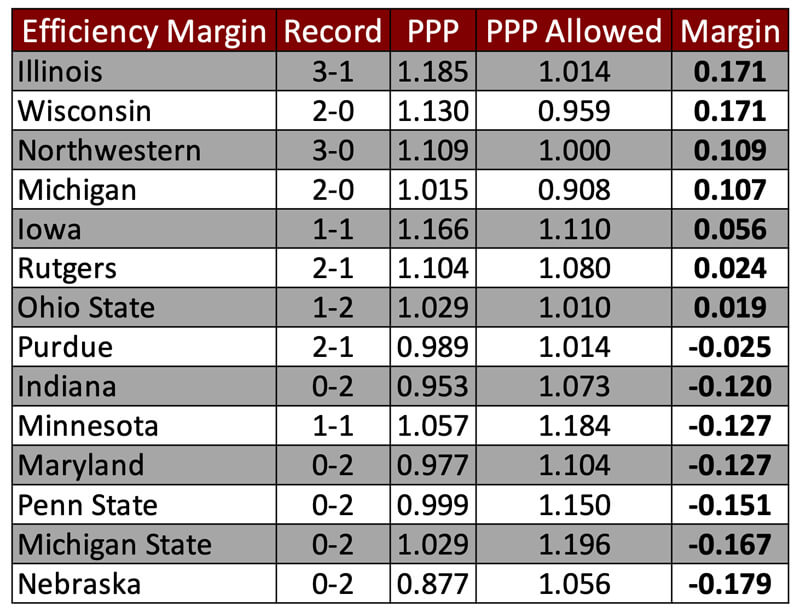 Filed to: Big Ten Power Rankings