Film Session: Illinois
Armaan Franklin put on a show against the Illini on Saturday, posting a career-high 23 points (8-of-12 shooting, 5-of-6 from deep). While Ayo Dosunmu was scoring buckets down the stretch for Illinois to carry his team to victory, the Hoosiers were running plays — see three and four in this Film Session — for their breakout scorer as well and he delivered.
We'll take a look at four second half scores from Franklin in the latest edition of Film Session:
Early in the half with the Hoosiers trailing by three, Rob Phinisee inbounds to Franklin: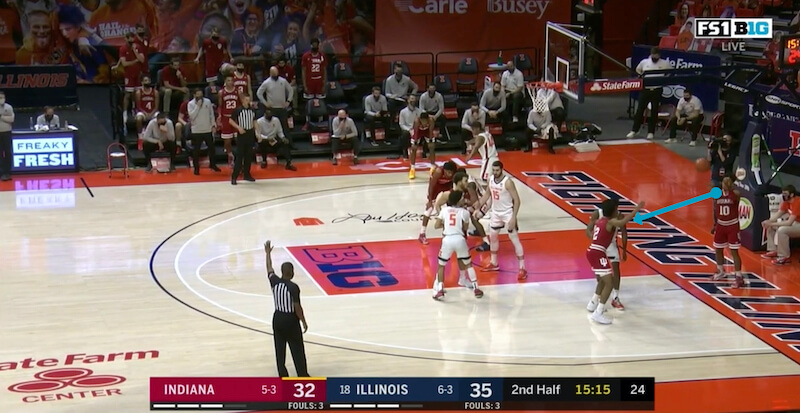 Franklin finds Race Thompson on the right high post as Phinisee sets up for a flex screen: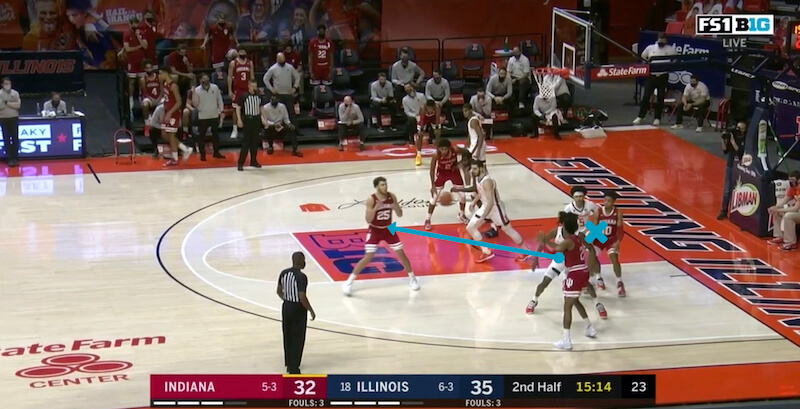 Dosunmu gets around it left as Franklin cuts baseline. Thompson swings the ball to Jerome Hunter on the left high post: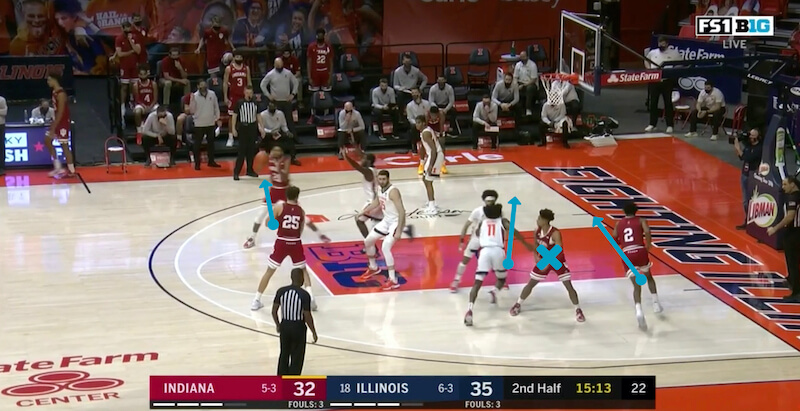 As Hunter has the ball near the top of the key, Franklin keeps cutting baseline. Thompson sets a down screen for Phinisee on the right side: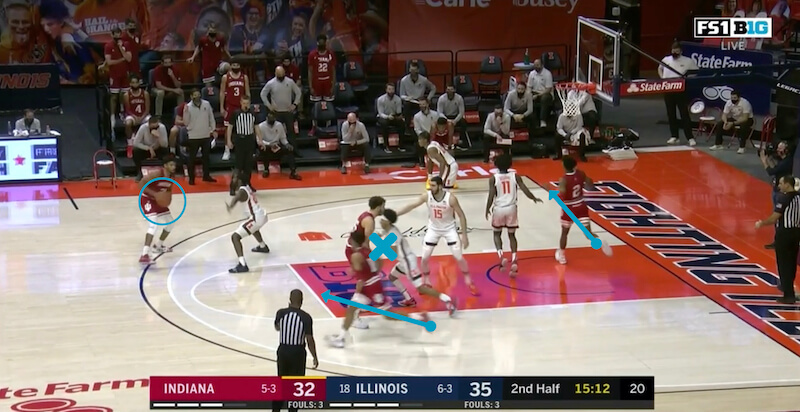 Hunter hits Phinisee with the pass and cuts back down to the left high post. Meanwhile, Franklin is setting a flex screen on the left side of the court now for Al Durham: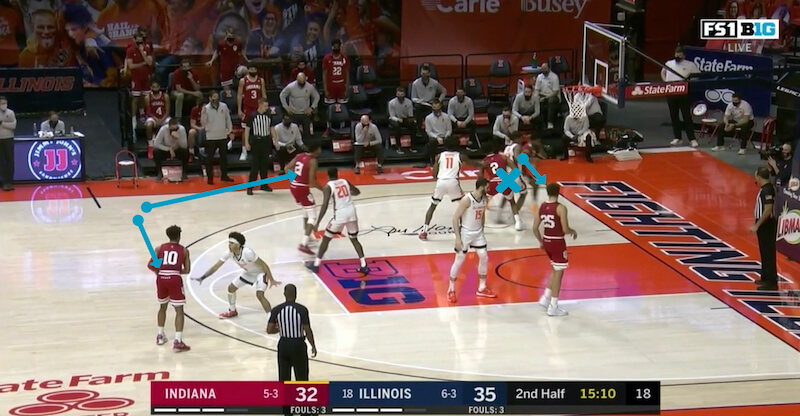 As Durham cuts baseline and gets another screen, this time from Thompson, Hunter sets a strong down screen for Franklin on the left side, which impedes Dosunmu: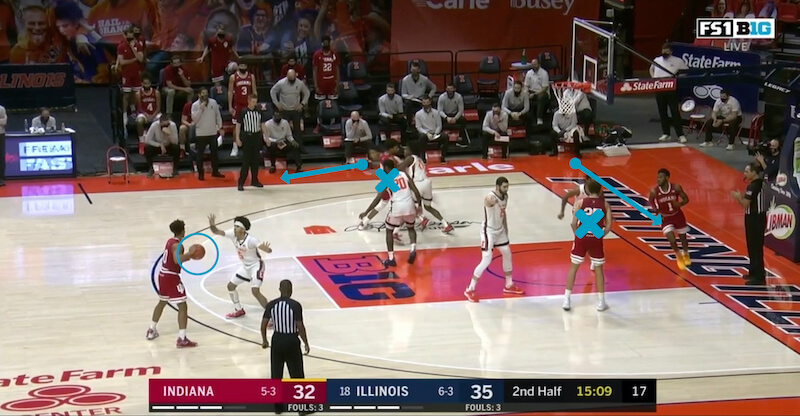 This frees Franklin on the left wing and Phinisee makes the pass. It's a bit high and to Franklin's right as Dosunmu closes out: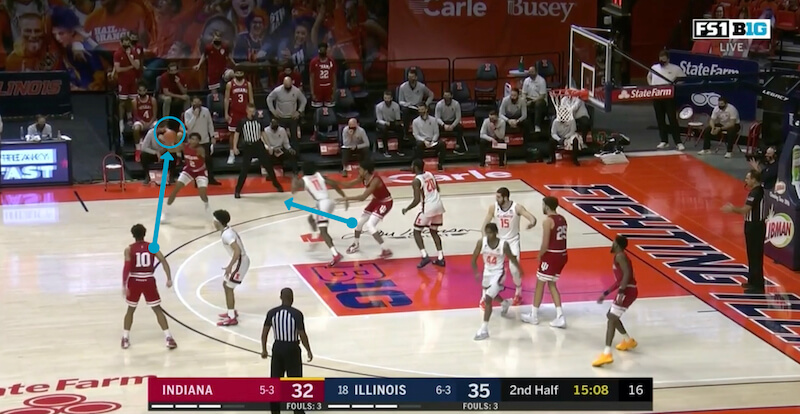 Franklin uses the closeout to drive left on Dosunmu and he's now opened up, allowing more space: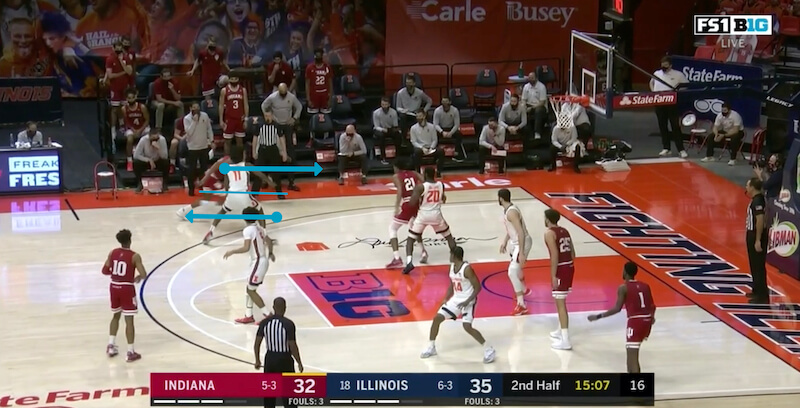 As Franklin hits the mid-range, Hunter clears out to give him space and set up on the perimeter for a possible 3-point attempt. Da'Monte Willians stays home on the left low post: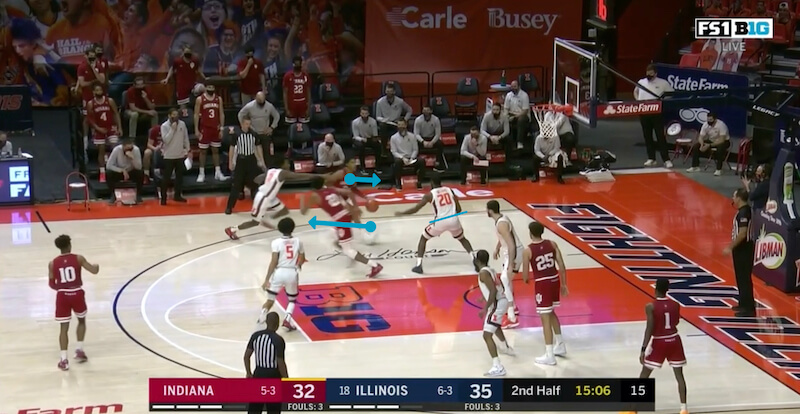 So Franklin takes what the defense gives him, stepping confidently into the mid-range shot before Williams can get close as Dosunmu can only look onwards. He hits the shot to pull the Hoosiers within a point: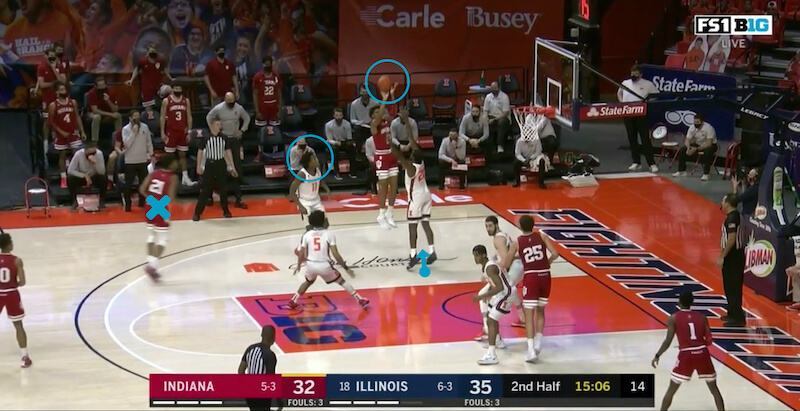 This is Indiana's blocker-mover motion offense in action, running a number of screens and cuts until Franklin was able to break free. From there, he made a quick, confident decision to drive, rise up and score.
Video:
Filed to: Armaan Franklin, Illinois Fighting Illini