Indiana commit Logan Duncomb makes major leap in Rivals 150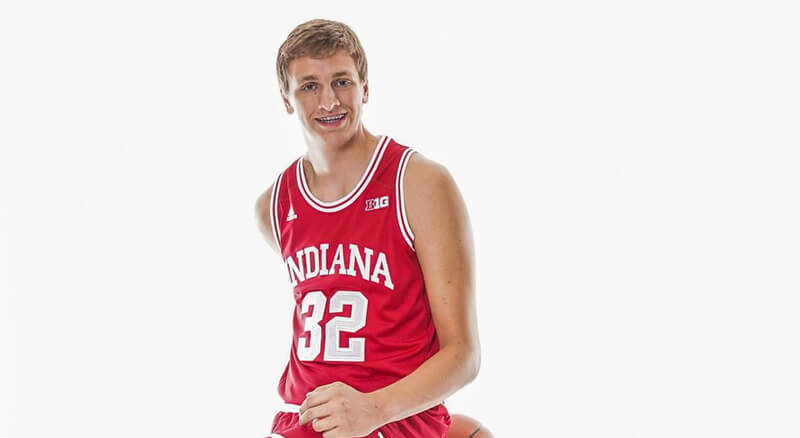 Class of 2021 Cincinnati Moeller big man Logan Duncomb was the biggest riser in the updated Rivals 150 rankings released on Monday.
The 6-foot-9, 230 pound center, who committed to Indiana on April 7, moved up 51 spots to No. 88 nationally in the new Rivals rankings.
Here is what Corey Evans, a national recruiting analyst for Rivals, wrote about the move for Duncomb:
Making the largest move in the newest Rivals150, Duncomb has turned in a productive spring and summer on the travel circuit and is being rewarded sitting as the 88th-ranked senior in America. Duncomb still needs to work on his mobility and athleticism but he is no longer an inconsistent producer. He can score inside and out and can also work as the central hub of a half-court offense.
In addition to the significant leap for Duncomb, several IU recruiting targets also saw movement in the rankings.
Silver Creek forward Trey Kaufman, who recently included Indiana in his top five schools, moved up seven spots to No. 32 nationally. Kaufman is also considering North Carolina, Virginia, Purdue and Indiana State.
Five-star guard Aminu Mohammed remained in the top 15 nationally but dropped two spots to No. 15 overall. Five-star combo guard Hunter Sallis, who recently received a scholarship offer from the Hoosiers, moved up five spots to No. 6 nationally.
Louisville de-commit Bryce Hopkins moved from No. 34 to No. 30 nationally. Hopkins recently released a top nine: California, Illinois, Indiana, Iowa State, Kentucky, Michigan, Oregon, Providence and Texas.
Four-star forward Mason Miller dropped three spots to No. 67 nationally. Indiana is believed to be one of the primary contenders for Miller.
Brewster Academy forward John Camden, who holds a scholarship offer from the Hoosiers, dropped 12 spots to No. 94 nationally.
South Bend Riley guard Blake Wesley fell one spot in the rankings from No. 95 to No. 96. Wesley's top 12 list includes Creighton, Grand Canyon, Indiana, Kansas State, Louisville, Maryland, Missouri, Notre Dame, Ohio State, Purdue, Texas and Xavier.
Filed to: Aminu Mohammed, Blake Wesley, Bryce Hopkins, Hunter Sallis, John Camden, Logan Duncomb, Mason Miller, Trey Kaufman