6-Banner Sunday: Big Ten fall sports are postponed and Bruiser Flint is leaving for Kentucky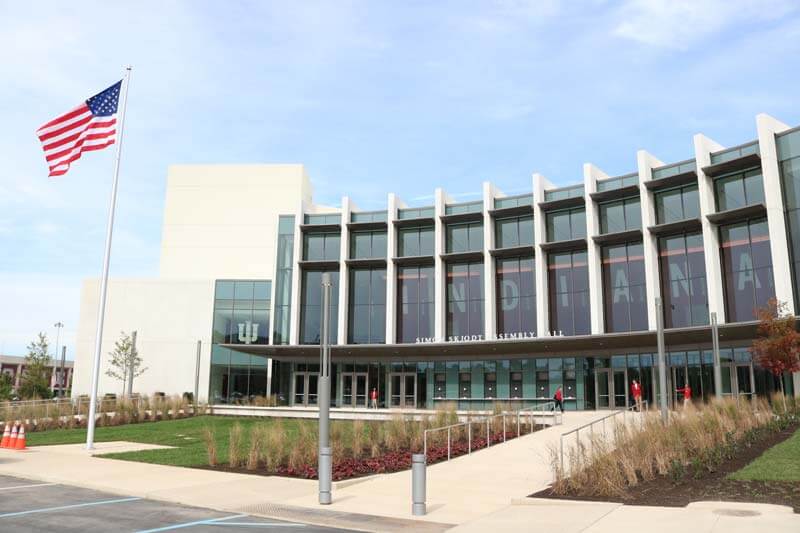 6-Banner Sunday is Inside the Hall's weekly newsletter in partnership with The Assembly Call. More than 7,000 Indiana fans receive the newsletter each week. In addition to appearing each week on the site, you can also opt to receive 6-Banner Sunday by email. A form to subscribe via email is available at the bottom of this week's 6-Banner Sunday.
Welcome to another edition of 6-Banner Sunday, a joint production between The Assembly Call and Inside the Hall where we highlight the five most essential IU basketball stories of the past week, plus take a look at how the other IU sports programs are doing.
The prospects of a fall Big Ten football season were squashed with some maddening news this week. The conference, along with the Pac-12, decided to move the fall season to the spring. That means that the possibility of college football will have to wait another few months.
Along with the updates from the conference, there was also an influx of moving parts within the University. President Michael McRobbie announced he would be stepping down and IU basketball assistant coach Bruiser Flint will join John Calipari's staff at Kentucky.
The future of college basketball is starting to be planned out as winter approaches. If there is a season, Race Thompson has become a breakout candidate after his summer workouts.
All of that, plus an update on Devonte Green's future on the court.
• Big Ten cancels fall sports with the possibility of playing in the spring
• Indiana President Michael McRobbie to retire next June
• Bruiser Flint leaves Indiana to join Kentucky staff
• Devonte Green signs to play in Greece
• Race Thompson emerging as a leader
• Hoosier Sports Roundup
Banner #1
Big Ten cancels fall sports with the possibility of playing in the spring
The start of the week brought a whirlwind of alarming reports and news that all fall sports, including college football would be canceled. After the pandemonium that ensued on Twitter following the rumors, a final wave of optimism surfaced when it was revealed no actual decision had been made yet.
In the end, on Tuesday, college sports fans' worst nightmare came to fruition with the official announcement that all fall sports would be canceled. The situation will continue to be evaluated will the possibility of moving the fall seasons to the spring.
The decision came less than one month until Indiana football was scheduled to travel to Wisconsin for the season opener. It was all so close you could almost smell the charred burgers and feel the autumn nip in the air.
The Pac-12 quickly followed suit, but also disclosed that no sports would be played this calendar year. This, of course raises concern for the potential start of the college basketball season since the Pac-12 wouldn't be able to take the court until January at the earliest. The ACC, Big 12 and SEC have all forged ahead in their efforts to play in the fall season, although there's no guarantee they will happen.
With fall Big Ten football gone, all eyes will now shift to basketball. In an interview on Thursday, NCAA president Mark Emmert mentioned the possibility of using bubbles in the college basketball landscape this season.
All of the Big Ten happenings were discussed in this week's edition of Assembly Call Radio.
Banner #2
Indiana President Michael McRobbie to retire next June
After his tenure starting in 2007, McRobbie announced his decision to step down as Indiana's president on Saturday.
McRobbie spent time in senior positions at the university for 24 years and helped lead the school during last year's bicentennial and now the uncharted territory of the pandemic.
McRobbie also sent an email to students and staff outlining his decision.
"All of this change and effort has, I believe, consolidated and elevated IU's position as one of America's premier and leading research universities, and I look forward to reviewing these accomplishments in detail in my final State of the University address later this year," McRobbie wrote in the email.
Banner #3
Bruiser Flint leaves Indiana to join Kentucky staff
For the second year in a row, an Indiana assistant coach has departed the program, this time to Kentucky.
Last year, Ed Schilling left Indiana after spending two year alongside Archie Miller. Now, it's Bruiser Flint that has decided to move on.
It's not too often that you see a coach jump from an assistant job at one top-tier program to the same position at another, but Flint had obvious reason to make the move. In the late 1980's and into the 1990's, Flint worked under John Calipari at UMASS. Flint will now be reunited with his former boss in Lexington.
In his three year stint at Indiana, the team posted a 55-43 overall record and a 26-32 conference mark. Miller will begin the search for Flint's replacement as the season approaches.
Banner #4
Devonte Green signs to play in Greece
After a brief stint preparing for the NBA draft, Green has signed to play for Trikoupis BC of the Greece A1 League.
Trikoupis won the Greek A2 championship last season before now making the jump to A1 League. Some notable players in the A1 League last year are former BYU star Jimmer Fredette, former NBA wing Wesley Johnson, former Kentucky Wildcat Aaron Harrison and former Kansas Jayhawk Brandon Rush.
As a team captain last season, Green averaged 10.8 points and 2.1 assists per game. He finished his turbulent career at Indiana with 954 points, 214 turnovers, 257 assists and 37 percent three point percentage.
After March Madness was canceled last season due to the coronavirus pandemic, Green failed to make an appearance in the NCAA tournament during his four year career.
Banner #5
Race Thompson emerging as a leader
Thompson is entering his fourth year in the Indiana program, and it would be an understatement to say he's dealt with his share of adversity.During the 2017 season he redshirted. In his redshirt freshman year, he battled multiple injuries including a severe concussion that kept him out for a large chunk of the season. Last season, he was sidelined for a few games when he came down hard on the floor in the win against Michigan State.This summer, Thompson responded to the death of George Floyd by attending peaceful protests, one of which ended with a rouge tanker plowing through a crowd.Once returning to campus, Thompson has impressed his teammates and coaches with his verbal leadership and increased strength. His efforts resulted in him earning the offseason champion honors.I talked to Clif Marshall and Thompson's childhood friend to understand how Thompson has emerged this summer.
Banner #6
Hoosier Sports Roundup
• I wrote an opinion column this week addressing our unique admiration of college sports compared to other countries. I also discussed how fans now must turn to pro sports during the absence to quench their thirst.
• Football got their second highest ranked recruit in program history.
• Athletic director Scott Dolson released a statement on the fall sports cancellation.
• Rising sophomore Zoe Crouch looks to improve on her terrific freshman season in Water Polo.
Thanks for your continued support for The Assembly Call. We'll be back next weekend with a new roundup.
Now go enjoy yourself a 6-banner Sunday.
Filed to: