NCAA President Mark Emmert mentions bubble as possibility in college sports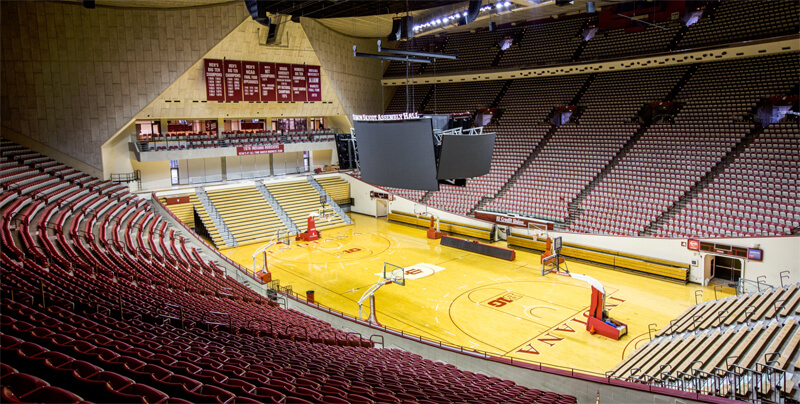 NCAA President Mark Emmert suggested the possibility of a bubble in college sports in an interview posted on the organization's Twitter account Thursday evening.
After explaining why the NCAA cannot currently proceed with fall championships other than FBS football – which isn't controlled by the NCAA – Emmert said he is "completely confident" that winter and spring sports will have championships.
"We have to give highest priority to the winter and spring sports because they lost their championship last March," Emmert said. "We made that horrible, awful but necessary choice to shut down. Didn't have Frozen Four, didn't have Final Fours, didn't have World Series in baseball or softball or track championships, lacrosse. We lost all of that. First and foremost, we have to say we're going to protect those spaces."
Emmert went on to say that the NCAA must "modify" the model due to the COVID-19 pandemic, which could include shrinking bracket sizes and playing events in predetermined sites.
"Move towards bubble or semi-bubble models in volleyball, let's say, or soccer. There's a way to do it. Is it normal? Of course not, you'd be playing a fall sport in the spring. Will it create other conflicts and challenges? Of course. But is it doable? Yeah. And we want to do that. We want to make it work for these students."
Whether a bubble setup is something college basketball executes for next season remains to be seen, but it is clear Emmert is putting a heavy focus on delivering a season in men's and women's basketball.
"Men's and women's basketball, we've got to do what we need to do to support those athletes and those timelines," he said. "We're talking, of course, with our media partners pretty constantly now about what flexibility they would have and we would have. We'd love nothing more than to hold the current dates constant, and that may well be doable. The virus is going to be an important part of this conversation because we've got to do it in a safe fashion. We're hopeful we can do that, but we are looking at alternatives. Moving backward if we needed to and where can we plug that in?"
Earlier in the week, Dan Gavitt, who oversees the NCAA tournament, said the organization will deliver March Madness next year.
"We are going to have a tournament that is going to be special," Gavitt said. "We have our preferences about how we'd like it to be. But if we have to adjust to the virus, which we don't control, we will adjust accordingly."
Indiana coach Archie Miller said last month that he is optimistic that college basketball will be played for the 2020-21 season.
"Basketball will adjust. I'll be shocked, absolutely shocked if we don't turn out a good basketball season," Miller said. "Whether that's non-conference, conference only at Thanksgiving, conference only in January, I feel like we'll have a great college basketball season. I do feel like we'll be ready for the tournament as it comes rolling around 12 months later."
Filed to: Mark Emmert