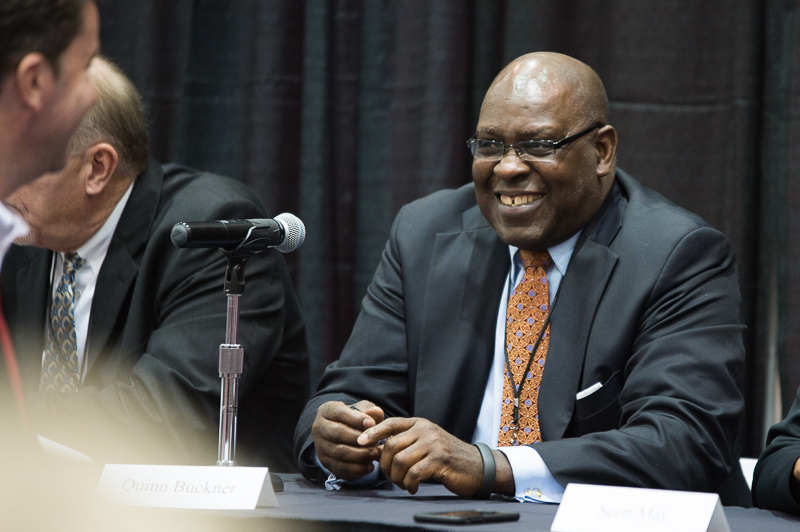 Welcome back to the "Greatest IU Basketball Player of All-Time" tournament bracket, where Inside the Hall and Assembly Call teamed up to put together a field of 68 former Hoosiers who have left a tremendous impact on the Indiana basketball program.
We have now reached the Sweet Sixteen stage of the bracket for all four regions: The Pre-Knight, Knight Pre-'85, Knight Post-'85 and Post-Knight regions, representing the four periods of IU basketball history.
Today it's time to vote in the two Sweet Sixteen matchups in each of the Pre-Knight and Knight Pre-'85 regions.
Voting for the four combined Sweet Sixteen matchups in the Knight Post-'85 and the Post-Knight regions will take place tomorrow.
Among the factors to consider when voting:
– Impact on winning at IU
– Statistical achievement
– How they represented the program and university
– Qualitative impact on the culture and tradition of IU basketball overall
Remember, go to Inside the Hall's Twitter account to vote on these matchups (the polls will also be embedded in this post once they go live), and you have 24 hours from when the polls go live to vote. The Sweet Sixteen will begin on Monday. (The updated bracket can be found at the bottom of the article.)
Today's matchups are below:
Pre-Knight Region
No. 1 Don Schlundt v No. 12 George McGinnis
Don Schlundt (1951-1955)
Schlundt defeated Lou Watson in the round of 64 and Jimmy Rayl in the round of 32. He did everything an IU player needs to do to be remembered as a legend in Bloomington. He averaged 23.3 points per game across his Indiana career, scoring 2,192 points in 94 games. It was enough to earn the IU school scoring record for 32 years and Schlundt still ranks 3rd all-time on the list. He also won a lot, helping Indiana win the 1953 NCAA title and the school's first two undisputed Big Ten regular season championships. In that 69-68 title game win over Kansas, Schlundt scored 30 points. Nicknamed "Ox," Schlundt was a revolutionary big man (listed as 6-foot-9 or 6-foot-10 during his playing days) who is a member of both the Indiana Basketball and IU athletics halls of fame.
George McGinnis (1970-1971)
McGinnis defeated Bill Garrett in the round of 64 and Branch McCracken in the round of 32. In just one season with Indiana before moving on to play professionally, McGinnis had himself quite a historic season. He averaged an IU record and Big Ten-best 29.9 points and 14.7 rebounds per game that season. Just twice has any Big Ten player averaged more points or rebounds per game since in league play. In just his third game, he had 38 points and 20 rebounds. He scored 30 points or more 13 times, with a career-high of 45, and he was the first sophomore in history to lead the Big Ten in scoring and rebounding.
The Greatest IU Basketball Player of All-Time Bracket

Pre-Knight Region Sweet Sixteen Matchup:#iubb @AssemblyCall

— Inside the Hall (@insidethehall) April 6, 2020
No. 6 Slick Leonard v No. 2 Walt Bellamy
Slick Leonard (1951-1954)
Leonard defeated Marv Huffman in the round of 64 and Archie Dees in the round of 32. A point guard for the Hoosiers for three seasons, Bobby "Slick" Leonard has grown to be a fixture in the Indiana basketball scene. His playing career in Bloomington came with plenty of on-court success, as he was a two-time All-Big Ten team selection as well as an All-American in 1954. Leonard was a captain for the 1953 national title-winning team and he hit the game-winning free throw in the closing seconds to defeat Kansas in the championship game. His professional playing career took him to the NBA, and he then coached the Indiana Pacers from 1968 to 1980, winning three ABA championships. Starting in 1985, Leonard became a color commentator with the Pacers (a role he still holds) and he was inducted into the Naismith Memorial Basketball Hall of Fame in 2014.
Walt Bellamy (1958-1961)
Bellamy defeated Dick Van Arsdale in the round of 64 and Everett Dean in the round of 32. For three seasons in the middle of the 20th century, there was likely not a more dominant college basketball player than Bellamy at Indiana. He averaged 20.6 points and 15.5 rebounds per game for his career, famously going on to become the first Hoosier ever selected No. 1 overall in an NBA draft. The All-American still holds IU records for most rebounds in a single game (33), most rebounds in a season (428) and Bellamy has the second-most career rebounds (1,087) among all IU players. Bellamy closed his storied college career with 59 double-doubles. He won a gold medal at the 1960 Olympics with the United States, and is a member of the IU Athletic Hall of Fame and the Naismith Memorial Basketball Hall of Fame.
The Greatest IU Basketball Player of All-Time Bracket

Pre-Knight Region Sweet Sixteen Matchup:#iubb @AssemblyCall

— Inside the Hall (@insidethehall) April 6, 2020
Knight Pre-'85 Region
No. 1 Scott May v No. 4 Quinn Buckner
Scott May (1972-1976)
May defeated Jim Thomas in the round of 64 and Randy Wittman in the round of 32. May was a standout player on some of the best teams in Indiana history. The forward was an integral part of the 1976 undefeated Indiana team which won the title after going 32-0, and he was recognized handsomely for his contributions. May averaged 23.5 points per game, 7.7 rebounds per game and shot 52.7 percent from the field during that championship season. He was named the NABC, Naismith, AP, Helms Foundation, Rupp and Sporting News national player of the year that season. A consensus All-American in both 1975 and 1976, May finished his IU career with 1,593 points (13th in IU history) and was drafted second overall in 1976 by the Chicago Bulls. He also won a gold medal with the United States in the 1976 Summer Olympics.
Quinn Buckner (1972-1976)
Buckner defeated Tom Abernethy in the round of 64 and Mike Woodson in the round of 32. Buckner had a colorful athletic career in Bloomington, playing both basketball and football and getting drafted professionally in both sports. But it's his contributions to the 1976 title team on the hardwood that is most remembered. He made an immediate impact as a freshman, averaging 10.8 points and nearly five rebounds per game as the Hoosiers reached the Final Four. He turned into a facilitator for his sophomore campaign, averaging 5.4 assists per game, and his junior season saw the best collegiate stats of his career as Buckner averaged 11.8 points, 3.8 rebounds and 5.5 assists per game. Buckner brought a strong sense of defense to the title-winning team, but also finished as IU's fourth-leading scorer on that team with 8.9 points per game. He owns the rare distinction of winning a high school state title (in Illinois), a college title (at IU), an Olympic gold medal (with the United States) and an NBA title (with the Boston Celtics).
The Greatest IU Basketball Player of All-Time Bracket

Knight Pre-85 Region Sweet Sixteen Matchup:#iubb @AssemblyCall

— Inside the Hall (@insidethehall) April 6, 2020
No. 3 Isiah Thomas v No. 2 Kent Benson
Isiah Thomas (1979-1981)
Thomas defeated Uwe Blab in the round of 64 and Ray Tolbert in the round of 32. The catalyst for Indiana's 1981 national title and eventual No. 2 overall pick in the NBA draft and 12-time NBA All-Star, Thomas made the most of his two seasons in Bloomington. As a freshman Thomas led Indiana in scoring (423 points), assists (159) and steals (62) while becoming the first freshman to be named to the AP All-Big Ten team. He was a captain of the 1980-81 team as a sophomore, improving his final statistical averages to 15.4 points per game, 5.7 assists per game and 3.5 rebounds per game as the Hoosiers went 26-9 and defeated North Carolina for the college championship. Thomas went on to win two NBA titles with the Detroit Pistons and spent time as the coach of the Indiana Pacers.
Kent Benson (1974-1977)
Benson defeated Landon Turner in the round of 64 and Steve Downing in the round of 32. Recent health problems have plagued the 6-foot-10 Benson, who will be forever remembered for his role on the 1975-1976 title-winning Hoosiers. Benson arrived at IU after a storied career at New Castle High School, where he scored nearly 1,500 points, had almost 1,600 rebounds and was named Indiana's Mr. Basketball in 1973. As a sophomore, Benson and the 1974-1975 Hoosiers reached the Elite Eight, and one year later Benson was an All-American and was named the Most Outstanding Player of the Final Four when the Hoosiers won the NCAA title (Benson scored 25 points in the championship game). He ended his IU career with 1,740 points, still ninth in school history, and was the No. 1 overall pick in the 1977 NBA draft.
The Greatest IU Basketball Player of All-Time Bracket

Knight Pre-85 Region Sweet Sixteen Matchup:#iubb @AssemblyCall

— Inside the Hall (@insidethehall) April 6, 2020
High Resolution Bracket – Click Here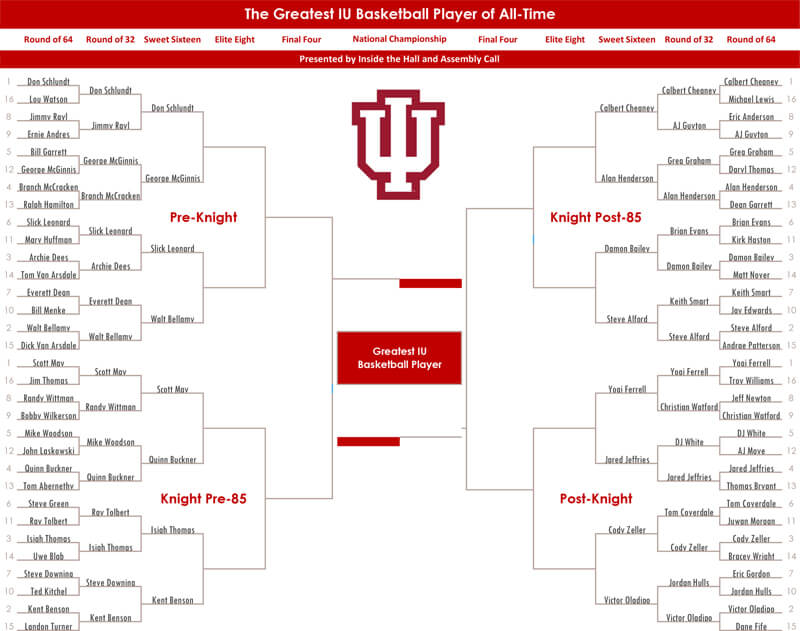 Filed to: All-Time Greatest Hoosier, Don Schlundt, George McGinnis, Isiah Thomas, Kent Benson, Quinn Buckner, Scott May, Walt Bellamy