'There's no way to get closure': The cost of no NCAA tournament for Big Ten teams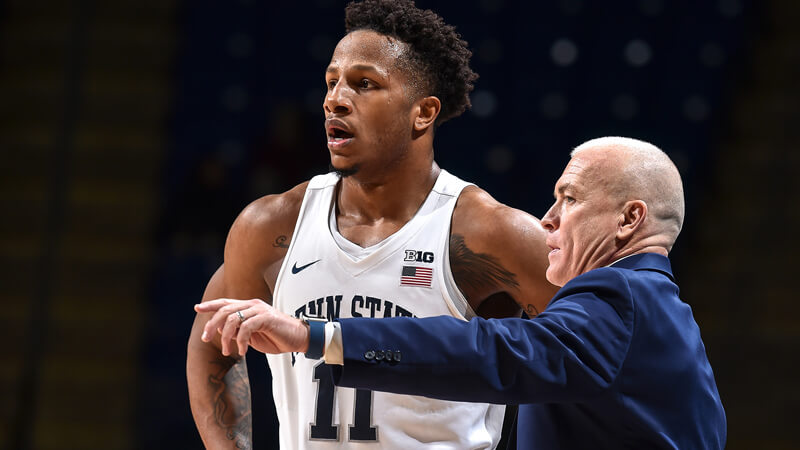 College basketball entered an unfamiliar world last week.
The NCAA tournament, the sport's showcase event and a competition that persisted through point shaving scandals and a world war, was canceled for the first time since its inception in 1939.
While the cancelation of the men's NCAA tournament was just one of the dominoes to fall within a large swath of cancelations made by the NCAA in the interest of public health and safety, the disappointment is still evident for plenty of Big Ten teams.
The consensus among bracketologists was that 10 Big Ten schools would likely have made this year's NCAA tournament, barring a surprise run in the Big Ten tournament from other schools.
In the words of those who know these 10 teams the best, the journalists who chronicled each step of their journeys, here is each school's story, stories of lost moments and premature endings.
Schools are organized in alphabetical order.
*Note – Maryland, Michigan State and Wisconsin all won a share of the Big Ten regular season championship
Illinois (21-10 overall, 13-7 in Big Ten play, 4th place finish in the Big Ten)
Journalists: Shannon Ryan of the Chicago Tribune and Gavin Good of the Peoria Journal Star
Players like Ayo Dosunmu are made for the NCAA tournament.
When the prolific guard opted to return to Illinois for his sophomore season he released a video reiterating his reasons for staying. Chief among them were his desire to take care of "unfinished business" at Illinois, namely bringing the Fighting Illini back to March Madness for the first time since 2013.
That had been a driving force behind Dosunmu and Illinois' on-court exploits this season, but the wait will have to extend at least one more year.
"Technically that storyline of unfinished business is still there," Good said.
The storyline will also likely be resolved without Dosunmu, who is projected to be heading to the NBA this offseason.
This year's Illinois roster was littered with stories seemingly tailor made for March Madness, including those of Dosunmu's teammates Andres Feliz and Kipper Nichols, players looking to close their college careers with a long anticipated tournament run.
But no one brought the confidence, swagger or shot-making ability like Dosunmu did to the Illinois rebuild.
"He really has carried this weight of bringing Illinois basketball back," Ryan said of Dosunmu.
There's no mistaking that the immediate future of Illinois basketball remains promising. Big Ten freshman of the year Kofi Cockburn will likely be back and ready to dominate on the interior once again, while Giorgi Bezhanishvili and Trent Frazier will have a chance to make up for their lackluster performances this season.
The commitment is there from the Illinois administration as well. Brad Underwood signed a three-year extension at the start of March that takes him through the 2025-26 season at Illinois as head coach.
There's even an immediate backup plan beyond Dosunmu and Frazier, with the arrivals of a pair of top-55 nationally ranked guards in Andre Curbelo and Adam Miller.
"The thought within the fanbase is like 'Illinois had its shining moment taken away, but they're gonna be good for the foreseeable future right now,'" Good said.
Cockburn's emergence this season, as well as the necessary recruiting done by Underwood, has allowed for Illinois to survive and thrive beyond the days of Dosunmu. Not having him be a part of the eventual celebration though will remain an unavoidable letdown.
'I think for them it was like 'Man, we've finally built this thing, it's been so long and so frustrating and we finally built it and now we can't have that officially,'" Ryan said. "'We can't have our name called on Selection Sunday.'"
Indiana (20-12 overall, 9-11 in Big Ten play, 11th place finish in the Big Ten)
Journalist: Cameron Drummond of Inside The Hall
Signs of progress were abundant in Archie Miller's third season in Bloomington.
While they still had trouble sticking to it, the Hoosiers had a defined offensive plan for the first time under Miller. Stagnant periods of halfcourt offense persisted in between success found in the post with Trayce Jackson-Davis, but while the Hoosiers often made it difficult on themselves to win games, they claimed enough victories to the point where an NCAA tournament selection was expected.
That selection could have spared De'Ron Davis and Devonte Green from joining the ranks of IU basketball infamy, but they weren't fortunate enough to be spared.
The duo now comprises the first four-year class of Indiana players to not participate in March Madness since the early 1970s. It's a harsh end for two players who bridged the transition between the Tom Crean and Archie Miller coaching eras, but also because of the struggles each player went through.
Davis' Achilles injury in January 2018 limited what he could offer from a mobility and physicality standpoint over his final two years at Indiana, while Green's inconsistency always put a ceiling on what he could offer.
Both players could be game-changing presences on their respective days though, and the lack of an NCAA tournament for each means a void will always be attached to their Indiana careers.
But with those two players being the only expected departures of significance, the focus shifts to Joey Brunk and Justin Smith and their on-court compatibility with Jackson-Davis.
By the end of the season, deficiencies were noted in Indiana's frontcourt play when Jackson-Davis had an off night, and Race Thompson became the regular on-court answer thanks to his rebounding tenacity and physical defensive presence.
A team that entered this season with a score-by-committee approach often found itself overly reliant on Green and Jackson-Davis at both ends.
With one of those players leaving and the other now the front-and-center showpiece of IU's offense, it will be up to those around Jackson-Davis to help out if Miller is to continue his slow but steady progress with the program.
The backcourt is also suddenly a crowded place for the Hoosiers. After being too light on guards this season, the arrival of Trey Galloway, Anthony Leal and potentially Khristian Lander could revolutionize the way Indiana feeds the ball to Jackson-Davis.
Lander has his own ideas for that.
Iowa (20-11 overall, 11-9 in Big Ten play, 5th place finish in the Big Ten)
Journalist: Robert Read of The Daily Iowan
The late-season meltdown didn't come for Iowa this season, but neither did the payoff for having arguably the best player in the country on its roster.
Luka Garza was nothing short of spectacular for the Hawkeyes, averaging nearly 24 points and 10 rebounds per game. He was named the ESPN national player of the year and is a finalist for the Naismith Award as well.
The honors come following a season in which he also broke Iowa's 50-year old single-season scoring record and fell just shy of Iowa's single-season field goals made record.
"He really had the best season in program history from a variety of points," Read added.
With one year of eligibility left, the assumption seems to be Garza will return for his senior campaign. If he does do so, he would be part of a formidable group of returners that also includes Joe Wieskamp and Jordan Bohannon, who missed most of last season due to injury.
"Iowa's really in a place where they could be a preseason favorite to win the conference next year," Read said.
This forward-looking optimism is enough to shake off the disappointment of not getting to see this year's version of Garza in the postseason. Overcoming adversity was at the heart of Iowa's success this year, given injuries to the likes of Jack Nunge and CJ Fredrick, which forced freshman Joe Toussaint to contribute immediately at guard.
"There was this 'Us against the world' mentality this team seemed to have…people in Iowa City seemed to really resonate with that," Read said.
Offseason departures won't impact Fran McCaffery's team a ton, although redshirt senior guard Bakari Evelyn was trusted to close games thanks to his prior experience at Nebraska and Valparaiso, and Evelyn's story of missing out on the NCAA tournament in his last go-around is an unfortunately common refrain around college basketball.
Those still left with the Hawkeyes have plenty to look forward to next season, which can maybe help ease the current postseason pain, assuming their talismanic star player decides to return alongside them.
Maryland (24-7 overall, 14-6 in Big Ten play, 3rd place finish in the Big Ten)
Journalist: Andy Kostka of The Diamondback
Anthony Cowan Jr. and Mark Turgeon's achievements and shortcomings will always be linked together, and this season exemplified both.
Securing a share of the Big Ten regular season title lifted the proverbial monkey off each of their backs, but neither will have the postseason opportunities they deserve to build off that success.
Cowan remarkably started all 130 of his collegiate appearances for the Terrapins, but he also never managed to win a Big Ten tournament game, an ironic marriage between consistent regular seasons and a lack of vindicating postseason victories.
"He's (Cowan's) talked a lot this year about how a regular season title was just the first step on the way to something greater," Kostka said. "So that's probably the biggest thing lost. It was kind of a chance for him to prove that he could lead a team to postseason greatness."
In a similar vein to Cassius Winston at Michigan State, the lasting image of Cowan for Terrapin fans will be a memorable one.
He had 20 points and eight assists while piloting Maryland to a senior day win over Michigan, one that gave the Terrapins that share of the conference title, Maryland's first piece of men's basketball hardware since joining the Big Ten in 2014.
"Maybe they would remember him even more fondly if he would have brought them to a Final Four, but that never happened," Kostka said.
For a team and coach that gets undue criticism even in the best of times (Kostka said he couldn't tweet anything about Turgeon this season without having someone respond negatively), postseason runs in either tournament would have gone a long way toward shifting existing narratives.
"If this team makes it deep into the tournament, suddenly I think a lot of people are going to be on Turgeon's side. He maybe misses out on that opportunity with one of his best teams," Kostka said.
Of course, it wasn't just Cowan but also Jalen Smith that led Maryland to plenty of regular season wins. Smith holds the keys to Maryland's offseason in his own decision to either turn professional or not, a choice that could have been made easier with a solid showing stretching multiple games in the NCAA tournament.
Returning Big Ten sixth man of the year Aaron Wiggins figures to contribute heavily again in the backcourt, while Donta Scott's defense earned him playing time in the frontcourt as a freshman.
With one star player already leaving, Maryland needs Smith to stay or a transfer may be needed to fill the minutes and production among big men.
"You look at Jalen as kind of the lynchpin of this group," Kostka said.
Michigan (19-12 overall, 10-10 in Big Ten play, 9th place finish in the Big Ten)
Journalist: Abby Snyder of The Michigan Daily
Stylistic change was a resulting component of Michigan's decision to follow John Beilein's time as head coach with Juwan Howard's tenure, and further acclimating players to and installing Howard's own system is also at the forefront of his second offseason with the Wolverines.
"To a large extent, this was the last look we were going to get at the John Beilein system at Michigan," Snyder said. "A lot more focus is now placed on pace and scoring in transition, which wasn't something we saw a lot from Beilein, whose teams tended to play very slowly."
While Howard is still in the process of getting his own players for his own system, a pair of Beilein-recruited standouts also depart this offseason.
Jon Teske and Zavier Simpson are the two winningest players in Michigan program history, holdovers from the 2018 Final Four team and markers of the Beilein era at the school.
"Even though they didn't get the sendoff they wanted or probably deserved, I think you look at those guys who stayed on for their senior season and in Ann Arbor the sentiment is very much gratitude and respect," Snyder said. "They (Teske and Simpson) are still very much a part of that culture at Michigan."
Their final season in Ann Arbor came as part of a streaky Wolverine team that had both a four-game losing streak and a five-game winning streak in conference play.
But given that it is a time of transition for the Wolverines, the focus will be on Howard's recruiting, and his ability to potentially adapt to an abbreviated offseason.
As a group, Michigan's five committed recruits for the Class of 2020 rank fourth in the country, and features 5-star power forward Isaiah Todd from Raleigh, North Carolina.
Rising seniors Isaiah Livers and Eli Brooks figure to do the heavy lifting on the court for Michigan next season.
Long-term success for the Wolverines under Howard though may lie in his ability to navigate an uncertain offseason, and getting players like Todd up to speed from a mental and physical perspective to properly execute his vision for the Michigan program.
Michigan State (22-9 overall, 14-6 in Big Ten play, 2nd place finish in the Big Ten)
Journalist: Kyle Austin of MLive Media Group
While there were long stretches in which it didn't look like one, the 2019-20 version of Michigan State eventually embodied all the hallmark characteristics of a trademark Tom Izzo-coached team.
Austin explained how the Spartans' closing stretch of the season, in which they won five straight games to earn a share of the Big Ten title for the third straight year, increased hope concerning the postseason but also made it more difficult to swallow when the NCAA tournament was canceled.
"I think everyone was kind of starting to think 'Okay, this is starting to look like an Izzo-year, an Izzo-trajectory really as far as figuring it out at the end," Austin said.
Michigan State's 20-plus year streak of playing in March Madness may make it a bit easier for those surrounding the program to deal with a one-year absence, but it also deprives them of seeing an all-time great in Cassius Winston get his deserved final bow in March.
The lasting memory of Winston in a Michigan State uniform epitomizes his tenure as a Spartan. He scored 27 points in a home win over Ohio State on senior day to become part of just the second class in MSU history to win three straight conference titles.
"He was pretty much, I think, one small step below the elite of the elite at Michigan State," Austin said, referencing point guards Magic Johnson and Mateen Cleaves who brought a national title to East Lansing.
"I think with a good NCAA tournament run (this year) he (Winston) could have been considered one of the three or four best players to ever play at Michigan State."
Unsurprisingly, filling the void left by an all-everything point guard who is among the program leaders in points, assists and steals will dominate the offseason discussion surrounding Izzo's team.
Other subplots exist, such as Xavier Tillman Sr. deciding whether to return or leave for the NBA, but the lion's share of the attention will rightfully go to the point guard spot.
Options exist with freshman Rocket Watts, who played off the ball this year at shooting guard, as well as Foster Loyer, the backup who still hasn't quite emerged in the way a starter needs to.
A tournament run could have helped clarify the question of what Michigan State will do without Cassius Winston at point guard, but like so much else this college basketball season, that too will go unanswered.
"I think they had hoped to end this year with a very clear idea of who was your next point guard," Austin said. "They have some options that could work out well, but I still think it's a pretty open question heading into next season for Michigan State."
Ohio State (21-10 overall, 11-9 in Big Ten play, 7th place finish in the Big Ten)
Journalist: Colin Hass-Hill of Eleven Warriors
Hass-Hill compared the 2019-20 Ohio State men's basketball season to a roller coaster ride, but even the most jolting of theme park attractions would struggle to mirror the high and lows experienced by the Buckeyes this season.
Early-season success brought a ranking of No. 2 in the country when Chris Holtmann's team was 11-1. Fits and spurts of winning and losing followed, along with a sobering reminder when freshman guard D.J. Carton stepped away from the team due to focus on his mental health.
But similarly to Wisconsin, Ohio State had pulled it together late, winning nine of its final 12 games entering the Big Ten tournament.
"I'm not even sure I 100 percent know how good this team was," Hass-Hill explained. "I don't know if they really ever figured that out. And that's the part that's lost. It's just a weird ending to a weird season."
The Buckeyes were down to just eight healthy scholarship players at the end of the season, and it was a campaign that may mark the end of an on-court style for Ohio State.
Andre Wesson is gone for sure due to graduation, while his All-Big Ten honoree brother Kaleb has a decision to make regarding leaving Columbus early for the NBA. Hass-Hill noted the improvements in defending, conditioning and 3-point shooting made by Kaleb this season, molding the 20-year old forward into a legit professional prospect.
Kaleb's decision to stay or go, and the resulting impact that has on Ohio State's desire to dip into the grad transfer market, is the immediate storyline for the Buckeyes. The more long term storyline deals with how a variety of new pieces will fit together on Holtmann's team next season.
Justice Sueing, a transfer at forward from Cal, will log his first minutes after sitting out the 2019-20 season, while Kyle Young looks to close his college career without being saddled by injuries. The Buckeyes will also be reliant on CJ Walker to create from the backcourt, especially given the uncertainty with Carton's future basketball plans.
The pieces are there for Ohio State, but going forward the intrigue comes in how those pieces fit together.
"They're essentially going to go into the 21st century of basketball here without a true center like you see across the Big Ten. They're going to have a lot of guys between 6-5 and 6-8 and be able to switch and be able to shoot," Hass-Hill said.
"I think that that's sort of the style that Chris Holtmann eventually wants to get to. We just haven't seen some of the key pieces ever having played together, especially in these roles. It's just going to look completely different from this season."
Penn State (21-10 overall, 11-9 in Big Ten play, 6th place finish in the Big Ten)
Journalist: Jon Sauber of the Centre Daily Times
Rarely are missed opportunities more clear cut and obvious than the ones associated with Penn State being unable to take part in this year's postseason.
All-Big Ten forward Lamar Stevens, who said repeatedly he returned to school to play in the NCAA tournament, will finish his career just points shy of passing Talor Battle as Penn State's all-time scorer.
"I think everyone understands that Stevens is still the best player to ever play at Penn State, and the best player to ever decide to go to Penn State too," Sauber said. "He wanted to play in March, play meaningful basketball games…now it sort of feels a bit more hollow."
Meanwhile, the albatross around Pat Chambers' neck remains his lack of an NCAA tournament appearance. Chambers is into the ninth year of his tenure at Penn State, and a season in which the Nittany Lions were ranked as high as No. 9 in the country was set to end with the program's return to college basketball's biggest stage.
That no longer is the case.
"It's been really tough for him, especially when that's been the main criticism of him," Sauber said. "He doesn't really get the chance to prove his worth out of conference in the postseason."
Doubt had already begun to creep into the minds of Penn State fans as the season came to a close. The Nittany Lions lost five of their last six games, including an 11-point defeat to end the season at Northwestern, and momentum began to dwindle.
Losing Stevens and Mike Watkins (who was charged with a DUI last week) deprives next year's Penn State team of an elite scorer and rim protector, and likely forces sophomore guard Myreon Jones into the role as Penn State's main offensive creator.
Replacing Stevens and his production is the looming question for the Nittany Lions this offseason, and one whose answer will determine if interest in college basketball can be maintained in Happy Valley.
"This season reasonably could have been the peak," Sauber said.
Rutgers (20-11 overall, 11-9 in Big Ten play, 8th place finish in the Big Ten)
Journalist: James Kratch of NJ Advance Media
Kratch can easily envision the scene that would have played out last Sunday evening in Piscataway, should everything have gone to plan.
The Rutgers Athletic Center would have been "packed to the gills," exploding with noise as the Scarlet Knights heard their name called on Selection Sunday for the first time since 1991.
Instead, Rutgers' March Madness drought will painfully extend into a 30th year.
"It could have been the biggest party the RAC had ever seen on Selection Sunday," Kratch said. "It's just the disappointment of, they got so close, they were days away from getting into the tournament. There's no way to get closure."
While the NCAA has already nixed the idea of releasing a hypothetical bracket, it would have been at least something for Rutgers and its fans to tangibly grasp. Instead, coach Steve Pikiell's optimistic rhetoric must carry them through the offseason.
There's reasons for Pikiell to feel this way. Aside from needing to fill depth inside after losing interior blue-collar big men Shaq Carter and Akwasi Yeboah to graduation, the rest of the Scarlet Knights should return, including standouts Geo Baker and Ron Harper Jr.
"They're going to be good again unless something drastically changes," Kratch explained.
Pikiell's toughest task may in fact be maintaining the off-court momentum that came with Rutgers' rise this season. Unable to bring recruits on campus for months will surely hurt, and being unable to actually say he's taken Rutgers to the tournament may force the recruiting steam to run out quicker than it otherwise would.
The message from Pikiell this offseason, that there's no reason to mope around because basketball will return and Rutgers can earn the right to have its moment in the sun for real, is one rooted in the on-court progress already made.
But to continue selling out games at the RAC, even the less glamorous ones, and remain relevant in a crowded New York metropolitan sports scene, the Scarlet Knights are going to have to show again they're worthy of the attention.
"Until they actually get there…there's going to be this nagging thought of 'That was the window,'" Kratch said. "The most ridiculous, Rutgers thing that could ever happen happened, with a pandemic in the one year they finally make the tournament. Who knows what the future's going to bring."
Wisconsin (21-10 overall, 14-6 in Big Ten play, 1st place finish in the Big Ten)
Journalist: Jim Polzin of the Wisconsin State Journal
Wisconsin took the adventurous route to winning its first Big Ten regular season title since 2015, and its first with head coach Greg Gard.
The Badgers faltered in nonconference play and on-court inconsistency continued for into early February. When the Badgers lost three of four games to Purdue, Iowa and Minnesota they found themselves at 6-6 in conference play.
Eight straight wins to close the regular season not only brought hardware back to Madison, it also restored faith in the current regime.
"I think there were a lot of people in early February that were wondering if this team was going to make the NCAA tournament. I think there were some fans questioning whether Greg Gard was the right guy to lead the program," Polzin said. "What he did down the stretch answered a lot of those questions."
Wisconsin's on-court success was all the more remarkable given the off-court narratives.
The tragic car crash involving assistant coach Howard Moore and his family last May remained a rallying point for the program into this season, which saw Micah Potter forced to wait until late December to make his debut after the NCAA wouldn't grant him a waiver, guard Kobe King abruptly leave the team in January and the resignation of strength and conditioning coach Erik Helland in February.
It's unquestioned the Badgers were peaking at the right time, and Polzin said hope was high among players and coaches that with the roster finally settled and on-court chemistry at a high, a deep NCAA tournament run could follow.
ESPN even simulated the 2020 NCAA tournament using its College Basketball Power Index (BPI) and Wisconsin won the whole thing.
But for Wisconsin to replicate this success next season, continuity will have to play a big role.
Guard Brevin Pritzl, Wisconsin's lone senior, will be the only regular player lost.
This leaves key junior contributors like guards Brad Davison and D'Mitrik Trice, along with Nate Reuvers, Aleem Ford and the aforementioned Potter, as players set to return.
A potentially abbreviated offseason would likely harm the development of Wisconsin's five incoming scholarship freshmen, but the blocks remain in place for optimism to be harbored in anticipation of next season.
"I think this program is trending upward again," Polzin said. "The last month of the season was a big step toward making fans at least feel good about where things are headed."
Filed to: Illinois Fighting Illini, Iowa Hawkeyes, Maryland Terrapins, Michigan State Spartans, Michigan Wolverines, Ohio State Buckeyes, Penn State Nittany Lions, Rutgers Scarlet Knights, Wisconsin Badgers