6-Banner Sunday: Trayce Jackson-Davis wills Indiana to victory ahead of Penn State rematch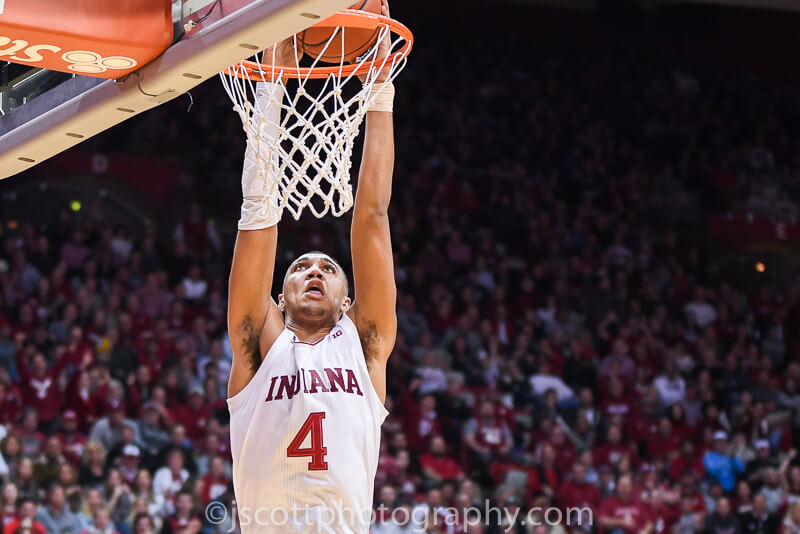 6-Banner Sunday is Inside the Hall's weekly newsletter in partnership with The Assembly Call. More than 7,000 Indiana fans receive the newsletter each week. In addition to appearing each week on the site, you can also opt to receive 6-Banner Sunday by email. A form to subscribe via email is available at the bottom of this week's 6-Banner Sunday.
Welcome to another edition of 6-Banner Sunday, a joint production between The Assembly Call and Inside the Hall where we highlight the five most essential IU basketball stories of the past week, plus take a look at how the other IU sports programs are doing.
The Hoosiers had a big week in hopes of solidifying their postseason resume, knocking off Minnesota for their second true road win of the season. This came after an earlier blowout loss at the hands of a red hot Michigan team last weekend.
Moving forward the Hoosiers face a top 10 Penn State team today. A victory will move IU one step further towards locking in their first NCAA Tournament bid of the Archie Miller era.
In this week's edition:
• IU beats Minnesota behind huge night from Trayce Jackson-Davis
• Race Thompson strong against Gophers
• Hoosiers blown out by Michigan
• De'Ron Davis shines in loss to Wolverines
• IU faces Penn State today
• Hoosier Sports Roundup
Banner #1
IU beats Minnesota behind huge night from Trayce Jackson-Davis
Archie Miller talked about getting freshman Trayce Jackson Davis more involved in the offense. The Hoosiers answered the call, constantly feeding the low post on Wednesday night in Minneapolis. Behind 27 points and 16 rebounds from the big man, Indiana rolled to a 68-56 victory in Williams Arena for just their second road win of the season.
Jackson-Davis talked after the game about his performance as did head coach Archie Miller.
Besides Jackson-Davis, IU put the clamps on Minnesota defensively after a terrible start on that end of the floor that saw them give up 1.74 points per possession early on. After this though, IU buckled down and got that number down to .83 by games to cruise to the victory.
Banner #2
Race Thompson strong against Gophers
Race Thompson returned to the city he grew up in and the university his dad played football at and had a fantastic night. Thompson has struggled with injuries throughout his career but seems to be finally coming into his own. Thursday Night, in Minneapolis he was one of the main reasons for the Hoosiers success along with Jackson Davis.
Thompson just missed a double-double scoring nine points and grabbing 10 rebounds while helping to limit Minnesota star Daniel Oturu to 11 points. He talked with the media after the game about his performance in his hometown.
Banner #3
Hoosiers blown out by Michigan
It wasn't all roses for the Hoosiers this week. As good as they were against Minnesota, IU was equally bad against Michigan in Ann Arbor losing 89-65 in a game where the defense was almost non-existent. Contently, throughout the game the Wolverines were left wide open at the three point line where they hit 9-17 on the day.
The two point defense was no better as Michigan went 22-37 from two point range for 31-54 overall which amounts to 57%. No one player was a particular thorn in IU's side, but every Wolverine did a little bit to pound the Hoosiers, as five players reached double figures by freshman Franz Wagner with 16 points.
Wolverines first year head coach and former player Juwan Howard talked about the recent strong play of his team, especially with the return of play maker Isaiah Livers from injury.
Banner #4
De'Ron Davis Shines in loss to Wolverines
As bad as things were against Michigan, the one bright spot was senior forward De'Ron Davis. He tied former Hoosier Will Sheehey's record for most field goal attempts in a game without a miss going 9-9 while scoring 18 points.
This led Inside The Hall's Cameron Drummond to ask whether this performance would lead to more playing time.
The performance against the Wolverines didn't materialize into more playing time against Minnesota, where Davis scored just three points in 10 minutes of play. However, the Hoosiers will need to look to Davis for some success down the stretch to be reach their full potential.
Banner #5
IU faces Penn State today
It's taken nine years, but Penn State head coach Patrick Chambers finally has a Nittany Lions team destined for success and a high seed in the NCAA tournament after nearly a decade of missing the big dance.
Led by seniors Lamar Stevens and Mike Watkins, Penn State has just their fourth 20-win season since the turn of the century. Generally a match-up against the Nittany Lions can be chalked up as a relatively sure win, but this year is different.
While it will be a much bigger challenge than usual, a victory would put the Hoosiers in a better position for the NCAA tournament as discussed by Drummond, Dylan Wallace, and Alex Bozich on this week's Podcast On The Brink. However, coming out on top will require an improvement from the first match-up in State College where the Hoosiers wilted in the second half of a 64-49 loss as a result of terrible offensive play, especially from its guards.
Banner #6
Hoosier Sports Roundup
This was a solid week performance wise as the Hoosiers picked up wins in multiple sports. Leading the way was baseball, who has picked up three straight wins after dropping their first two games of the season to LSU. Assembly Call will have full coverage of the baseball season in the Community for those with a subscription all season long. Also this week, a free story will be posted to the website previewing the season, following Assembly Call's trip to Mobile, Alabama to cover the team.
• Baseball picked up two wins this weekend with nail biting victories over Tennessee-Martin and South Alabama. Also sophomore Grant RIchardson was named Big Ten Player of the Week following his strong early season play.
• Women's basketball fell to Ohio State but rebounded with a win on the road at Minnesota. Also redshirt junior Ali Patberg received yet another recognition.
• Women's Swimming and Diving finished third at the Big Ten Championships.
• Water Polo finished out a perfect Indiana Classic.
• Softball knocked off Syracuse last weekend and Bucknell this weekend on both Friday and Saturday. However, they did suffer a loss to NC State on Saturday as well.
• Wrestling beat SIU Edwardsville on senior day but fell to Chattanooga as well.
• Women's Tennis lost to Yale.
• Men's Tennis beat UC Santa Barbara and Xavier before taking it a step higher with a big victory over rival Purdue.
• Volleyball saw two players earn tryouts for Team USA.
• Track and Field competed at the Alex Wilson invite. Away from competition a weekly award was won and a future Hoosier was chosen as Runner of the Year.
Thanks for your continued support for The Assembly Call. We'll be back next weekend with a new roundup.
Now go enjoy yourself a 6-banner Sunday.
Filed to: