News and notes from Archie Miller's radio show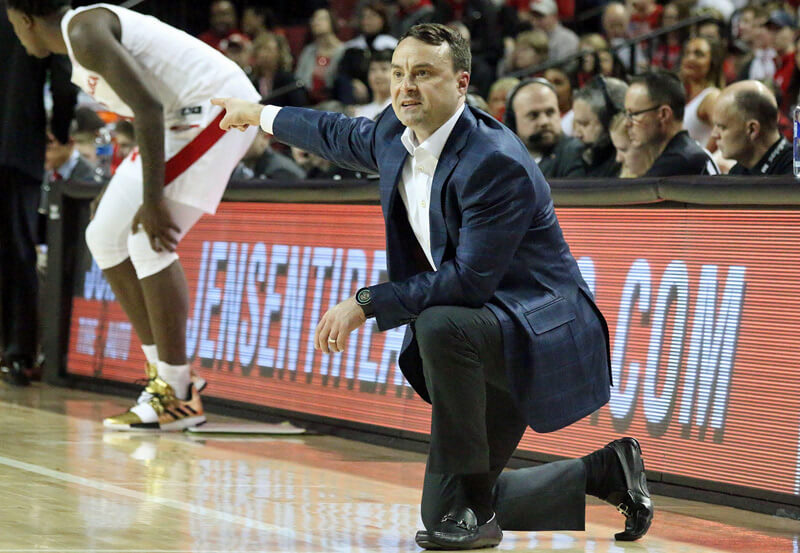 "Inside IU Basketball with Archie Miller" returned Monday night with Archie Miller and freshman walk-on forward Nathan Childress spending a combined hour with host Don Fischer to discuss Indiana's recent road struggles and the lack of physicality that Miller cited as a problem with the Hoosiers after Saturday's loss to Ohio State.
The show also featured an injury update regarding redshirt sophomore forward Race Thompson.
Here are the highlights from Miller and Childress' evening with Fischer.
– Miller said that in last week's losses at Penn State and Ohio State, there were some "glaring things" that stood out to the Indiana coaching staff after reviewing the tape of each game. One of these noticeable things was a lack of physicality for Indiana that really manifested itself in the defeat to the Buckeyes.
– Miller said the Ohio State game was the first time this season Indiana lacked an awareness to rebound on both ends of the floor. Ohio State out-rebounded Indiana, 31-24, in the game, the largest rebounding margin for an Indiana opponent this season. Miller called this "mind boggling" and said it was a mental issue for the Hoosiers as they played with "heavy heads instead of heavy feet."
– To this last point, Miller said Indiana has to "bring back the muscle" and that over-thinking things mentally wouldn't allow the Hoosiers to play their best basketball.
– When Fischer asked Miller if Indiana was getting the leadership it needed from veteran players during this current three-game losing streak, Miller failed to address the question directly. He said some players are trying to lead in their own different ways, and went on to say that the entire team moved in slow motion against Penn State and Ohio State, not singling out one player but rather the team at large as contributors to the poor displays.
– One of the ways that "slow motion" mindset harmed the Hoosiers last week was in the turnover department. Indiana turned the ball over 18 times against the Nittany Lions and 13 times against the Buckeyes. Miller specifically said that live-ball turnovers have broken things open in a bad way for Indiana in three of four of its road losses this season. "It's the type of turnovers. It's the sped up turnovers, it's the unnecessary turnovers, it's the ones (that) everyone says, 'What in the world was going on on that one?'" Miller said.
– Miller said the fall that Race Thompson sustained against Michigan State, which saw the redshirt sophomore land on his lower back and exit the game, put Thompson out for a while and he's just "not the same" right now. Thompson hasn't played in any of IU's last three games, and Miller said "we hope he's going to (have) a quicker return than later," leaving his status for Saturday's home game against Purdue still up in the air.
– On another injury / illness front, Miller said that Joey Brunk was "sick as a dog" against Penn State and was still feeling the effects of illness during the Ohio State game.
– When discussing Indiana's lack of free throws in recent games (the Hoosiers attempted 10 vs. Maryland two Sundays ago, 10 against Penn State and 18 against Ohio State), Miller said the Hoosiers aren't getting "the benefit of the doubt" in terms of calls because of they way they are attacking the rim. Miller traced this back to the overall lack of physical play he's noticed from the team, and specifically from frontcourt players shying away from contact. "We're just not as physical, and we're not as fast-playing as we have been," Miller said.
– As part of their look-ahead to Saturday's rivalry matchup against Purdue inside Assembly Hall, Fischer mentioned that at halftime of the game, the 1980 Indiana team which won a Big Ten championship would be honored. That team featured past Hoosier greats like Isiah Thomas, Randy Wittman and Ray Tolbert.
– And in response to an audience member question about the Purdue game, Miller said it shouldn't be hard for the Hoosiers to generate excitement and energy about the matchup. "This is a different deal," Miller said.
– Childress recounted his path to Indiana with Fischer. Childress spent five years of his adolescence in Indiana before then spending five years in Arkansas before returning to play high school basketball at Zionsville. During his time at Zionsville, Childress also played with current Purdue freshman guard Isaiah Thompson.
– Childress also talked about his decision to walk-on at Indiana after originally committing to play basketball at Bethel University in Mishawaka, Indiana. Former Indiana Director of Player Development Derek Elston was a key part of the process of learning about the opportunity to walk-on with the Hoosiers, Childress said.
Filed to: Archie Miller, Nathan Childress