6-Banner Sunday: 'Inside-Out' continues with Anthony Leal commitment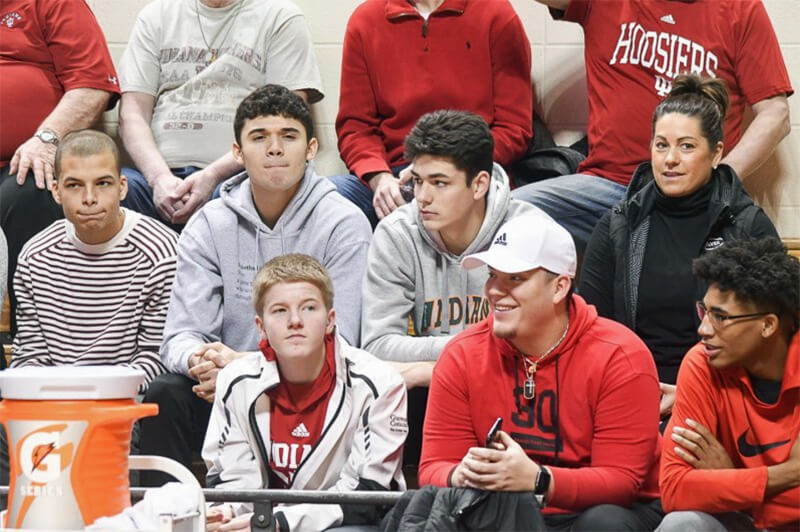 6-Banner Sunday is Inside the Hall's weekly newsletter in partnership with The Assembly Call. More than 6,500 Indiana fans receive the newsletter each week. In addition to appearing each week on the site, you can also opt to receive 6-Banner Sunday by email. A form to subscribe via email is available at the bottom of this week's 6-Banner Sunday.
Welcome to another edition of 6-Banner Sunday, a joint production between The Assembly Call and Inside the Hall where we highlight where we highlight the five most essential IU basketball stories of the past week plus take a look at how the other IU sports teams are doing.
News in college basketball seems to intensify in both quantity and impact by the week this time of year. Recruiting is reaching the peak of its season, players begin focusing in on the coming year, and the start of the new season begins to actually feel tangible.
Between significant recruiting news, preseason announcements, and detailed writing features, IU fans had plenty to munch on over the last seven days. Here are some of the highlights.
In this week's edition:
• Leal commits to IU
• Hoosier Hysteria date set
• Pomeroy on the basketball gods
• Love keeps IU in final six
• Creek honors late friend in The Basketball Tournament
• Hoosier Sports Roundup
Banner #1
Leal commits to Indiana
The week in IU basketball closed in exciting fashion Friday evening as Anthony Leal, a four-star 2020 guard and Bloomington High School South star, announced his commitment to Indiana via Instagram.
Leal joins his AAU teammate and fellow Indiana Mr. Basketball candidate, Trey Galloway, in IU's 2020 recruiting class and, theoretically, gives the Hoosiers a reliable outside shooting presence they have desperately lacked in Archie Miller's two years at the helm.
Shortly after his announcement, Leal spoke with Inside the Hall's Dylan Wallace about what went into his decision, his childhood as an IU fan, and more.
"It just came down to the chance to be a part of something that's bigger than being just me and be able to hopefully inspire some other kids, but also help being a leader and putting some passion and pride back into Hoosier basketball," Leal said. He called playing for IU a "dream come true" while speaking with the Indy Star's Zach Osterman.
Leal and Galloway will become the sixth and seventh in-state recruits to become Hoosiers during Miller's tenure. Both Rick and Alex Bozich wrote about how the program has reestablished its in-state recruiting footprint and become a dominant force on the Indiana recruiting scene.
For a clearer picture of Leal's game and how he might fit with the Hoosiers two seasons from now, dive into Inside the Hall's extensive video library on the Bloomington native. And coming up next week on Assembly Call Radio, the guys will deliver their in-depth Anthony Leal scouting report. Stay tuned for that.
Banner #2
Hoosier Hysteria date set
A day before Leal's announcement, the IU athletics department finally gave fans a concrete date to which they can look forward. Hoosier Hysteria will take place on October 5, 2019 at 4:00 (the initial announcement said 4:30, but was later corrected).
The festivities, which will take place at Assembly Hall, will include introductions of both the men's and women's teams, a three-point contest, a dunk contest, and a scrimmage. It will also be fans' first look at Trayce Jackson-Davis, Armaan Franklin, and the rest of a relatively fresh Hoosier team.
For more details on the event, click here.
Banner #3
Ken Pomeroy on the 'basketball gods'
In a fun piece from last month, college basketball guru Ken Pomeroy takes a statistical deep dive into the existence (or absence) of the basketball gods, including a study on the most useful box score stats for predicting a game's outcome.
Pomeroy analyzes the correlation between halftime statistical disparities and final score in attempt to determine what role predictive analysis and luck can play in those scenarios. In what could be a positive indicator for Indiana fans, Pomeroy finds that teams down at halftime after clanking most of their threes aren't necessarily out of the game. The challenge, however, for Indiana was often in making up that difference in the second half.
Banner #4
Love keeps IU in final 6
Point guard Caleb Love narrowed down his list of college choices last week to just six. The 6-foot-3 St. Louis, MO product is considering IU along with North Carolina, Arizona, Louisville, Kansas, and Missouri.
Love is among the best players in the class of 2020, with a strong frame, methodical style, and solid feel for the game. He fits more in the mold of a combo guard than a true primary ball-handler, but projects to be able to play on or off the ball at the next level. He has refined passing vision and – a relatively low release point notwithstanding – smooth shooting form.
He has yet to take an official visit to Bloomington or set a date for his college announcement.
Banner #5
Creek honors late friend in The Basketball Tournament
In a heartwarming, illuminating, and thoroughly-reported story, Inside the Hall's Cameron Drummond explores the significance of former Hoosier Mo Creek's recent run in The Basketball Tournament with team Sideline Cancer. Creek's friend and teammate, Jermaine Marshall, died this year of an unforeseen heart complication and was unable to join his teammates in the tournament this season.
Drummond winds readers through Creek's injury-riddled career, his pro career in Europe, and an emotional return to TBT this year. Creek is candid and insightful on his experience as a player, what losing Marshall meant to him, and the value of playing for a higher cause than one's self.
Banner #6
Hoosier Sports Roundup
This content was contributed by Aaron Shifron (twitter @ashifron).
For the fifth week in a row, Swimming and Diving competed in a major off-season meet with the continuation of the Pan American Games. In addition to that, a few other news worthy events took place this week as the Hoosiers got their athletic season underway.
• IU Swimmers and Divers medaled at a major event yet again as Annie Lazor won a gold medal in the 100 meter breaststroke while Cody Miller won a silver in the same event at the Pan American games. Lazor also won a gold in the 200 meter breaststroke while Vini Lanza did the same in the 4×100 meter relay. Lanza also won a bronze in the 100 meter butterfly. Lastly, Andrew Capobianco and Michael Hixon won a bronze medal in the three meter synchro while also placing in the three meter dive. On a much more tragic note related to swimming, IU Hall of Famer Mike Troy passed away at age 78.
• Men's Soccer's saw Jack Maher earn another preseason accolade in addition to being on the MAC Herman Trophy watch list last week. This week Maher was named a preseason All-American. Maher's team as a whole was ranked second in the country in the preseason poll despite losing every starter besides himself. Additionally, game times were announced for the rest of the Hoosiers' schedule.
• Men's Golf will see Mitch Davis take part in the US Amateur.
• In Women's Golf Mary Parsons will compete in the same Pan American Games as the above swimmers.
Thanks for your continued support for The Assembly Call. We'll be back next weekend with a new roundup.
Now go enjoy yourself a 6-banner Sunday.
Filed to: