Indiana has become dominant recruiting in-state under Archie Miller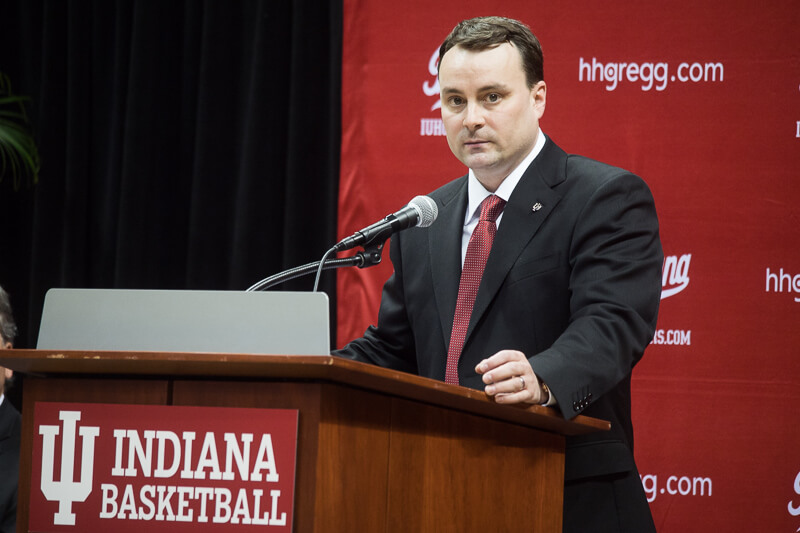 It hasn't taken long for Archie Miller to take control of recruiting in Indiana.
Since his hiring in March of 2017 when Miller touted his "inside-out" recruiting approach, the program has landed seven players from Indiana.
Six of the seven have been rated four-stars or better by the 247Composite, including a pair of McDonald's All-Americans in Romeo Langford and Trayce Jackson-Davis.
The 2020 recruiting cycle is the latest example of Indiana asserting itself as the preferred destination for many of the state's top players.
After landing a commitment from Trey Galloway of Culver Academies on Friday, July 26, the Hoosiers landed a commitment from Bloomington South's Anthony Leal earlier today.
In the 2018, 2019 and 2020 recruiting cycles, there have been 15 Indiana natives in the top 200 of the 247Composite rankings. (Players not originally from Indiana who finished their prep careers at the La Lumiere School were not considered.)
Indiana has landed seven of those prospects.
Of the eight players Indiana did not land who were rated in the top 200 nationally in their class, only three had scholarship offers from the Hoosiers – Aaron Henry, Keion Brooks Jr. and Brandon Newman.
2018 Class
Romeo Langford, New Albany, No. 7 (Indiana)
Damezi Anderson, South Bend Riley, No. 124 (Indiana)
Rob Phinisee, McCutcheon, No. 135 (Indiana)
Aaron Henry, Ben Davis, No. 140 (Michigan State)
Eric Hunter, Tindley, No. 150 (Purdue)
2019 Class
Keion Brooks Jr., La Lumiere School, No. 23 (Kentucky)
Trayce Jackson-Davis, Center Grove, No. 29 (Indiana)
Brandon Newman, Valparaiso, No. 123 (Purdue)
Armaan Franklin, Cathedral, No. 148 (Indiana)
2020 Class
Anthony Leal, Bloomington South, No. 96 (Indiana)
D'Andre Davis, Lawrence Central, No. 107 (Nebraska)
Jaden Ivey, La Lumiere School, No. 129 (Purdue)
Kiyron Powell, Evansville Bosse, No. 165 (Houston)
Trey Galloway, Culver Academies, No. 181 (Indiana)
Nijel Pack, Lawrence Central, No. 195 (Kansas State)
Over his final three recruiting classes at IU, Tom Crean did not land a single player from the state ranked in the top 200 of the 247Composite.
And in his final five recruiting classes in Bloomington, Crean landed just a total of two of the 26 players in the top 200 of the 247Composite ratings originally from the state of Indiana. Those two players were Devin Davis in 2013 and James Blackmon Jr. in 2014.
Filed to: Archie Miller