6-Banner Sunday: The basketball life of Jordan Hulls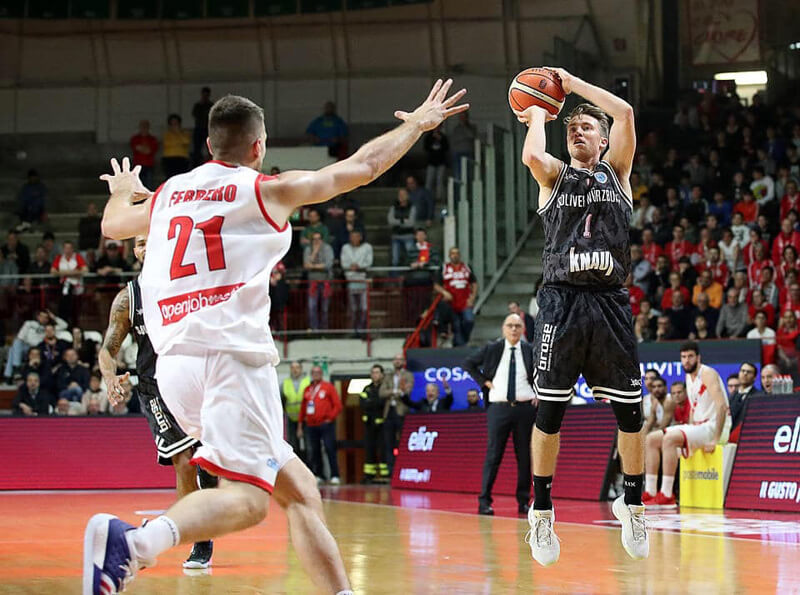 6-Banner Sunday is Inside the Hall's weekly newsletter in partnership with The Assembly Call. More than 6,500 Indiana fans receive the newsletter each week. In addition to appearing each week on the site, you can also opt to receive 6-Banner Sunday by email. A form to subscribe via email is available at the bottom of this week's 6-Banner Sunday.
Welcome to another edition of 6-Banner Sunday, a joint production between The Assembly Call and Inside the Hall where we highlight where we highlight the five most essential IU basketball stories of the past week plus take a look at how the other IU sports teams are doing.
We don't hear much of college basketball this time of year – not until a few months from now, when players show in November and December what they were up to in July. What isn't visible now will be in time.
Somehow, the Indiana basketball program writ large manages to stay busy without so much as a glimpse of actual hardwood to speak of. As the days of summer slowly tick toward the start of another IU basketball season, let's dive into the most notable stories surrounding the program at the moment.
In this week's edition:
• Knight buys house in Bloomington
• Assembly Call Radio & Podcast on the Brink
• July recruiting primer
• Oladipo to host fantasy camp
• Jordan Hulls: Basketball, family, and giving back
• Hoosier Sports Roundup
Banner #1
Knight buys house in Bloomington
Former Indiana head coach Bob Knight recently purchased a home in Bloomington, the Bloomington Herald-Times reported.
The 1991 Basketball Hall of Fame inductee won three national championships in 29 seasons at Indiana but vowed never to return to the university after being fired in 2000. His appearance at an IU baseball game earlier this year, then, came as a great shock, as does this week's news.
How much time Knight will actually spend in Bloomington and the degree to which he will be around the basketball program remains unclear. But at the very least, he appears to have designs on spending significantly more time in his old city.
Banner #2
Assembly Call Radio & Podcast on the Brink
On this week's Assembly Call Radio, Jerod Morris and Andy Bottoms were joined by Chronic Hoosier to discuss a wide range of topics. First, they speculated on the potential impact eight former Hoosiers currently playing in the NBA could have on the program. Then they dive into how Indiana could surpass generally low expectations in the 2020 season before fielding questions from listeners.
Jerod also joined Alex Bozich and guest Dylan Burkhardt on the latest edition of Podcast on the Brink to talk through the changes within the Michigan basketball program and how they might affect the Wolverines in 2020. They also discussed what to expect from Juwan Howard in his first year, key recruits for UM, and the Big Ten race next season.
Subscribe to every episode of Assembly Call Radio here, and join the team every Thursday night for news, discussion, and analysis of everything IU basketball. Subscribe to Podcast on the Brink here to stay up to date on all IU hoops-related information.
Banner #3
July recruiting primer
As coaches set out to watch various high school tournaments across the country during this weekend's evaluation period, Inside the Hall published this primer to help guide fans through one of the most intense periods of the college basketball calendar and evaluate Indiana's current standing in the 2020 recruiting class.
The Hoosiers have yet to secure a 2020 commit, but are pursuing several players – notably Anthony Leal, Trey Galloway, and Matt Cross – within the state of Indiana to bolster their guard rotation and add playmaking off the dribble.
Meanwhile, Zach Osterman of the Indy Star broke down the modern and versatile game of big man Zach Loveday this week. The Ohio native was participated in this weekend's action during the evaluation period, and Indiana has made Loveday a priority in its 2020 class.
Banner #4
Oladipo to host fantasy camp
Former IU star Victor Oladipo will return to Bloomington in late August (despite still recovering from a quad injury) to host IU basketball's fantasy experience camp, per Oladipo's website.
The camp, which takes place in Assembly Hall and its surrounding facilities, will run from August 23-25 and costs a little under $4000 to attend. Participants can sign up as a player (minimum age 30) or as a coach (minimum age 21) and includes lectures from Oladipo, Archie Miller, and special guests, according to the website.
Those interested may sign up here.
Banner #5
Jordan Hulls: Basketball, family, and giving back
Dylan Wallace of Inside the Hall portrays Jordan Hulls as you've never seen him in a feature about Hulls' time at IU, his path to professional basketball, and what drives him on and off the court.
The 29-year-old, who recently held his summer basketball clinic in Bloomington, leads a hectic life as a basketball player in Germany, but remains grounded in his family and his roots in Bloomington. It's worth your time.
Banner #6
Hoosier Sports Roundup
This content was contributed by Aaron Shifron (twitter @ashifron).
Swimming and Diving made most of the headlines this week as Zach Apple continued to dominate at the World University games. While this took place though, several other smaller stories happened as well.
• Zach Apple continued to show strong at the World University Games winning his second, third and fourth Gold Medals of the event. When Apple wasn't winning, other Hoosiers were performing strong as well including Apple.
• Assembly Call continued to venture to various Summer League Games to see current Hoosiers battle. This week it was Huntingburg, Indiana to see the Dubois County Bombers perform which feature current Hoosier's Tyler Van Pelt and Alex Franklin. Those with a subscription to the Assembly Call Community can read about this as well as an interview with former IU player Bobby Segal who donned the Cream and Crimson prior to the success of the last decade. It was also announced that open tryouts would be conducted September 5.
• In Men's soccer former Hoosier Justin Rennicks was named to the MLS Homegrown game.
• Women's Golf named their replacement for departed assistant Lauren Harling and went with another Lauren in Lauren Whyte.
• Softball announced a return to Duke next year for the Big Ten/ACC Challenge.
• Across the entire spectrum of IU sports, 67 Hoosiers were named Distinguished Scholars for the Big Ten.
Thanks for your continued support for The Assembly Call. We'll be back next weekend with a new roundup.
Now go enjoy yourself a 6-banner Sunday.
Filed to: