6-Banner Sunday: Why can't Indiana shoot?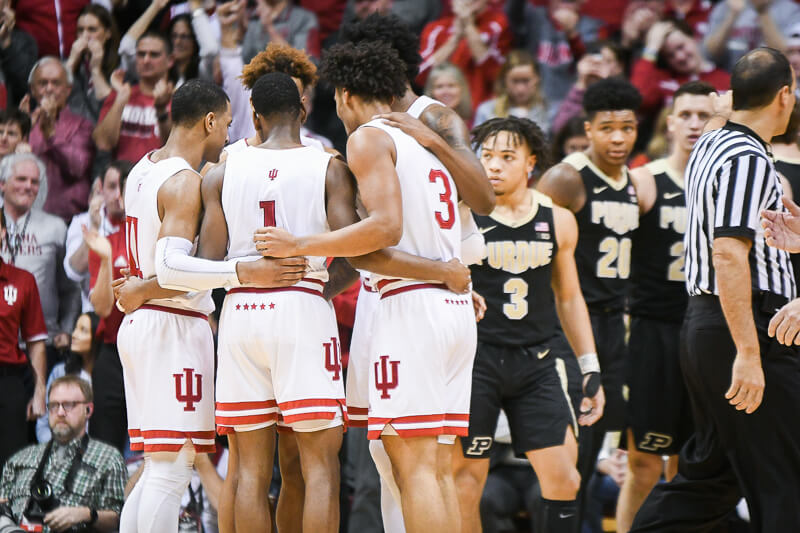 6-Banner Sunday is Inside the Hall's weekly newsletter in partnership with The Assembly Call. More than 6,000 Indiana fans receive the newsletter each week. In addition to appearing each week on the site, you can also opt to receive 6-Banner Sunday by email. A form to subscribe via email is available at the bottom of this week's 6-Banner Sunday.
Welcome to another edition of 6-Banner Sunday, a joint production between The Assembly Call and Inside the Hall where we highlight the six most essential IU basketball stories of the past week.
The losses continue to pile up for Indiana, who saw a two-possession lead melt in the final minutes against Iowa Friday night. The team shows encouraging flashes — sometimes for sustained periods — in nearly every game, but "encouraging" is a relative term and the flashes are never quite enough to positively affect the end result.
Indiana is likely out of NCAA tournament consideration, but if it wants any hope of keeping that discussion alive, it will likely have to win all of its remaining four games before the Big Ten Tournament.
In this week's edition:
• Indiana drops another close game to Iowa
• Can IU stop its free fall?
• Why can't Indiana shoot?
• Knight, Keady, and a memorable "Hate Week"
• Pro evaluations of Langford and Morgan
• Hoosiers in the NBA
Banner #1
Indiana drops another close game to Iowa
Were it not for a miraculous win in East Lansing earlier this month, Indiana would be in the midst of a 13-game losing streak. As it is, the Hoosiers are still just 4-12 in conference play and, after another close loss to Iowa on Friday night, under .500 for the first time all season.
IU had this game for the taking, leading by six points with under 2:30 to play — and by as many as seven in the second half — but the Hoosiers could not survive a flurry of clutch jumpers from Jordan Bohannon, who dashed IU's hopes late in the game for the second time this season.
Five of the Hoosiers' last six games have been decided by two or fewer possessions, yet only one has gone their way. Late-game execution has become one of this team's greatest weaknesses, and its inability to pull away early in games has forced them into playing stagnant, uncomfortable basketball down the stretch of games.
Iowa, meanwhile, has looked right at home in those situations, beating Indiana twice in a span of just over two weeks by a combined 11 points. Inside the Hall and The Assembly Call have all the coverage you could want from those two games, and the rest of the season.
Banner #2
Can IU stop its free fall?
On this week's Podcast on the Brink, Jerod Morris and Alex Bozich were joined by Rick Bozich to discuss Indiana's prolonged woes (which continued even after the episode was recorded) and whether there might be any recourse in sight. They also delved into observations both good and bad from recent games, as well as the disappointment from the season as a whole.
Subscribe to every episode of Podcast on the Brink here to stay up to date on IU basketball discussion, analysis, and game previews.
Banner #3
Why can't Indiana shoot?
The Assembly Call crew of Jerod Morris, Andy Bottoms, and Ryan Phillips sought to answer that question on this week's edition of Assembly Call radio by examining seven factors that could be causing the Hoosiers to hit threes at the worst rate in the Big Ten during conference play.
The trio discusses whether that figure might improve in the coming seasons and answer listener questions about the NIT, Race Thompson, and the program's recruiting footprint.
Banner #4
Knight, Keady, and a memorable "Hate Week"
Between losses to Purdue and Iowa, The Athletic's Dustin Dopirak took a step back from this season and looked back at a more memorable time in IU basketball history — the Bob Knight era, and the head coach's famous feud with then-Purdue coach Gene Keady.
Dopirak examines one of the most heated Hate Weeks in memory, as well as the winding road to respect and friendship between the two head coaches.
Banner #5
Pro evaluations of Langford and Morgan
As the college basketball season draws closer to March, most every player will have a more watchful eye on their play, especially those who will figure prominently into the upcoming NBA Draft.
Despite Indiana's struggles, Romeo Langford will likely be one of those players, having been a consensus lottery prospect all season long. Evaluations of Langford can vary based on the observer's feelings about his jumpshot, but his ability to attack and finish at the rim are NBA-ready, while his size, strength, and athleticism make him an intriguing scorer at the next level.
This week, The Ringer released its first draft board of the season and slotted Langford eighth, with a rave review from Danny Chau to boot. The analysis cited Langford's fluidity, scoring instincts, and offensive polish (even if the results are a bit inconsistent).
Meanwhile, Jeremy Woo of Sports Illustrated ranked Langford ninth on his fourth-edition draft board earlier this month, but mentioned that the guard's lack of elite vision and somewhat predicable game could hold him back in the eyes of some talent evaluators. Juwan Morgan landed at #70 on Woo's board due to his feel, versatility, and improvement as a shooter.
The final weeks of the season will be important for Langford in solidifying his position on draft boards. If his jumper falls at a more consistent rate, he could rise to the level of the more vaunted prospects in his class — and maybe help the Hoosiers win some games as well.
Banner #6
Hoosiers in the NBA
After entering the All-Star break on a high note (season-high 22 points in a win over Washington), OG Anunoby delivered another strong performance for Toronto with nine points on a perfect 3-of-3 from distance in a win against the Spurs Friday night. Anunoby still isn't a particularly good offensive player at this stage in his career, but he is capable enough to play the role Toronto asks of him, and his efficiency has steadily ticked up over the last few weeks.
His former teammate, Thomas Bryant, struggled in his first game back from the break, but has been a godsend at center for the Wizards this season. He remains a plus three-point shooter as well as an effective roll man, and has benefitted from the more egalitarian style that has prevailed in Washington since John Wall's injury. His defense is serviceable, and for a team thin on options at the five, an efficient, low-maintenance big like Bryant is a perfect fit.
(Both Bryant and Anunoby were in Bloomington over the All-Star break, and Candace Buckner of the Washington Post explained why the break was a productive one for Bryant.)
Eric Gordon's strange, frustrating season continues, though he has shot the ball better from distance lately. Still, Gordon hasn't seemed to get going from both two and three-point range simultaneously this year, and he could stand to benefit from Chris Paul's reintegration into the Rockets' lineup. (It remains unclear how many games James Harden will miss, but Gordon figures to soak up much of the Beard's offensive load during his absence.) Gordon is never one to shy from a shot attempt, so he'll either shoot himself out of his slump or continue spiraling.
Noah Vonleh will surely be a free-agency target for contenders in need of a versatile, athletic big man, and his production this year could earn him a relatively hefty contract this summer. Vonleh has been arguably the most consistent big man on New York's roster (yikes), which will hopefully land him in a better situation next season.
Cody Zeller entered the All-Star break in the midst of arguably his best stretch of the season. For Charlotte to hang onto its playoff spot, it will need him to sustain it through the end of the year.
Yogi Ferrell has surged lately, helping anchor Sacramento bench units that are all kinds of fun. He posted six points and three assists in 16 minutes against the Warriors Friday night — a game Sacramento nearly stole in Oracle. Ferrell's bouncy, energetic play helps the Kings maintain their pace when De'Aaron Fox rests, and his chemistry with Marvin Bagley and Harry Giles is becoming palpable.
And with that, the joy of hanging Banner #6 is now one week closer.
Thanks for your continued support for The Assembly Call and Inside the Hall. We'll be back next weekend with a new roundup.
Now go enjoy yourself a 6-banner Sunday.
Filed to: