Familiar foes spoil Indiana's upset attempt at Iowa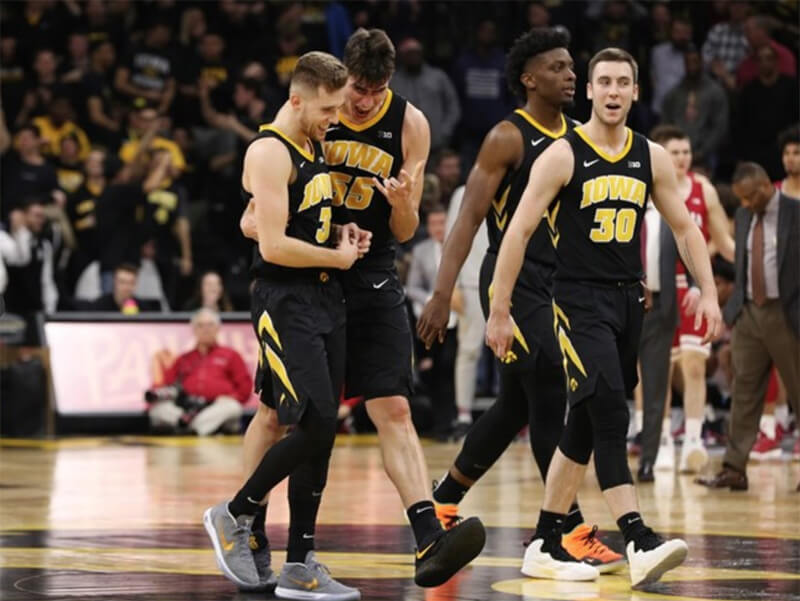 IOWA CITY, Iowa — 20 days after Indiana shocked the Big Ten with an upset win at Michigan State, the Hoosiers had No. 21 Iowa on the ropes.
It had all the makings of an upset. The Hoosiers responded every time Iowa seemed to grab momentum. They made clutch plays throughout the game. Juwan Morgan turned in a career defensive game with six blocks and three steals. Evan Fitzner enjoyed a resurgent performance. Rob Phinisee arguably had his best game of the season.
But in the end, three familiar foes crushed Indiana's hopes in the 76-70 overtime loss: poor 3-point shooting, poor free-throw shooting and Jordan Bohannon.
The Hoosiers attempted a season-high 27 3s on Friday. Some were good, open looks. But many shots were induced by Iowa's zone defense. IU settled for 3-pointers more than normal because good looks elsewhere were harder to come by.
IU hit just six of those 27 attempts. Indiana hasn't been a good 3-point shooting team all season, but the last three games have been especially brutal. Friday's performance brought Indiana's 3-point percentage to 18.8 percent in the last three games.
The most significant of those 3-point misses came at the end of regulation, when Romeo Langford couldn't hit a step-back 3 to win the game with three seconds remaining. Archie Miller said Iowa's defense thwarted the look he tried to get Langford at the rim.
"Romeo had the ball at the end of the clock, we went high ball-screen, they played the switch," Miller said. "It's one-on-one with him at the top of the key. And he got a shot up, obviously it wasn't a great look. I was hopeful that maybe off the slip he may be able to get a shoulder by the guy and get to the basket. He didn't have it, so he obviously took the last shot and we went to overtime."
Langford's wasn't the only step back Indiana took. IU's free-throw shooting, which had quietly improved a bit in February, regressed last night. IU shot 54.5 percent at the line, its worst mark at the stripe since its Jan. 19 loss at Purdue. The 10 missed free throws were IU's most since Jan. 3 against Illinois.
The biggest miss was from Phinisee. After sinking the front end of a one-and-one to extend IU's lead to 63-60, another make would have made it much harder for Iowa to force overtime.
"12 for 22 from the line's gonna get you on the road," Miller said. "You wish you had some of those back. But it is what it is."
But the biggest Hoosier-killer in this game was Bohannon. And he didn't even get going until crunch time. He only had three points with 2:20 remaining in regulation. He finished with 17.
This is nothing new for the junior. He's hit clutch shot after clutch shot for Iowa this season, particularly in the last few weeks. He iced away Iowa's 77-72 win over IU in Bloomington on Feb. 7. But he outdid himself last night.
Indiana's defense wasn't bad. Aside from one open 3 in overtime off an offensive rebound that bounced favorably for the Hawkeyes, Bohannon's shots were all contested.
"We were on him all game, and then that last five minutes, he just went kind of crazy," De'Ron Davis said. "Honestly, (Devonte Green) was right there on every shot. They were just falling for him."
With every shot that found the bottom of the net, Bohannon's confidence continued to soar. No matter what Indiana threw at the Hawkeyes defensively, or no matter what look Bohannon was forced to take, he'd somehow find a way to sink them.
There was simply no stopping him.
"Once a guy like that makes one, you're at his mercy," Miller said. "His range is great. Of his 3s, I would say he earned most of them."
(Photo credit: Iowa Hoops)
Filed to: Iowa Hawkeyes