The Minute After: Iowa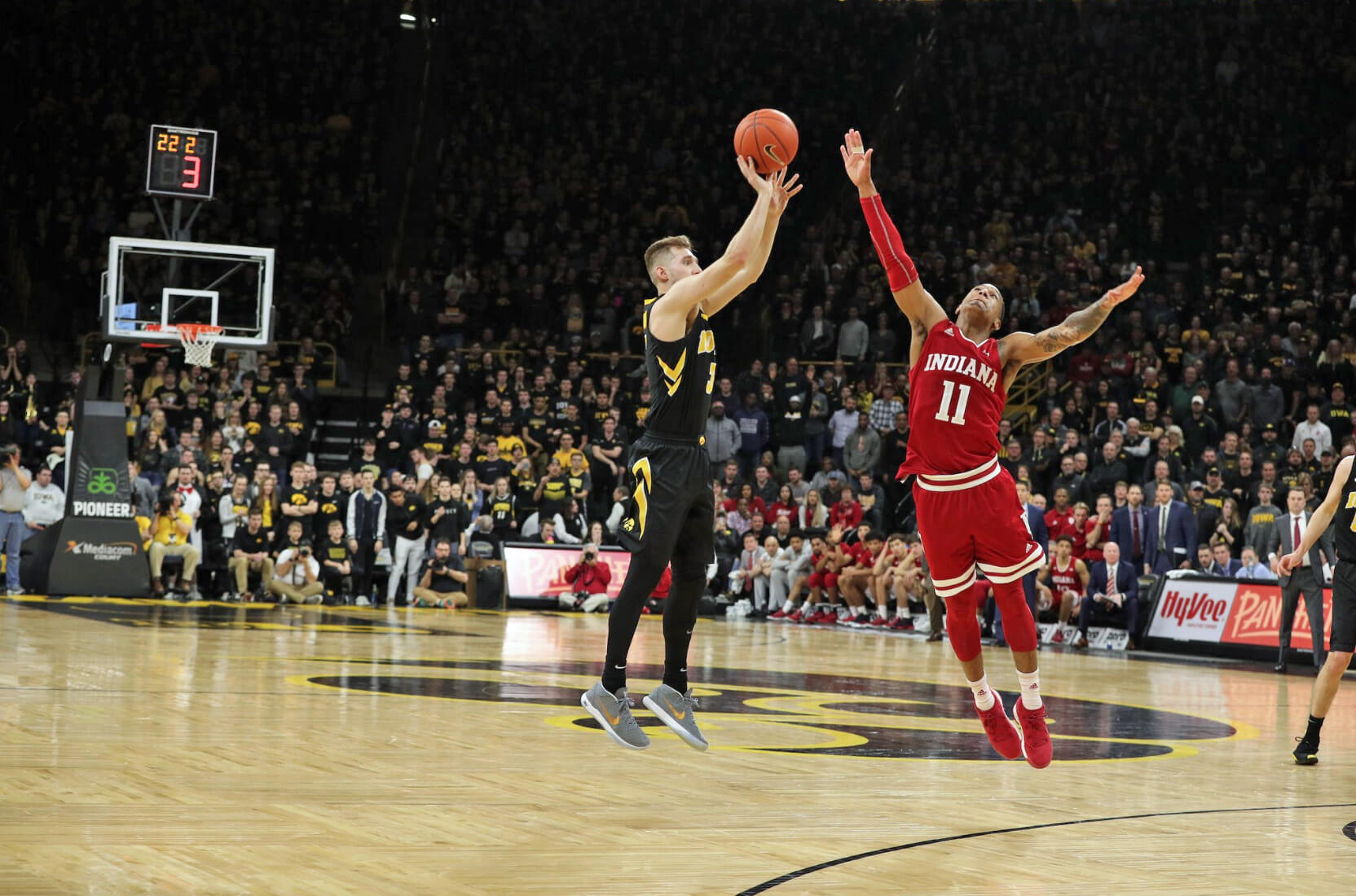 Thoughts on a 76-70 loss to the Hawkeyes:
Is this team cursed? Maybe this team is cursed.
Because Indiana gave everything it had tonight. It never trailed in the second half. And yet, here came Jordan Bohannon heating up to tear the Hoosiers' hearts out once again. It certainly feels like the basketball gods are against Indiana, now losers of 12 of 13 games.
Could Indiana have shot better from the free throw line? Sure. Hitting 12-of-22 (54.5 percent) from the charity stripe is not good.
Could it have shot better from the 3-point line? Of course. Its 6-of-27 mark (22.2 percent) was abysmal.
Yet, these sort of poor shooting performances were balanced out in some ways. Iowa is the second-best 3-point shooting team in league play, but the Hawkeyes didn't show it tonight. Iowa players not named Jordan Bohannon were just 2-of-16 from distance. And Indiana, where it hasn't in so many other games this Big Ten season, actually got a balanced offensive attack.
Robert Phinisee was aggressive with his dribble penetration, hit 2-of-5 from deep and scored in double figures (13 points) for the first time since the Northwestern game on Jan. 22. Evan Fitzner came out of his offensive shell, hitting mid-range Js in the middle of Iowa's zone in the first half as De'Ron Davis and Juwan Morgan were on the bench saddled with foul trouble. Fitzner also dropped in a 3-pointer and ended the game with 11 points, his first time in double-digits in almost three months (Nov. 27, at Duke). De'Ron Davis had an efficient 4-of-6 performance (10 points). Juwan Morgan (15 points) and Romeo Langford (14 points) led the way as usual.
That means the Hoosiers had five players in double figures tonight, a rare occurrence.
Indiana also got some solid minutes in the first half from Race Thompson (four rebounds) and Jake Forrester, as they didn't let the game slip away when Morgan and Davis had to sit with foul trouble. Indiana had eight blocks and nine steals in this one. The Hoosiers moved the ball pretty well (or at least better than in most games in this downward spiral). They even had a six-point lead (62-56) with 2:25 to go.
But it was yet another game where they just didn't have quite enough going down the stretch to pull it out. The Hoosiers mustered just one point over the final 2:25 of the contest after that six-point lead. It was off a Robert Phinisee free throw. Phinisee got a steal with Indiana up two points and 39 seconds to go. He was fouled just after and made his first at the line. But he missed the second — on a night the Hoosiers were bad from the line — and that allowed it to be just a one possession game.
The door was open for Bohannon to tie it up and he did.
On the other end, Indiana cleared out for Langford. A ball screen from Morgan was hedged by Iowa, and Langford ended up stepping back and taking a 3-pointer that badly missed.
Did Morgan get fouled as he went for the rebound on that shot? Maybe. But it wasn't called. The game went to overtime and Bohannon's transcendence was too much for Indiana to overcome.
Tonight felt like the night the bleeding would stop. It didn't. The pain just keeps coming. And is it ever going to end?
(Photo credit: Iowa Hoops)
Filed to: Iowa Hawkeyes