Five takeaways from Indiana's loss at Iowa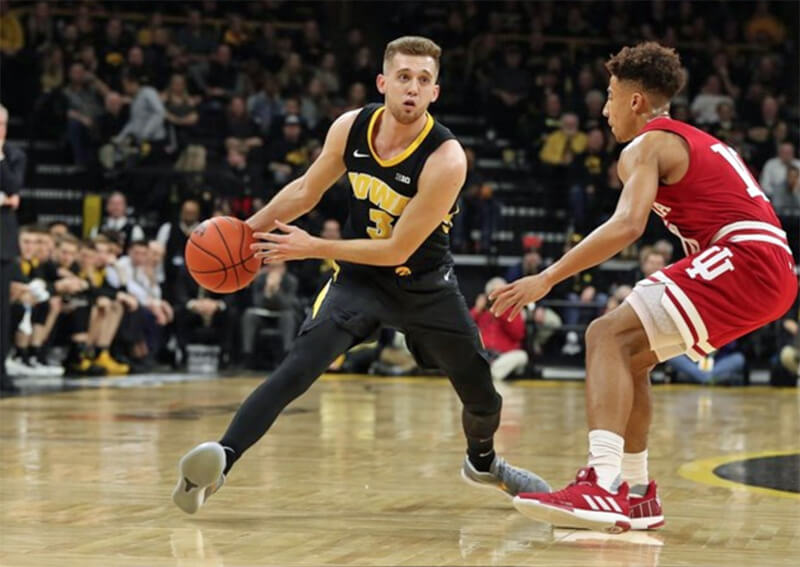 Indiana lost its fifth straight game on Friday night as the Hoosiers fell 76-70 in overtime to Iowa at Carver-Hawkeye Arena. The loss dropped Indiana, once 12-2, to under .500 for the first time this season at 13-14.
Here's a look at five takeaways from the loss to the Hawkeyes:
· Late game execution once again thwarts upset bid: The Hoosiers have been in the mix late in four of their last five losses, but their inability to execute down the stretch has been a consistent issue.
On Friday, Indiana led 62-56 with 2:25 to play, but couldn't finish off the Hawkeyes in regulation. In four offensive possessions in the game's final 2:17, the Hoosiers scored one point. And on the one possession where Indiana did score, Rob Phinisee only split a pair of free throws, which kept IU's lead at one possession rather than extending it to two.
On the final possession in regulation, Indiana only managed a step back 3-point attempt that missed badly from Romeo Langford. It looked a lot like the last possession in East Lansing earlier in the month when Langford missed a poor look as time expired.
Winning on the road in the Big Ten is a difficult task and Indiana has made it even more difficult with poor late game execution in recent weeks.
· Poor free throw shooting looms large in loss: The Hoosiers have been a poor free throw shooting team all season and on Friday, their deficiencies at the line helped contribute to their demise.
Indiana hit just 12 of its 22 free throw attempts in the loss at Iowa. IU's freshmen, Romeo Langford and Rob Phinisee, combined to shoot 7-of-9 from the line with the rest of the roster going just 5-of-13.
Through Friday's games, Indiana ranks just 325th in the country in free throw shooting percentage at 65.5.
· Bohannon – again – kills Indiana late: In Iowa's win on Friday, Jordan Bohannon delivered an encore performance to his late game heroics in Bloomington earlier this month.
Bohannon scored 14 of his 17 points in the final 2:17 of regulation and overtime for the Hawkeyes. His 3-pointer with 28 seconds left in regulation tied the game and he went on to splash in a trio of 3s in overtime to lift Iowa to victory.
"I thought our defense on him was great," Archie Miller said postgame. "I thought the very last play was defended well, we switched out, and he made it. Once a guy like that makes one you're sort of at his mercy. His range is great. He might have got one open one on an offensive rebound in overtime, I'm not real sure. But of his 3s, I would say he earned most of them."
· Bench comes up big: Indiana got several key performances from its bench on Friday that have been missing for a good part of the season.
Graduate senior Evan Fitzner scored 11 points off the bench in 14 minutes and redshirt freshman Race Thompson grabbed four rebounds but went scoreless in 11 minutes. Jake Forrester also gave Indiana four minutes as Juwan Morgan and De'Ron Davis battled foul trouble.
"Evan was really, really important in the first half being able to crack the zone a little bit," Miller said. "He gave us some high-post presence and scored. And then Race Thompson did a really good job, as well as (Jake) Forrester, mixing it up at times. They rebounded for us which was good to see."
· 3-point struggles continue: Indiana had another tough shooting night from behind the 3-point line as it hit just six of its 27 attempts from distance.
Through 16 Big Ten games, Indiana is shooting just 26.3 percent on 3s and it is a possibility that this group of Hoosiers could end up as the worst perimeter shooting Big Ten team of the Ken Pomeroy era.
According to Pomeroy's numbers, Nebraska's 26.5 percent on 3s back in the 2014-15 season is the lowest mark for a Big Ten team in conference games.
(Photo credit: Iowa Hoops)
Filed to: Iowa Hawkeyes