6-Banner Sunday: One IU fan had an experience to remember on Friday night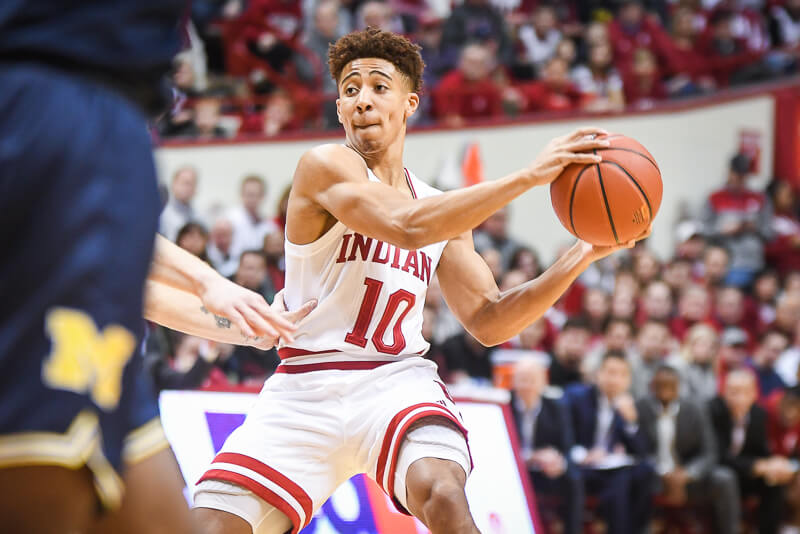 6-Banner Sunday is Inside the Hall's weekly newsletter in partnership with The Assembly Call. More than 6,000 Indiana fans receive the newsletter each week. In addition to appearing each week on the site, you can also opt to receive 6-Banner Sunday by email. A form to subscribe via email is available at the bottom of this week's 6-Banner Sunday.
Welcome to another edition of 6-Banner Sunday, a joint production between The Assembly Call and Inside the Hall where we highlight the six most essential IU basketball stories of the past week.
Indiana's hard times continued this week as the Hoosiers dropped games to Northwestern and Michigan to stretch their losing streak to six games.
As the panic meter rises, IU has an opportunity to pick up a massive Big Ten win on Wednesday when the it travels to Piscataway to take on Rutgers. Wins are precious in this conference, especially for Indiana, who sits at 3-6 in conference play and now only clings to its hopes of making the NCAA Tournament.
That hope is not entirely lost, as Indiana has a respectable non-conference résumé and the talent to remain in the middle of the Big Ten pack. The following weeks will give the Hoosiers a chance to get their season back on track.
Here's what you need to know about Indiana basketball right now.
In this week's edition:
• Losing streak continues for Hoosiers
• College Gameday coming to East Lansing for IU's tangle with MSU
• Patience is key for new coaches
• Franklin's family discusses his journey
• Rob Phinisee gets to meet his #1 fan
• Hoosiers in the NBA
Banner #1
Losing streak continues for Hoosiers
After another blowout loss to Michigan on Friday night, Indiana has now lost six consecutive games and dropped to 12-8 on the season. Much of Indiana's trouble stems from an apparent lack of effort and readiness to compete against Big Ten competition, and Archie Miller ripped into his team after the game, calling the Hoosiers "soft" and "scared."
"The fight isn't there right now, the confidence isn't there on either end of the floor," Miller said. "[Michigan] came in here and did what they wanted, when they wanted, how they wanted. And I was very disappointed."
That sentiment could apply to any of IU's last six losses, as taking early punches has become a trend for this team. The Hoosiers are running out of time to course-correct, and the season is now on the — well, you know what.
As always, Inside the Hall and The Assembly Call have reporting and analysis of the game, though the experience of reliving Friday's mishaps may be a painful one.
Banner #2
College Gameday coming to East Lansing for IU's tangle with MSU
Despite the Hoosiers' six-game slide, they will still be part of College Gameday's featured matchup on Saturday, February 2 against Michigan State in East Lansing. It will be the first time this season that Indiana plays on the site of the show and just the third time this year that IU has been broadcast on ESPN.
It is also the first time these two teams will square off this season. The Hoosiers were 0-2 against Michigan State in 2018 and will host the second leg of the season series in Bloomington on March 2.
As is the case with every game from here on out, IU's trip to East Lansing represents an opportunity to pick up a much-needed conference win. An unlikely victory over the sixth-ranked Spartans would be monumental in turning the Hoosiers' hopes around.
Banner #3
Patience is key for new coaches
While Indiana has struggled thus far during Archie Miller's tenure, Andy Wittry of Stadium writes that new coaches of college programs deserve patience from fans, media, and administrations. Miller, Chris Holtmann, and Chris Beard have all seen their teams fall upon hard times recently, but as Wittry argues, those are the lumps that come with developing a program in a Power 5 conference.
Building a successful college program takes time, and powerhouses do not typically arise in a mere season or two. Coaches need time to install their principles with their recruits. While inheriting a roster built largely by Tom Crean does not excuse every mishap in Miller's year and a half in Bloomington, the system he hopes to cultivate will likely fair better with personnel better suited to execute it.
Most every coach in college basketball struggled in the first few years at their respective schools, including John Beilein, who discussed Miller's situation after Michigan's recent win over Indiana.
"Those first few years were really hard, because you think you'll have a key victory somewhere, and you say 'okay, we're almost there,'" Beilein said. "It is really hard to maintain this, and the only way to do it is culture."
Banner #4
Franklin's family discusses his journey
Armaan Franklin's mother, India, joined the Hoosier Sound podcast this week to discuss her son's high school basketball career, the recruiting process, and Armaan's basketball roots.
Over at Inside the Hall, Seth Tow wrote a feature on Franklin's relationship with his aunt, Coquese Washington, who served as one of Franklin's strongest ties to basketball.
Franklin, an Indiana native, will take the next step in his career next season when he suits up for the Hoosiers.
And he had some wise advice for IU fans in the difficult hours after the Hoosiers' loss to Michigan.
Banner #5
Rob Phinisee gets to meet his #1 fan
While the action on the court Friday night was depressing to watch, something transpired off the court afterwards that can make even the most hardened and frustrated IU fan smile.
You may recall the story, from the days after Indiana's win over Butler — remember that? — of the boy named Nicolas who sent Rob Phinisee a letter congratulating Rob on making the game-winning shot. In his letter, Nicolas expressed how much it inspired him and told Rob he's glad he "didn't go to Purdue." The letter was fantastic and rightfully went viral.
After the Michigan game, Nicolas had a chance to meet his hero. You know who isn't worried about a six-game losing streak right now? Nicolas.
Good for him, good for Rob, and good for IU for helping to arrange this meeting.
Banner #6
Hoosiers in the NBA
In a devastating turn to the Pacers' season, Victor Oladipo suffered a season-ending rupture to his right quadriceps tendon Wednesday night against the Raptors. Indiana won the game by four points, but the cost of losing the heartbeat and star of the team far outweighs that victory.
Oladipo, a likely All-Star, was averaging 18.8 points, 5.6 rebounds, and 5.2 assists on the season while the Pacers were widely regarded as a potential buyer at the trade deadline to bolster their chances of making it out of the Eastern Conference. Those hopes are likely dashed now, with the Pacers and the rest of the NBA much worse for it.
Thomas Bryant continues to play key minutes for the Washington Wizards, who, in lacking a clear starter at center, have made great use of Bryant in that role. The big man is scoring nine points and grabbing 5.6 rebounds per game, all while shooting 37.5 percent from deep and leading the league in true shooting percentage (though, technically, Bryant has not met the minutes threshold for his 71.6 mark to qualify).
Bryant encapsulates why teams should be wary of spending major money on non-star bigs, as well as how foolish it was for the Lakers not to keep a shooting center on their roster this summer.
Eric Gordon is having, by nearly all accounts, the worst season of his career (save for two injury-riddled years in 2012 and 2013). The guard is scoring a shade over 16 points per game while shooting just 31 percent from behind the three-point line, which is alarmingly low for a shooting specialist. Fortunately for the Rockets, James Harden is on a scoring run unlike any in NBA history, which has kept the team afloat even while all other signs indicate it shouldn't be.
OG Anunoby played 10 minutes in Toronto's loss to the Rockets Friday night — his first game back from a five-game personal leave of absence. Anunoby has been inconsistent offensively. His jumper comes and goes, and his forays to the rim often end in panic; but his defense remains a valuable part of what makes the Raptors a potential title contender.
Anunoby's ability to guard multiple positions helps tie together rangy, suffocating lineups that make scoring a near impossibility. His offense appears to be slowly coming around, and he should see more minutes as he eases back into the rotation.
Noah Vonleh remains an effective player for the Knicks (one of just a few) and a possible target on the trade market for playoff teams. He has long been a tough defender and effective rebounder, and with an added three-point shot, could be useful as a small-ball center for teams playing with real stakes.
And with that, the joy of hanging Banner #6 is now one week closer.
Thanks for your continued support for The Assembly Call and Inside the Hall. We'll be back next weekend with a new roundup.
Now go enjoy yourself a 6-banner Sunday. If you'd like to receive this newsletter in your inbox each Sunday, please enter your email address below:
Filed to: