Five takeaways from Indiana's loss to Michigan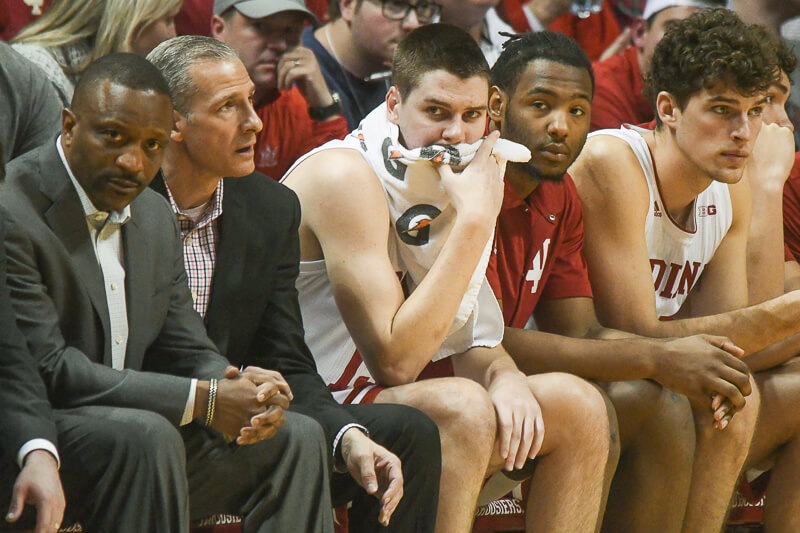 Indiana lost for the sixth consecutive time on Friday night, falling 69-46 to Michigan at Simon Skjodt Assembly Hall. The Hoosiers, once 12-2 and ranked as high as No. 21 in the AP top 25 poll, are now 3-6 in the Big Ten with two road games coming next.
Here's a look at five takeaways from the loss to the Wolverines:
• Indiana's offense continues to crater: IU's problems on offense continue to grow and Friday's performance was the latest evidence that the Hoosiers simply cannot score.
Indiana scored just 46 points in its loss to Michigan, the lowest scoring output for the program since 2010 against Wisconsin. In three of its last four games, IU has failed to score more than 55 points.
So, what's the problem? There are many.
Indiana is too predictable offensively. Defenses are loading up against Romeo Langford and Juwan Morgan and daring others to beat them. Right now, the supporting cast doesn't have the confidence to do so.
While some of it is definitely a result of poor shooting from the perimeter (more on that later), Indiana really hasn't changed much of what it is doing schematically. The poor free throw shooting and slow starts aren't helping, but the Hoosiers are generating no easy opportunities on offense. This team's confidence, as a result, has fallen off of a cliff. Not being able to score has left this group disengaged on defense. That lack of engagement has dried up IU's ability to turn defense into offense. And right now, it's a vicious cycle that is repeating itself each game.
• So, about the shooting… : It's no exaggeration to state that Indiana is the Big Ten's worst shooting team from the perimeter.
As John Gasaway pointed out this morning on Twitter, no team has averaged less than four made 3-pointers per major conference game since the introduction of the 30-second shot clock. Indiana is currently making 4.1 per game in Big Ten play.
The percentages are ugly right now. Over its last four games, Indiana is 13-for-75 on 3-pointers for 17.3 percent. The performance against Michigan was 3-for-20 for 15 percent. Those numbers aren't good enough to beat anyone in the Big Ten, especially a top five team like the Wolverines.
• IU's leadership is lacking: Juwan Morgan has taken a heavy load on his shoulders since Archie Miller took over in 2017. Morgan has grown into one of the league's best frontcourt players and has carried the team on numerous occasions.
His numbers are terrific and he's deserving of all of the accolades he's received as an individual player. But right now, it's tough to conclude that either he or Miller are doing a great job of leading this team.
When asked why this team, with its back against the wall, came out and fell behind 17-0 on Friday, Morgan spoke like someone who is still trying to figure out what makes his teammates tick.
"It's just we have to be able to fight. I don't think any guy wants to start off slow. I don't think any guy is not ready," he said. "It's just a matter of people getting inside their own heads, and I think that's where the camaraderie amongst the five on the court needs to kick in, and even if they're missing shots, we can't let that affect our teammates' effort and energy. Those are two things you just can't teach. That's just something you always have to have. I think we're getting beat on those more so than just letting people make shots."
Miller took it a step forward by calling the team "soft" while also laying the blame for its current issues at his own feet.
"We've really, really changed the face of who we are in the course of the season," Miller explained. "We're not the same team. And it starts with our effort level, our attitude, how hard we play, and then that streams into everything else that you do. Very disappointed. Obviously take full responsibility for it. We've got to put our big boy pants on here and start showing up."
• As the losses pile up, IU's chances of reaching the NCAA tournament become more bleak: Remarkably, Indiana is still projected to make the NCAA tournament in several projections released on Saturday morning.
The bubble is weak this year and IU's non-conference resume is stout, despite its recent struggles. But if the losing streak isn't snapped soon, that won't be the case much longer.
In the aftermath of last night's 23-point loss, Morgan stuck with his preseason words that the Hoosiers still have goals to play in March.
"Like I said at the beginning of the season, we're looking for a postseason this year," Morgan said. "We're not really looking for anything else. We're not selling ourselves short. I know there's a talented group in that room. I'm still — I'm not giving up on any of the guys, they're not giving up on me, and that's what it is."
• Michigan continues to hum along thanks to its stout defense: Much has been written over the past two seasons about Michigan's improvements defensively under Luke Yaklich.
Watching the Wolverines up close, they are as connected of a team on that end of the floor as you'll see. Michigan's Big Ten only defense is the league's best and is surrendering just .90 points per possession.
"Our defense was so solid the entire night," John Beilein said postgame. "Charles (Matthews) on (Romeo) Langford, he is such a great defender and can guard so many people. Putting Jon Teske on (Juwan) Morgan, he is going to get his points. He is too crafty to get shut out. Jon is a big guy to score over and throw around. We were able to get a good start by stopping those two guys, and that is a big difference for us."
Filed to: Michigan Wolverines