The Minute After: Michigan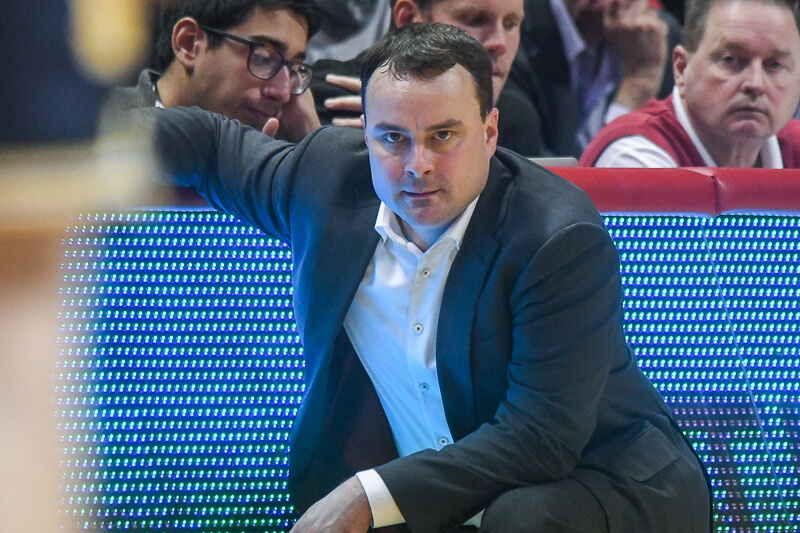 Thoughts on a 69-46 loss to Michigan:
Riding a five-game losing streak, four of which had been on the road, Indiana returned to Simon Skjodt Assembly Hall in desperate need of a good performance against No. 5 Michigan on Friday.
Those hopes vanished quickly, as the Wolverines cruised to a 69-46 win.
The game got off to a slow start, as there was a five minute delay after just seven seconds due to shot clock problems on the south end. The problems persisted through the first half, forcing public address announcer Chuck Crabb to announce how much time was left on the shot clock when Indiana had the ball.
Indiana was equally lifeless to start the game. Michigan jumped out to a 17-0 lead in just over five minutes. It took Indiana 7:03 to score its first point, and it took 9:45 for IU to break an 0-for-10 slump on field goals.
Romeo Langford was benched for most of the half, as he picked up three first-half fouls. Al Durham provided some energy where others struggled to find it — he was the one to break both droughts and was the one trying to pump up his teammates on the sideline during timeouts.
But the half was marred by a stagnant offense that seemed to lack the energy to pull itself out of a horrendous start and a defense that blew coverages far too often, giving Michigan frequent open looks.
"You can just tell by the way we play the fight isn't there right now and the confidence isn't there on either end of the floor to be able to capitalize on any type of opportunity that we have," Archie Miller said.
In a season that saw the Hoosiers give up 53 points in one half at Duke, they somehow managed to play a worse half of basketball. When the halftime buzzer sounded, Indiana was left licking its wounds and searching for energy, identity and motivation.
IU's energy was much better after the half, and even cut the lead to as little as nine. But climbing out of a 17-point halftime deficit requires lockdown defense and relentless offense, and IU didn't play to that level.
"I would say it's embarrassing," Juwan Morgan said. "In my mind, I don't think any team is 23 points better than us, and I think we have a lot more fight in us than that."
The thing is, after that big run to start the game, Michigan wasn't playing phenomenal basketball. The Wolverines missed shots, some open and some defended better. Their numbers for the game don't jump out at you: shooting 43 percent from the field, 34 percent from 3-point range, 1.04 points per possession. Michigan went through multiple stretches of shooting 1-for-9 or 1-for-10 on field goals. IU had its chances to climb back.
But outside of the short spark coming out of halftime, the Hoosiers just never rose to the challenge. Any time IU would put together a short run, Michigan would answer back with a big shot of its own to kill any semblance of momentum.
Ignas Brazdeikis led Michigan with 20 points, his largest scoring output since December. He looked determined to put his quieter game in the first meeting between IU and Michigan behind him and show the Assembly Hall crowd why he's pushing Langford hard for Big Ten freshman of the year.
What once looked like a winnable game at Rutgers on Wednesday suddenly looks like it will be a difficult, and potentially loseable, battle, much like the last time the two teams squared off. With the formula out on how to beat the Hoosiers and their tournament hopes becoming murkier by the day, they have no margin for error and simultaneously need to figure out who they are and how they can right the ship.
Filed to: Michigan Wolverines