Armaan Franklin's relationship with his aunt, Coquese Washington, shaped his basketball path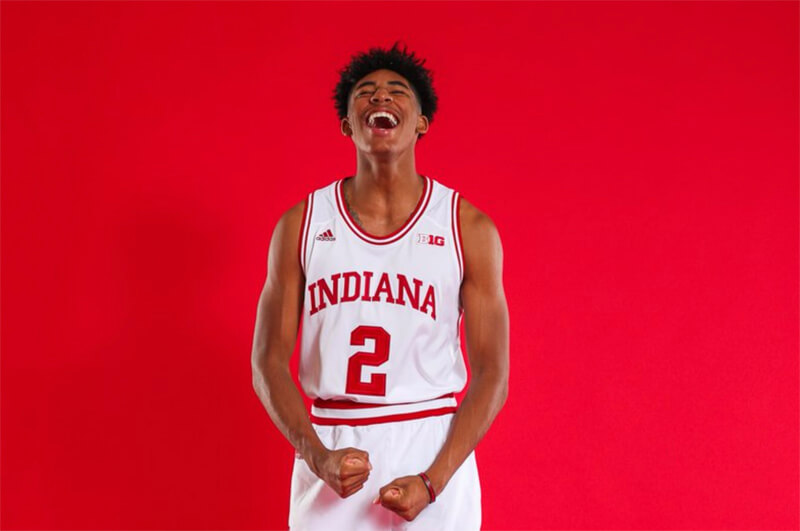 Armaan Franklin's earliest memories of basketball were at his aunt's games with the WNBA's Houston Comets.
He doesn't remember many specifics, aside from watching his aunt, Coquese Washington, play while sitting on his mom's lap, and he was terrified of the mascot — and, really, who can blame him?
So perhaps it shouldn't be a surprise how big an impact Washington has had on Franklin's basketball career.
Washington, now in her 12th season as head coach of Penn State women's basketball, said that going to her WNBA games had a big impact on Franklin.
"He got an early introduction into the basketball life, coming to watch me play and watch our games," Washington said. "He was still in diapers. I've been talking to him, and he's been loving the game since he was born, and coming to the gym with me, coming to practices, seeing me as both a player and a coach all his life."
Franklin watched her play regularly in Houston. When Washington moved from the Comets to the Indiana Fever in 2002, Franklin's family followed. Washington played two more seasons with the Fever, along with serving as an assistant coach at her alma mater, Notre Dame, for five years (she began coaching at Notre Dame three years before she joined the Fever). But since she took the Penn State job in 2007, Franklin has lived far away from his aunt.
But the distance hasn't affected their relationship.
"We usually talk on the phone a lot, or I usually call her whenever I can, just check up on them," Franklin said. "So it's really cool how close we are even though we're so far away."
Franklin goes to Washington regularly for advice, whether basketball-related or not. He described her as "another mom, but in aunt form." But naturally, with Washington's knowledge of the game, she's been a useful resource for Franklin as he's developed his game. Even as early as elementary school, he'd seek his aunt's guidance.
The biggest advice she gives him is to be impactful and not rely on others to make that happen.
"I remember one time he came to me, I think, maybe he was a freshman in high school or something. He was like 'I can't score because my teammates won't pass me the ball when I'm open,'" Washington said. "And I said, 'Well, get rebounds. Or get steals. You can't sit there and tell me you're not impactful because other people don't throw you the ball. Find a way to get the ball.'"
Since she's been coaching at Penn State, Washington hasn't been able to watch Franklin play as often as she'd like. She tries her best to get to one game a year, but that's not always feasible with a busy schedule. Whenever they are able to connect in person, one thing is certain: some trash talk and light-hearted ribbing will take place.
Franklin has only played his aunt in one-on-one once, when he was eight years old. It ended in defeat. Washington has refused a rematch ever since, and she's not shy in letting her nephew know that.
"I say 'You should play me again,'" Franklin said, "and she's like, 'I don't have to play you again because I already beat you once. And I don't have to prove myself again.'"
"I always get the last laugh because I always go, 'But at the end of the day Armaan, you never beat me,'" Washington said. "And he just says nothing, he has no comeback for that."
But Washington's trash talk isn't without a purpose. She sees it as a way to challenge Franklin to be the best he can be.
"I think he can be really good, he loves the game and he's got a great work ethic," Washington said. "So my job is to come challenge him to be great and to be a voice of reason. My perspective with Armaan is 'You're responsible for how good you're going to be. So put in the work, don't buy into all the hype. If you put in the work, the results will come. If you don't put in the work, then you've got nobody to blame but yourself.'"
As Franklin got older and started to get offers from big-time college programs, Washington was an increasingly useful resource in learning to adapt to an increased spotlight. She kept him humble and reminded him to keep working hard.
As his recruiting intensified, so did her role in the process. Washington accompanied Franklin and his family on many of his recruiting visits. As a college coach herself, her expertise was invaluable. She knows what's typically said on recruiting visits and what those words actually mean.
"She knows the ins and outs, what all coaches say and she asked a lot of the questions that I'd never thought of," Franklin said. "So she was just like another person there to help me narrow down my decision and basically kind of see through all the b.s. that's being said during recruiting."
Franklin's college decision was largely shaped around advice he received from Washington. She wasn't trying to sway him in a certain direction, rather making sure he took his decision seriously and was taking the right things into consideration.
"My role in all that was to let Armaan know 'You're not going to make a decision over frivolous things," Washington said. "I don't care if they're a Nike school or an Adidas school or an Under Armour, that doesn't matter. It doesn't matter what the dorms look like. As long as they give you a bed, that's all that matters. Who cares what the amenities look like. You have to make a decision on substantive issues.' As an 18 or 17-year-old kid, sometimes the substantive issues can get lost amidst all the fluff."
Washington could tell Franklin's IU visit went well. She said he came away from that visit feeling like he could see himself in Bloomington, and that he liked the challenge of helping Archie Miller build IU basketball back to a national power. Washington wasn't surprised he wanted to stay closer to home, citing his close relationship with his mom (her sister) and how much he wanted her to be a part of his experience.
With Franklin set to play for the Hoosiers next year, at some point he'll come play at Penn State in an IU uniform. He found it tough to describe how much it will mean to him to have his aunt watch him play for Indiana.
But in the true spirit of their relationship, she didn't hide her feelings.
"I told him, 'Armaan, I'm never going to put on a red jersey. I can tell you that,'" Washington said. "But I'm definitely always going to be rooting for his success and rooting for him to do well. When he comes here, I don't know what part of the arena I'll be sitting in, but I'll definitely be rooting for him to play well and do well and be the best that he can be."
Filed to: Armaan Franklin