What to expect: Michigan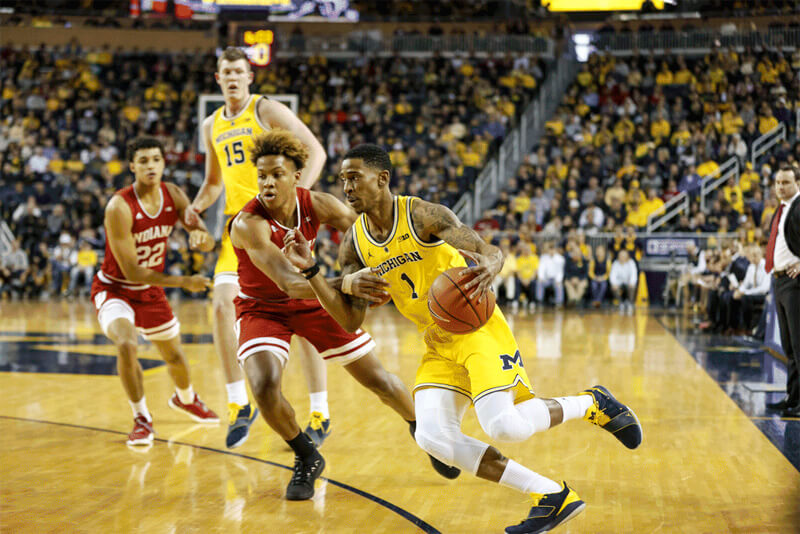 Indiana will look to snap a five-game losing streak tonight when it hosts Michigan at Simon Skjodt Assembly Hall. The Wolverines are 18-1 overall and 7-1 in Big Ten play.
The game will be broadcast on FS1 at 6:30 p.m. with Gus Johnson and Jim Jackson on the call:
Indiana's once promising season is on the brink. The Hoosiers brought a seven-game winning streak to Ann Arbor on Jan. 6 to play Michigan, but fell in what was the first of five straight losses.
In an unforgiving Big Ten, Indiana has been a victim of a difficult schedule (last four of five on the road), injuries and a midseason slump that has placed both the offense and defense under a microscope.
Every game is critical, but these next two games could play a major factor in determining whether Indiana receives an at-large bid to the 2019 NCAA tournament. A loss to Michigan wouldn't be a black mark, but a win would be a significant boost to the resume. Wednesday's game at Rutgers is the opposite in that a win doesn't necessarily move the needle much, but a loss would certainly add to the mounting evidence that the Hoosiers can't win away from Bloomington.
If there's a good time to catch Michigan, tonight might be it. As Dylan Burkhardt of UMHoops told us yesterday on Podcast on the Brink, the Wolverines haven't been playing particularly well as of late. And Indiana, sans the Nebraska loss, has been perfect otherwise on Branch McCracken Court this season.
THE FIRST MEETING
Michigan's 74-63 win over IU earlier this month wasn't surprising, but it was another example of Indiana's Jekyll and Hyde play this season.
The Wolverines blitzed the Hoosiers early and led by 19 at the 8:29 mark of the first half. However, Indiana didn't fold and got to within seven in the second half before Michigan finished off a comfortable 11-point victory.
Nearly everything went wrong for Indiana in the first 11 minutes in Ann Arbor. Michigan made four 3-pointers and IU's ball screen coverages defensively were a complete mess.
On offense, the absence of Rob Phinisee was definitely felt as Indiana was left without a point guard against one of the most disruptive perimeter defenders in the Big Ten in Zavier Simpson. Turnovers weren't a problem – IU committed just seven – but getting clean looks was. The Hoosiers shot just 45 percent on 2s and 42.6 percent from the field in the loss.
Juwan Morgan went for 25 points and was spectacular at times, but had to work extremely hard for every opportunity. Michigan's Jon Teske definitely bothered Morgan at the rim as the IU senior shot just 7-for-17 on 2s.
It's also notable that Michigan won comfortably despite not having Isaiah Livers available off the bench. Freshman Brandon Johns filled the minutes of Livers by posting eight points and eight rebonds in 13 minutes, but has only played a total of three minutes in the four games since. Livers returned for Michigan's next game and is a 42.9 percent 3-point shooter.
"He really changes their team," Archie Miller said Thursday. "He gives them the ability to play small with five 3-point shooters on the floor and mismatches. They have a great lineup there so to speak with their small ball, and they are very versatile defensively with that type of quickness and speed."
TEMPO-FREE PREVIEW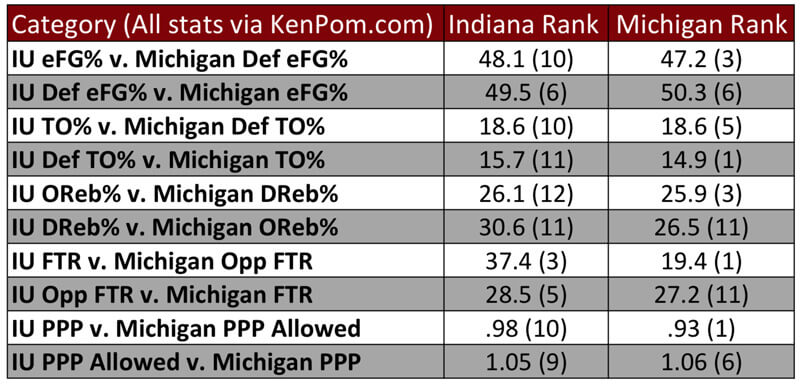 (Note: Graph has been moved to conference-only numbers. Numbers current through Sunday's Big Ten games.)
If Indiana is going to beat Michigan, the Hoosiers are likely going to need one of their best efforts of the season to do so. John Beilein's teams historically haven't beaten themselves and this Michigan team is no different. The Wolverines don't foul, don't turn it over and play lockdown defense.
It should be encouraging for IU that it only committed seven turnovers in the first meeting, but the Hoosiers have to find a way out of this current offensive rut. Is that realistic against the Big Ten's best defense?
It is not an oversimplification to state that Indiana needs to make perimeter shots. The Hoosiers are shooting a dreadful 26.8 percent on 3s in Big Ten play and until that changes, the way Big Ten opponents guard IU won't change.
Indiana's best offense is getting to the rim and finishing plays or getting to the foul line. Nebraska, Purdue and Northwestern were all happy to clog the paint and make things difficult on Romeo Langford and Juwan Morgan while daring other Hoosiers to make plays. Michigan's strategy will be no different.
WHAT IT COMES DOWN TO
The Vegas line currently sits at Michigan by 4, the KenPom projection is also Michigan by 4 and Sagarin likes the Wolverines by 2.
Indiana should have a solid crowd, but that was also the case for the Nebraska game and it didn't matter because of the poor start. Assembly Hall's energy has driven many IU teams to victory, but if the crowd can't get engaged early, the environment will be of no useful advantage.
If Indiana doesn't clean up its ball screen defense against Michigan's ball screen heavy offense, the Hoosiers are going to struggle to get stops. And if IU can't solve the puzzle of generating easy looks at the rim for Langford and Morgan, the Hoosiers are unlikely to have any kind of offensive explosion.
For Michigan, the key is to get back to making perimeter shots and staying out of foul trouble. The Wolverines are just 8-for-40 on 3s their last two games. Jon Teske is one of the league's best rim protectors and if Indiana can get him into foul trouble, it could open up the paint for Morgan to operate.
(Photo credit: UMHoops)
Filed to: Michigan Wolverines