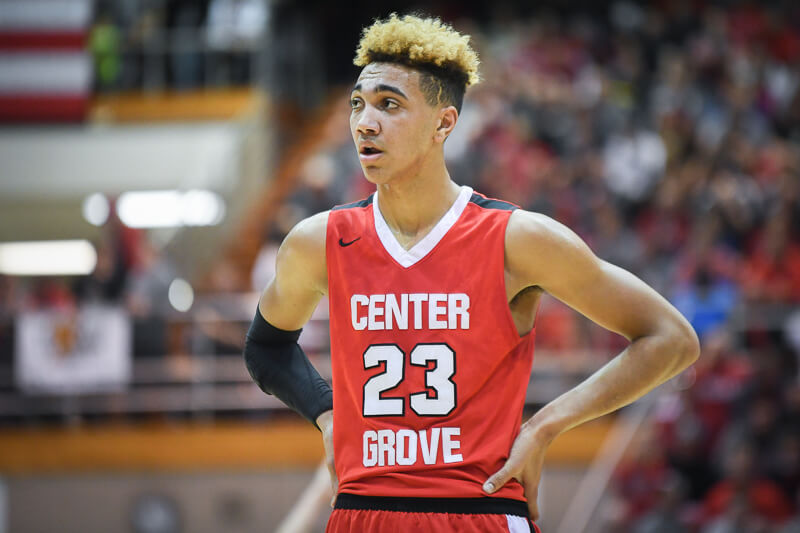 Class of 2019 Center Grove forward Trayce Jackson-Davis became Indiana's 31st McDonald's All-American on Thursday afternoon.
The 6-foot-9 forward will play on the East roster in this year's game, which will take place on March 27 in Atlanta. Jackson-Davis is currently the only recruit signed with a Big Ten program to be selected to this year's game.
The full rosters for the game are available below, as well as a list of Indiana's 31 McDonald's All-Americans.
Indiana's 31 McDonald's All-Americans
Tom Baker – 1977
Ray Tolbert – 1977
Landon Turner – 1978
Isiah Thomas – 1979
John Flowers – 1981
Daryl Thomas – 1983
Delray Brooks – 1984
Ricky Calloway – 1985
Jay Edwards – 1987
Eric Anderson – 1988
Greg Graham – 1989
Pat Graham – 1989
Damon Bailey – 1990
Alan Henderson – 1991
Sherron Wilkerson – 1993
Andrae Patterson – 1994
Neil Reed – 1994
Jason Collier – 1996
Luke Recker – 1997
Dane Fife – 1998
Jared Jeffries – 2000
Bracey Wright – 2002
D.J. White – 2004
Eric Gordon – 2007
Cody Zeller – 2011
Yogi Ferrell – 2012
Noah Vonleh – 2013
James Blackmon Jr. – 2014
Thomas Bryant – 2015
Romeo Langford – 2018
Trayce Jackson-Davis – 2019
Filed to: Trayce Jackson-Davis