Five takeaways from Indiana's loss at Northwestern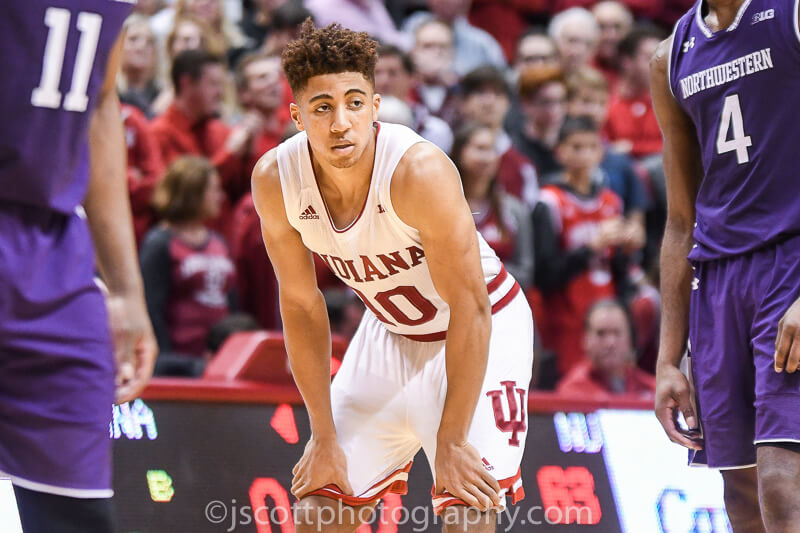 EVANSTON, Ill. – Indiana dropped its fifth straight contest on Tuesday as the Hoosiers fell 73-66 to Northwestern at Welsh-Ryan Arena.
Indiana is now just 12-7 overall and 3-5 in Big Ten play. Here's a look at five takeaways from the loss to the Wildcats:
• An unlikely hero leads Northwestern to victory: Aaron Falzon entered Tuesday's game against Indiana with six total points this season.
But after Falzon splashed in a trio of 3-pointers in the first half, his confidence grew. And by the time the final horn sounded, Falzon had completed a career night with 21 points on 6-for-7 shooting from behind the 3-point line.
The 6-foot-8 junior, a former four-star recruit who has battled injuries for much of his career, was the difference in Tuesday's win for the Wildcats.
"Aaron Falzon, you've got to give him credit," Archie Miller said. "He had come in the game, hadn't been playing much, he's obviously known as a shooter but he got going. One guy changed the game there in two crucial parts, and we weren't really able to get that under control for a little bit."
• Indiana's second half run goes for naught: As Northwestern grew its lead all the way to 15 in the second half at the 12:11 mark, Indiana looked lifeless on both ends.
The Hoosiers were losing shooters defensively. Offensively, it continued to run long possessions only to come up with looks that were often difficult.
Despite the mid second half slide, Indiana did fight back. A 7-0 scoring run pulled Indiana to within eight with 8:02 to play. The Hoosiers got within three less than a minute and a half later on a Romeo Langford 3-point play.
But that was as close as Indiana would get and it begs the question: why did it take getting down 15 for the Hoosiers to wake up in the second half?
• Indiana's 3-point shooting is cratering: Indiana went through the majority of the non-conference season with stellar shooting numbers from the perimeter, but with one caveat: it wasn't shooting a lot of 3s.
As teams have adjusted to Indiana's offense in recent weeks, the Hoosiers have been unable to capitalize from the perimeter. Over its last three games, Indiana is 10-for-55 on 3s for 18.1 percent.
"Some of it is the way teams are guarding us, which is to give guys the open look," Miller said postgame. "Some guys have got to step up and knock a couple down. That's part of it. They've got to show you some respect when you're open."
Indiana could have the occasional game where it knocks down perimeter shots with consistency, but the reality is this roster is devoid of the shooters needed to effectively space for the floor for Langford and Juwan Morgan.
• Northwestern's offensive output was its best yet in a Big Ten game: In our preview for Tuesday's game, I wrote that Northwestern had yet to surpass a point per possession against a Big Ten opponent.
The Wildcats finally got it done on Tuesday as they scored 1.08 points per trip in the win.
After giving up more than a point per possession just three times in its first 14 games, Indiana's last five opponents have all surpassed that number.
Indiana now ranks ninth defensively in the conference with eight games under its belt.
• Indiana is inching closer to the NCAA tournament bubble: January's schedule was daunting on paper entering the season and it's been even tougher on the Hoosiers as the games have played out.
Indiana hasn't won a game in 20 days and two of its next three games are on the road. The home game in that stretch is Michigan, which is ranked in the top five nationally, on Friday.
Missing the NCAA tournament seemed unlikely just three weeks ago, but as the losses continue to pile up, Indiana is putting a ton of pressure on its February games to right the ship. The Hoosiers are still projected to make the field by most as of today despite the five straight losses, but that could soon change if the streak continues to grow.
Filed to: Northwestern Wildcats