What to expect: Northwestern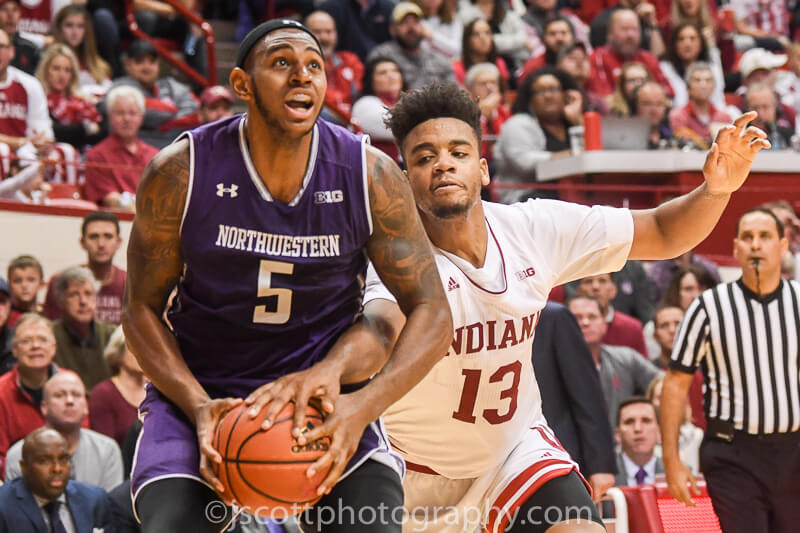 Indiana will look to snap its four-game losing streak on Tuesday when it travels to Evanston to take on Northwestern. The Wildcats are 11-7 overall and 2-5 in Big Ten play. Indiana won the first meeting between the two teams this season 68-66 on Dec. 1 at Simon Skjodt Assembly Hall. 
The game will be broadcast on BTN at 9 p.m. ET:
Indiana's losing streak has reached four games.
The Hoosiers are in the middle of a stretch that includes six of eight games away from Bloomington and are playing their worst basketball of the season thus far.
And the next four games are going to be tricky. IU travels to newly renovated Welsh Ryan Arena to battle Northwestern on Tuesday before hosting Michigan on Friday. Next week, IU travels to Rutgers and Michigan State. It is shaping up to be a season defining stretch for the Hoosiers.
Tuesday's game marks the completion of one of IU's seven Big Ten double plays this season as Northwestern looks to avenge a closely contested matchup in early December.
THE FIRST MATCHUP
Indiana's win over Northwestern was its first of seven straight wins that eventually propelled the Hoosiers into the top 25.
It was also a game that was closer than it should have been as a Ryan Taylor heave at the buzzer rimmed out, allowing IU to hold on for a two-point win.
Perhaps we should have paid more attention to Northwestern's performance inside the 3-point line on Branch McCracken Court as a sign of what was to come in league play. The Wildcats exploited Indiana in the paint as Dererk Pardon went 11-for-15 on 2s and IU seemingly had no answer to stop him.
It's a trend that has become worse in recent weeks as the Hoosiers have continually been abused inside the 3-point line. In this current Big Ten losing streak, league opponents are shooting 55 percent on 2s against IU. Through Sunday's games, Indiana ranks 11th in 2-point field goal percentage defense (52.7) in conference play.
The first meeting also featured two very solid offensive performances from Juwan Morgan and Romeo Langford as the duo combined for 37 of IU's 68 points.
It was also one of just three times so far in conference that IU's bench has scored in double figures as the Hoosiers got a combined 13 points from Devonte Green, Evan Fitzner and De'Ron Davis. As IU's offensive performance has cratered in league play, its inability to surround Langford and Morgan with capable scoring threats is a major reason why.
As Ryan wrote in The Minute After on Saturday, Tim Miles and Matt Painter have laid the blueprint to stop Indiana's elite offense at the rim. Both packed the paint and forced Morgan and Langford into tough shots and thus, put more on the shoulders of IU's complementary players to produce. At this point, the supporting cast isn't equipped to produce consistently and it's putting enormous pressure on Morgan and Langford to carry a heavy load each game.
The current trends for Indiana won't be lost upon Northwestern coach Chris Collins in advance of Tuesday's game. And in order for Indiana to break out of its current slump, the Hoosiers need to shore up their game plan defensively and figure out a way to generate cleaner looks for its two stars.
TEMPO-FREE PREVIEW
(Note: Graph has been moved to conference-only numbers. Numbers current through Sunday's Big Ten games.)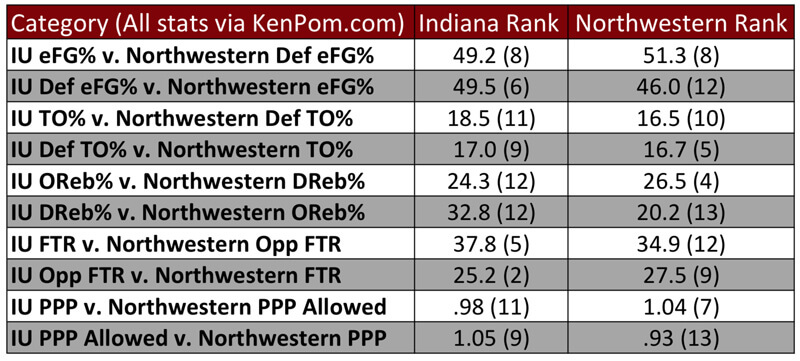 In many ways, this is the perfect matchup on paper for Indiana to break its losing streak.
The Hoosiers have been susceptible to teams who crash the offensive glass, which Northwestern doesn't do effectively. The Wildcats also don't force many turnovers and getting to the free throw line isn't a strength offensively.
This will be a litmus test for Indiana's defense and a clear indication on whether the last four games were more of an exception than the rule.
While it is true that Indiana has played four straight games against teams that are likely to make the NCAA tournament, it is also true that the Hoosiers have given up 1.26, 1.21, 1.02 and 1.09 points per possession over their last four contests. Northwestern enters Tuesday's game with the 13th best offense in the league and has yet to score more than .98 points per possession in a Big Ten game.
WHAT IT COMES DOWN TO
The KenPom ratings favor Northwestern by one with a 49 percent chance of an IU victory. The Sagarin ratings like Indiana by two.
Indiana's schedule is road heavy this month and time is running out to get back on track. The Hoosiers have six road games in conference remaining and currently sit at 1-3. Overall, IU is 1-5 in true road games.
It's been played out like a broken record, but a primary key is for Indiana to get off to better starts. It hasn't happened with any consistency this season and until it does, the Hoosiers are going to continue to struggle. While no game in January is a must win, if Indiana can't get back on track on Tuesday, the path to a winning record in league play continues to look murkier by the day.
Filed to: Northwestern Wildcats