The Minute After: Northwestern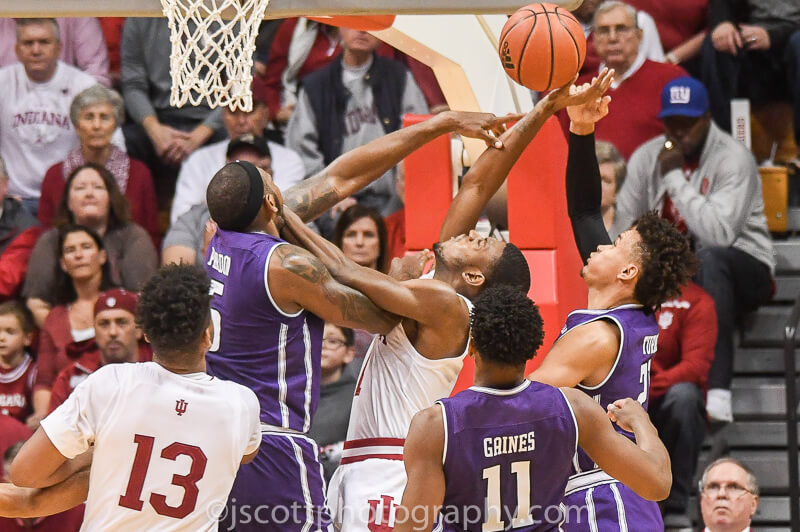 Thoughts on a 73-66 loss at Northwestern:
EVANSTON, Ill. – In a Welsh-Ryan Arena with a fair amount of empty seats, and those filled containing a healthy number of Hoosier faithful, Indiana certainly didn't walk into an intimidating environment on the road this evening.
But it mattered little.
For in this contest against a beatable Northwestern squad, Indiana continued its struggles. Not one, not two, not three, not four, but five. Five straight losses in a row now for your Indiana Hoosiers. This is certainly not where it looked like Indiana was headed after a 12-2 start to the season, but with Michigan coming to Bloomington on Friday, the prospects of six straight losses is more than real.
The reality of this team right now is it can't hit a dang thing from distance. In a game it got plenty of good looks, the Hoosiers finished 4-of-21 (19%). That's about in line where the Hoosiers have been over the last three contests, as they've gone just 10-of-55 (18.1%) from 3-point range. It's allowed teams to feel even more empowered to send attention and help to Juwan Morgan and Romeo Langford and to pack the paint, daring Indiana's supporting cast to hit their open looks.
As of late, they haven't.
"Some guys got to step up and knock a couple down," Archie Miller said after the game.
The way Indiana's being defended has also led to less passing and movement, something Miller also talked about in his post-game comments.
On the other side of the floor, Indiana's defense, which was its foundation earlier in the season, hasn't been as stout. Northwestern entered tonight just 2-5 in conference play and hadn't scored over a point per possession in any of those seven games. That changed this evening, as the Hoosiers allowed 1.o8 points per possession.
Credit goes to the big night Aaron Falzon tossed up on Indiana, which seemed a near impossible result before this one got going. The injury-prone Falzon had only seen time in three other contests this season and scored in just one of those, a six-point effort against Chicago State back on Dec. 17.  Falzon hit three 3-pointers before halftime to help Northwestern take the lead against the Hoosiers and go up four at half, 28-24.
Falzon kept it cooking after the break, helping the Wildcats push their four-point halftime lead all the way up to 15 at the 12:11 mark. He finished the night 6-of-7 from distance for 21 points.
"One guy changed the game," Miller said.
Indiana didn't give up and made things interesting over the closing minutes of the game, getting it as close as three points at 56-53 with 6:42 to go. But every time it looked like Indiana might get over the hump fully, the Hoosiers couldn't get the shot to fall. Justin Smith missed a dunk on an inbounds play, Romeo Langford took a long 2-pointer early in the shot clock, Robert Phinisee tried going in transition alone and couldn't get his shot to fall.
If Indiana can find a way to start knocking down shots to keep defenses more honest, it'll help matters. But if it keeps going this way, what was once a promising season is bound to change in a big way.
Filed to: Northwestern Wildcats