Notebook: Guards step up in IU's win over Marquette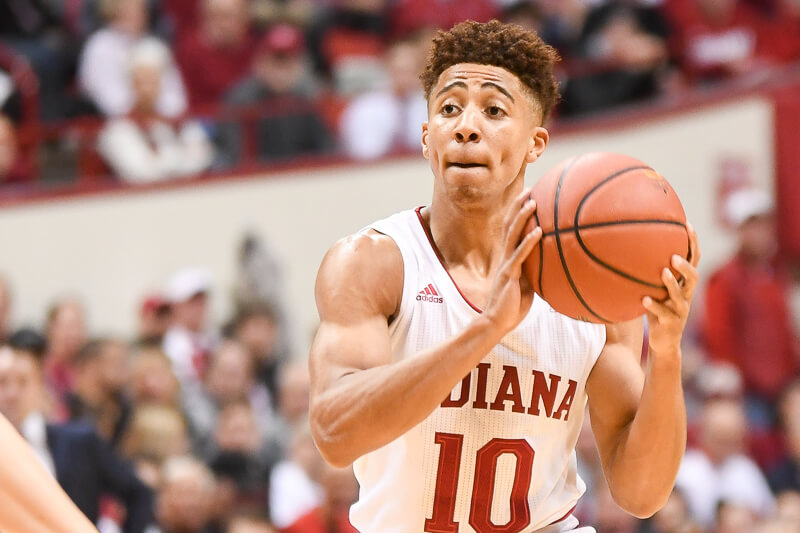 Indiana put together one of its most complete performances in several years in its 96-73 win over No. 24 Marquette on Wednesday night, and the Hoosiers have their guards to thank.
IU's young guards — Rob Phinisee, Al Durham and Romeo Langford — stepped up on both ends of the floor.
Offensively, Langford paced the Hoosiers and looked like the top recruit he was. He scored 22 points on an 8-of-15 line and looked as smooth as ever in doing so. He was key from the opening tip as IU built a big lead with its transition offense early in the game.
Phinisee and Durham both enjoyed productive, efficient nights against the Golden Eagles. Phinisee shot 5-of-7 for 12 points with eight assists, while Durham, who started in place of Zach McRoberts, scored 13 at a 5-of-8 clip.
Archie Miller was nearly at a loss for words regarding his guards.
"To say the least, I couldn't be prouder of them," Miller said. "Not that they're perfect, but guys are ready to go, and that's an encouraging sign. If we can ever get a little bit healthy, we don't have to play them as many minutes. Really, really proud of them. Al Durham, and Rob Phinisee, 13 assists and one turnover, that's a back court. That's a good night for them, man."
Defensively, the guards may have been even better.
Markus Howard ranks among the top scorers in college basketball. He averaged 20.4 points per game last season and was off to a strong start this season, dropping 37 points against Bethune-Cookman last weekend. He makes Marquette's offense tick. But Indiana didn't let him get hot.
Phinisee and Durham both defended Howard staunchly. Howard finished with 18 points, but many of those points came when the game was out of reach for the Golden Eagles. Up until the 7:25 mark in the second half, when IU led 75-51, Howard had only nine points on a 4-of-12 line.
The Hoosier guards didn't allow Howard clean looks from 3-point range for the entire game and forced him into a complementary role to Sam Hauser.
"Really, I just tried to limit him and his shots," Phinisee said. "Everybody played pretty good team defense, so that really helped me."
"Going in, we knew how good Markus Howard was and we knew how capable he was of scoring," Durham said, "so we prepped for that all week for, you know, just to get our minds right to make sure we're guarding him. So that just translated to the game. I feel like our coaches really set us up to execute the game plan."
IU rode its transition offense early
The Hoosiers built up their lead mainly through their transition offense. They forced three Marquette turnovers in the first 2:30 of game time and scored 12 points on fastbreaks in the game's first five minutes. The high volume of early turnovers and fastbreak points kept Simon Skjodt Assembly Hall rocking, which only made life harder for Marquette.
In total, the Hoosiers finished with 21 fastbreak points. They were able to slow the game down and run their halfcourt offense once the big lead was established.
Langford was pivotal in IU's fastbreak efforts, coming up with three steals and quickly pushing the ball up the court. Durham, Phinisee, Justin Smith and De'Ron Davis each added one steal.
Miller was pleased with the way his team got out in transition.
"I think we were in transition quite a bit, and we were very unselfish," Miller said. "I think when we had numbers, we shared the ball. We got guys open, and there were some seams. I do think when we're on the run we're harder to deal with because we have guys that can put the ball on the floor. Early on in the game just in general it was a fast-paced defense to offense."
Fitzner brought a hot hand off the bench
Evan Fitzner caught fire in the first half from 3-point range. He finished with 16 points on a 6-of-7 line, and 13 of those points came in the first half. He shot 4-of-4 from beyond the arc.
The way Fitzner's 3s came about has to be particularly encouraging for Indiana. Fitzner wasn't just set up with wide open shots by his teammates. He was often creating shots for himself, using an effective pump fake, and he hit a shot off the dribble from deep 3-point range.
While acknowledging Fitzner's need to improve defensively, Miller praised the St. Mary's transfer's impact.
"He's a terrific offensive player," Miller said. "Without question he fits our style. I knew it from day one. He's a confident guy. He's not questioning what's going on. He's playing with great confidence. So you're able to come off the bench and get 16 in 17 minutes, and really break the game open a couple times for us. It was good to see."
Filed to: Aljami Durham, Marquette Golden Eagles, Robert Phinisee, Romeo Langford