The Minute After: Marquette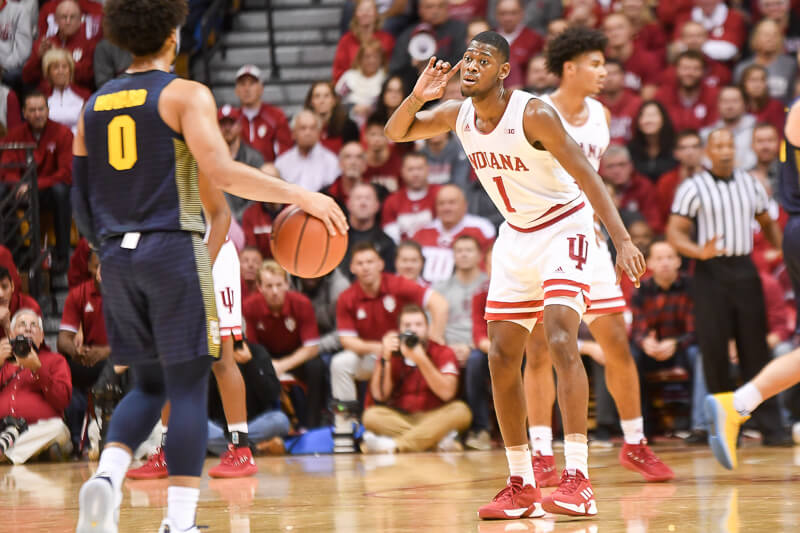 Thoughts on a 96-73 win against the Golden Eagles:
While Indiana was favored, this one was still billed as a battle of equals, two emerging, promising teams sizing each other up in this young college basketball season.
But it's the Hoosiers coming out of the contest utterly triumphant, as Marquette is left to lick its wounds. Indiana blasted out of the gate, never really taking its foot off the gas, en route to a comfortable 23-point win against the No. 24 Golden Eagles. Those first five minutes were relentless. The Hoosiers coughed up Marquette and made the Golden Eagles pay in transition, adding some 3-pointers to boot. Indiana threw the first punch. Hard.
While Marquette steadied its ship some as the first half moved along, getting it as close as eight (42-34) with 1:40 to go, it never seriously challenged. The defense of Robert Phinisee and Al Durham on Marquette standout point guard Markus Howard was a big reason why. The duo pestered him all night.
Howard had three turnovers in the first two and a half minute of the contest, helping Indiana get out to its early lead. He was just 3-of-9 from the field for seven points at halftime and out of sorts. Thanks to some late buckets, he did end up with 18 points, but shot just 6-of-14 from the field, making only 1-of-5 from deep. He had as many turnovers (four) as assists. Indiana's keying on Howard in the first half allowed Sam Hauser (18 points, 14 of which came in the first half) to get going a bit, but Howard is so good, you'll live with that.
Indiana held Marquette, the third best 3-point shooting team in the country a season ago, to just 21.7 percent (5-of-23) behind the arc tonight. And it held the 12th best team in adjusted offensive efficiency a season ago to under a point per possession (0.99). It's still early, but Indiana's last two games have shown a stout defense identity that's been a long time coming in Bloomington.
And how about Romeo Langford? Against zones in Indiana's first two wins, the New Albany freshman had his moments, especially in the first half against Chicago State. But tonight against the Hoosiers' first real competition and a man-to-man defense, he was sensational, hitting some tough shots in traffic and generally playing the part of next-level scorer. Langford finished the night with 22 points (8-of-15), five rebounds, two assists, two blocks and three steals. Surely, this is just a taste of what's to come.
While foul trouble was an issue tonight, Evan Fitzner continues to bring great value to this squad, going a perfect 4-of-4 from distance and hitting 6-of-7 overall for 16 points as Indiana's second-leading scorer. When Al Durham Jr. wasn't busy giving Howard resistance, he was being a key contributor on offense, as he scored 13 points (5-of-8), dished out five assists and had zero turnovers in 29 minutes of action. It was his best game as a Hoosier and reminds you that as everyone's been talking about Phinisee vs. Green in the backcourt, Durham was also mentioned by Archie Miller as being part of that group.
Overall, Indiana's offense really hummed in this one to the tune of 1.30 points per possession with a 72 eFG%. And the Hoosiers even did well at the line after a shaky start to the season, hitting 73.9 percent (17-of-23) for the contest.
First test passed in a season full of them.
Filed to: Marquette Golden Eagles