Five takeaways from Indiana's win over Marquette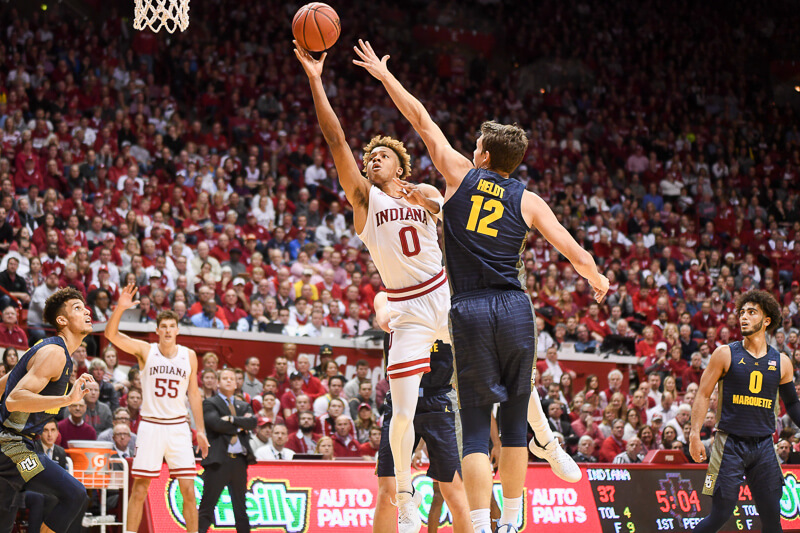 Indiana crushed Marquette – 96-72 – on Wednesday night in Simon Skjodt Assembly Hall. The victory improved the Hoosiers to 3-0 ahead of Sunday's roadtrip to Fayetteville to take on Arkansas.
Here's a look at five takeaways from the win over the Golden Eagles:
• Indiana's defense passes major test: Strong defensive numbers against Chicago State and Montana State were encouraging, but didn't mean much because of the level of opponent.
Wednesday's performance against Marquette was a different story. The Golden Eagles were one of the nation's best and most dynamic offensive teams a season ago. And for 40 minutes on Branch McCracken Court, Indiana made Marquette look normal.
Marquette managed just .97 points per possession against the Hoosiers and shot a woeful 5-of-23 on 3s. Many of the looks were contested and off balance. Marquette's two best players, Markus Howard and Sam Hauser, shot a combined 13-of-32 from the floor.
"They're very difficult to guard, and he (Howard) is very difficult to guard," Archie Miller said postgame. "But I thought our guys figured out if we're going to get better on defense, part of it is the pressure. Part of it is the ability to pressure the ball, keep the ball in front. Then we're a help-oriented team. You've got to be able to help."
• Romeo Langford slices through Marquette's defense: One of the most prolific scorers to ever come out of Indiana, Romeo Langford can do it all offensively.
On Wednesday night, he was unstoppable at times going to the basket. Langford was 7-of-10 on 2s in IU's win and finished with a game-high 22 points in 35 minutes.
"He had some fantastic drives and finishes," Miller said. "I think you can see his explosiveness and the amount of ground he can cover. When he is driving and he's jumping, that's not a little guy jumping into you. He's going over the top of you and his length is startling sometimes around the basket in what he does. But he's ready to play. Lights were on, did a great job defensively for the most part. He rebounded. You know, there's not a whole lot to say about him. He played really well."
Through three games, Langford is Indiana's leading scorer at 17.7 points per game.
• Crowd energy got Indiana going early: Steve Wojciechowski said postgame that his team needed to get off to a good start to have a chance to win in a tough road environment. That didn't happen. And Indiana's crowd was a major reason why.
The student section was nearly full for the late tip and once the Hoosiers got rolling in the game's opening minutes, the energy in the building only intensified. Indiana led 19-4 and 42-24 in the first half and never let Marquette get closer than eight the rest of the way.
It was wire to wire domination.
"I thought the atmosphere was crazy, especially for my first experience against a ranked opponent," Langford explained. "I felt like that helped us a lot in our runs and in the beginning of the game to make a big run on Marquette."
• Limited depth not an issue … yet: Indiana had no problem with Marquette despite being without four players – Zach McRoberts, Devonte Green, Race Thompson and Jerome Hunter.
Unfortunately for the Hoosiers, it doesn't sound like any of the four will be back in uniform soon.
"I see maybe the month of November being a very risky month for us just in general, but we have to do our part," Miller said. "We just have to be ready and we have to be as smart as we can with the guys that are available. But right now we're planning on moving through the rest of November, practically, maybe without all four."
The news on Hunter was expected, but the loss of McRoberts and Green really puts a dent into Indiana's backcourt depth. With games against Arkansas and Duke still coming this month, there's going to be a lot of pressure on Indiana's young guards to produce in tough environments.
• Indiana shoots it well from the line and from 3: Two areas of concern through Indiana's first two games were free throw and 3-point shooting.
For a night, those concerns were alleviated. The Hoosiers went 17-of-23 from the free throw line (73.9 percent) and 9-of-20 on 3s (45 percent).
Miller credited IU's willingness to share the ball as a major reason for the strong offensive performance.
"It's a big emphasis for this team to share the ball, but we know we have to get the ball moving and the players moving, and then we can take advantage of the different skillsets," he said. "I think we're a team that can put the ball on the floor.
"But if you put the ball on the floor and you're running over people all the time, that's not good. But when you're delivering kickout passes and one mores and you're sharing it, that's typically a good thing."
Filed to: