The Minute After: Chicago State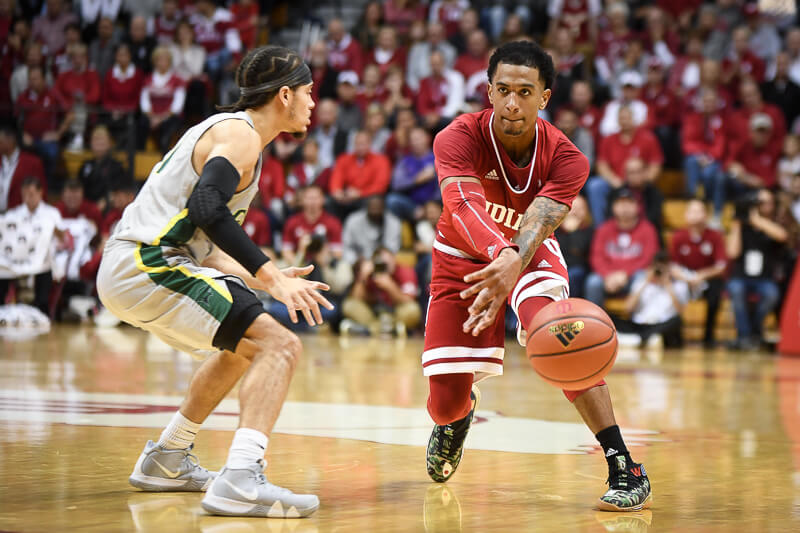 Thoughts on a 104-55 win against the Cougars: 
Chicago State came into this one with little chance at victory. The Cougars left with a 49-point loss. So this one went as expected, the Hoosiers drubbing their worst on-paper opponent of the season.
Chicago State threw a zone at Indiana in the first half, which made the Hoosiers less than crisp at times on the offensive end. Still, the cream and crimson had a field day on the attack, led by their freshman phenom Romeo Langford.
At first, Langford played facilitator, drawing the defense and making the right passes to his teammates for scores. Later, Langford went into scoring mode as he got comfortable against the zone, hitting a baseline jumper, a number of driving, gliding lay-ups and adding some trips to the line for good measure. He scored 17 of his team-high 19 points in the first half, though his free throw shooting left much to be desired at 5-of-11 for the contest.
As a team, this was the second consecutive poor free throw shooting contest for the Hoosiers after a rough season from the line last year. They hit just 57.6 percent (19-of-33) from the charity strip on the evening. That'll do against the Cougars. It probably won't against more elite competition.
We got our first look at Devonte Green this evening after his return from injury. His first sequence of the contest went true to form: An unnecessary, risky behind-the-back pass to Demezi Anderson followed by a slick assist to Evan Fitzner for a dunk in the paint. Vintage Devonte right there. While that possession ended up well for him, Green was sloppy at other moments, racking up a team-high four turnovers against three assists. He hit just 1-of-6 from behind the arc. But he shot well inside it, connecting on 4-of-6 attempts on his way to 15 points. He also went 4-of-4 from the line on a night Indiana suffered there.
One of the dominant narrative heading into the season has been Green vs. Robert Phinisee for the point guard spot. And while it's certainly much too early for definitives, Phinisee continues to shine. The freshman didn't score as much tonight (six points), but he dished out five assists against two turnovers and was a pest defensively, racking up a team-high five steals in just 20 minutes of action. Phinisee appears to have a little more control and balance to his game, which could help tip the scales in his favor as the season goes along and he continues to learn Archie Miller's system and the college game.
That said, it might end up being less an either-or proposition, as Miller played them together for stretches in both the first and second half. The allows for two creators in the backcourt at times and could give Green the opportunity to play more of a scoring guard role. Either way, it's shaping up to be an interesting watch between them.
The Evan Fitzner grad transfer pickup continues to look like a strong one, as the California kid pumped in 14 points, grabbed six boards and blocked a shot in 16 minutes of action. While he hasn't been in Bloomington long, Fitzner's experience is allowing him to look quite comfortable on both ends of the floor for the Hoosiers. He looks like a player Miller can trust to get the job done as he sorts through a number of lineups in the early goings of the season.
Filed to: Chicago State Cougars