6-Banner Sunday: Juwan Morgan makes a guarantee and Assembly Hall maintains its reputation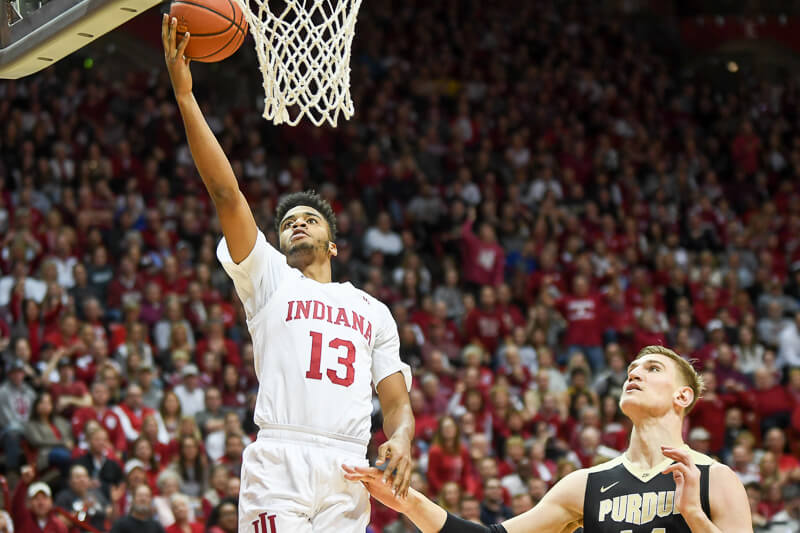 6-Banner Sunday is Inside the Hall's weekly newsletter in partnership with The Assembly Call. More than 5,800 Indiana fans receive the newsletter each week. In addition to appearing each week on the site, you can also opt to receive 6-Banner Sunday by email. A form to subscribe via email is available at the bottom of this week's 6-Banner Sunday.
Welcome to another edition of 6-Banner Sunday, a joint production between The Assembly Call and Inside the Hall where we highlight the six most essential IU basketball stories of the past week.
IU media day is less than a week away, which, for us analyst types, creates simmering excitement for the upcoming basketball season.
Until then, we subsist on rankings, previews, and recruiting to get us through the offseason, which grows shorter every day.
In this week's edition:
• Simon Skjodt Assembly Hall ranked the fifth-toughest venue in America
• Who are the 25 best players in the Big Ten?
• Morgan guarantees NCAA Tournament appearance
• Hoosier Hysteria fast approaching
• Oladipo organizes team workouts for Pacers
• Former IU player Wally Choice passes away at 85
Banner #1
Simon Skjodt Assembly Hall ranked the fifth-toughest venue in America
Sports Illustrated published its rankings of the best home-court advantages in college basketball this week, and Simon Skjodt Assembly Hall checked in at number five, behind Cameron Indoor Stadium (Duke), Phog Allen Fieldhouse (Kansas), Rupp Arena (Kentucky), and McCarthey Athletic Center (Gonzaga).
A raucous crowd can make the difference between winning and losing in college basketball, and the IU home crowd undoubtedly affects the intensity of games, particularly against high-profile opponents.
This season, the Hoosiers will see Marquette, Louisville, Michigan State, Michigan, and Purdue on their home floor, hoping the crowd will continue to play a pivotal role.
Wyandotte Safety Solutions is your one-stop shop for safety training and safety products. WSS offers CPR & First Aid training, fall protection, and lift training. We also sell PPE, AEDs, and First Aid supplies.
We are an Indiana company serving Indiana and all of North America. Check out our website for more information: ptsarcflash.com.
Banner #2
Who are the 25 best players in the Big Ten?
Inside the Hall wrapped up its countdown of the top 25 players in the Big Ten this week, with Cassius Winston, Juwan Morgan, James Palmer Jr., Carsen Edwards, and Ethan Happ making up the top five. Romeo Langford checked in just outside the top five at No. 6 on the list.
Michigan, Michigan State, and Maryland had the most players named to the top 25, with three each, while six teams had two players on the list.
Meanwhile, Street and Smith released its annual college basketball preview magazines, one of which features Juwan Morgan on the cover. The magazine projects Indiana to finish sixth in the Big Ten and ranked Romeo Langford as the fourth-most impactful freshman in the nation and one of the five best newcomers to the Conference.
Banner #3
Morgan guarantees NCAA tournament appearance
Juwan Morgan appeared on the March Madness 365 podcast with Andy Katz this week and confidently discussed IU's outlook for the upcoming season.
When asked what it will take for Indiana to make the NCAA tournament, Morgan quickly responded, "There is no if. We will."
He also praised Romeo Langford's talent, saying, "I believe all the hype," when prompted about how the freshman looked in preseason practices and workouts.
Morgan has never lacked for confidence, and has become more vocally self-assured as his IU career has progressed. His production on the court reflects that change in attitude, as Morgan has developed into one of the best players in the Big Ten. This year, he'll use that talent and confidence once again to back up his promises.
Morgan's guarantee was Jerod's Banner Moment on this week's edition of The Assembly Call. The guys reacted to Juwan's other comments, and also broke down three high-leverage team stats that could determine whether Juwan's prediction ultimately proves true.
Banner #4
Hoosier Hysteria is fast approaching
Assembly Hall will open at 2 p.m. on Saturday, September 29 for Hoosier Hysteria, IU Athletics announced this week. The event itself begins at 4 p.m. Parking lots around Assembly Hall and Memorial Stadium will open at 12:30 p.m. Anyone arriving prior to 12:30 is instructed to park in the Fee Lane Parking garage.
IU Sr. Associate Athletic Director Jeremy Gray joined Podcast on the Brink this week to discuss the state of IU athletics, what to expect at Hoosiers Hysteria on September 29, and the excitement surrounding the upcoming basketball season.
Banner #5
Oladipo organizes team workouts for Pacers
Victor Oladipo and the Pacers had a breakout season last year, but Indiana has its sights set on greater heights this season, writes Mark Montieth of Pacers.com. Those ambitions start with putting in the requisite work in the offseason. Earlier in the summer, Oladipo gathered his teammates in Miami to work out and hone their chemistry with one another.
The players lifted weights, scrimmaged, and spent time with one another at dinners and evening outings for a week, with Oladipo paying the fares.
"That was the first time I've been a part of something like that as a team in the NBA," said recent Pacers signee Doug McDermott. "I thought it was great what Vic did. We did something every night to jell as a team."
Oladipo averaged 23 points, 5.2 rebounds, 4.3 assists, and a 2.4 steals last season to earn Third-Team All NBA and First-Team All Defensive honors. Indiana pushed Cleveland to the brink of elimination in the first round. Improving upon those thresholds will be a difficult task, but one Oladipo and the Pacers appear poised to do.
Banner #6
Former IU player Wally Choice passes away at 85
One of the foremost barrier-crashers in basketball died in his hometown of Montclair, NJ last Sunday.
Wally Choice, who played at Indiana from 1954-1956, was the second African-American player in Big Ten history and the first to be named a captain for one of the conference's teams.
After a distinguished college career, Choice went on to play for the Harlem Globetrotters before becoming the executive director of Montclair Grass Roots in 1968.
And with that, the joy of hanging Banner #6 is now one week closer.
Thanks for your continued support for The Assembly Call and Inside the Hall. We'll be back next weekend with a new roundup.
Now go enjoy yourself a 6-banner Sunday. If you'd like to receive this newsletter in your inbox each Sunday, please enter your email address below:
Filed to: