6-Banner Sunday: Non-conference schedule nearly complete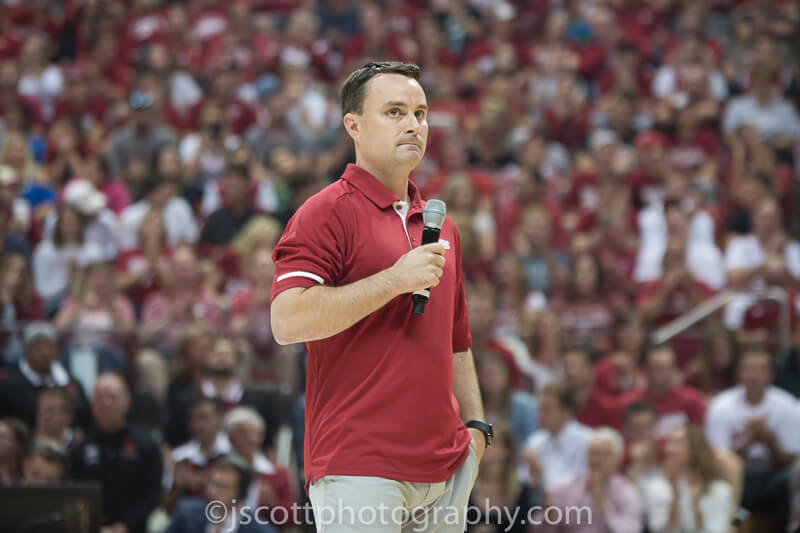 6-Banner Sunday is Inside the Hall's weekly newsletter in partnership with The Assembly Call. More than 5,000 Indiana fans receive the newsletter each week. In addition to appearing each week on the site, you can also opt to receive 6-Banner Sunday by email. A form to subscribe via email is available at the bottom of this week's 6-Banner Sunday.
Welcome to another edition of 6-Banner Sunday, a joint production between The Assembly Call and Inside the Hall where we highlight the six most essential IU basketball stories of the past week.
This week, Archie Miller added four more games to the 2018-19 non-conference schedule, and they seem to fulfill his pledge to make the Hoosiers' overall non-conference schedule a more challenging one.
In this week's edition:
· Hoosiers schedule home-and-home with Arkansas
· Thomas Bryant signed by Wizards, six Hoosiers in Summer League
· DJ Carton's mom talks recruitment, Brandon Newman going the extra mile
· Remembering the greatness of 1976
· What's in store for Al Durham's sophomore year?
· IU baseball snags Jeff Mercer to be new coach
Banner #1
Hoosiers schedule home-and-home with Arkansas
Soon after Archie Miller took over as head coach for Indiana, he promised fans a challenging non-conference schedule.
This week, he delivered.
Tuesday it was reported that Indiana has set up a home-and-home with Arkansas. The series will begin in Fayetteville in 2018 before heading to Bloomington the following year.
This series represents the first significant non-conference challenge Miller has decided to take on, and it surely won't be the last. Miller has an annual bonus of $125,000 in his contract that is triggered if Indiana plays no more than one team with an RPI no better than 300 from the previous season.
Arkansas ended the 2017-18 season 23-12, falling to Butler in the opening round of the NCAA Tournament. They will not bring back several significant pieces, but star Daniel Gafford will be returning to the Razorbacks. Bart Torvik has the Hogs ranked No. 117 in his preseason rankings, but he believes they have the potential to outperform that number.
Besides the Arkansas game, Indiana has secured home contests with UT Arlington, UC Davis, and Montana State. None of these three opponents can be classified as elite, but unlike non-conference opponents of the past, they can't be considered as cupcakes. Both UT Arlington and UC Davis won over 20 games last season, and even Montana State finished the season 270 in KenPom. That's mediocre at best, but still better than non-con teams of years past like Mississippi Valley State and SIU Edwardsville.
Indiana now has eight of a maximum of 11 non-conference games scheduled. Other confirmed opponents include home meetings with Louisville and Marquette, a road date at Duke, and the Crossroads Classic matchup with Butler.
Wyandotte Safety Solutions is your one-stop shop for safety training and safety products. WSS offers CPR & First Aid training, fall protection, and lift training. We also sell PPE, AEDs, and First Aid supplies.
We are an Indiana company serving Indiana and all of North America. Check out our website for more information: ptsarcflash.com.
Banner #2
Thomas Bryant signs with Wizards; Six Hoosiers in Summer League
Thomas Bryant wasn't out of the NBA very long.
The Washington Wizards picked up the young big man off waivers and he immediately joined the team in Las Vegas for Summer League.
Bryant is one of six former Hoosiers playing in the Las Vegas Summer League. The others are OG Anunoby (Raptors), Troy Williams (Knicks), Robert Johnson (Hawks), James Blackmon, Jr. (Bucks) and Christian Watford (Grizzlies). Inside The Hall has a complete viewing guide, with times and television channels for all preliminary round games.
Speaking of OG Anunoby, this is his first time getting the summer league experience. Last year, Anunoby was rehabbing from a torn ACL suffered the previous January. The sophomore told the Sporting News that he's working on his all-around game:
(Raptors) new head coach Nick Nurse said he believes Anunoby's already off to a strong start.

"He's had a great off-season already, you can tell," Nurse told reporters. "His skills are already improving. You can see his mindset coming into the Summer League."
Banner #3
DJ Carton's mom talks recruitment, Brandon Newman going the extra mile
Five-star point guard DJ Carton is in the final stages of his recruitment, and Indiana is still firmly in the mix.
Carton's mother, Jennifer, spoke with Inside The Hall this week about Carton's recent visit to Bloomington, his recruitment and much more. Although it isn't typical for a prospect to take an official visit in the middle of the summer, Jennifer Carton said they gained a lot from the trip:
"I think part of it was just him wanting to expedite the process and the other part is we only have so much time and there's only such a little timeframe, too, that my husband and I are available to take some of these trips. Some of the teams were wanting us to come because they knew DJ was wanting to expedite the process. I think it was a little bit of both. I'm sure they would have preferred to wait, but he wants to make his decision before then, before the fall."
Meanwhile, in-state four-star prospect Brandon Newman is changing schools for his senior year. The 6-foot-4 guard is moving from Valparaiso to Montverde Academy in Florida.
In an interview with the Journal & Courier, Newman said the decision was about his development:
"It's wanting to be prepared for college, wanting to come in right away and make an impact and be ready for college, on and off the court. Know how to manage time, take care of myself. And I'll get to play against the best kids in the country on a daily basis. That will only have to make me elevate my level of play, to play well consistently."
Banner #4
Remembering the greatness of 1976
It's been 42 years since the 1975-76 Hoosiers ended the college basketball season with a perfect 32-0 record and a National Championship. In the decades since, no other team has matched that feat, although Kentucky came close a few years ago before being upset by Wisconsin in the Final Four.
With this being the middle of the offseason, Alex Bozich and Jerod Morris chose to spend this week's episode of Podcast On The Brink solely on the 1976 team. Rick Bozich of WDRB was the guest.
The episode dissects the 1973 recruiting class, the Assembly Hall atmosphere and the challenging schedule constructed by Bob Knight.
Banner #5
What's in store for Al Durham's sophomore year?
On this week's edition of The Assembly Call, the guys continued their tour around the roster by discussing Al Durham.
As per usual, they dive deep into the stats and their own eye tests to tease out Al's biggest strengths and most urgent areas for improvement. They also predict what his role will be this season and beyond, and Jerod comes up with a surprising comparison for who he sees as a model for what Al's IU career may end up being.
Listen on the episode page here, or subscribe to The Assembly Call in Apple Podcasts.
Banner #6
IU baseball snags Jeff Mercer to be new manager
After another successful season on the diamond, Indiana once again lost its baseball coach to a bigger, better job. But Fred Glass didn't waste much time hiring Chris Lemonis' replacement, tagging former Wright State coach Jeff Mercer to be the new manager in Bloomington.
And let's just say that Glass didn't exactly temper fan expectations with his introduction of Mercer:
"I think I've hired the Brad Stevens of collegiate baseball," Glass told IndyStar on Monday night, after IU confirmed Mercer's hiring from Wright State to replace Chris Lemonis. "This guy's different. The command of the room, he's an old soul, beyond his years.

"I'm just telling you. I can't wait to have everybody watch this guy operate."
Well alrighty then. If Mercer can be even half the manager Glass apparently expects him to be, the Hoosiers will be in good hands.
In case you missed it, our friends at Talking Hoosier Baseball have already put out an episode analyzing the hiring. Listen to their Welcome, Coach Mercer Edition.
And with that, the joy of hanging Banner #6 is now one week closer.
Thanks for your continued support for The Assembly Call and Inside the Hall. We'll be back next weekend with a new roundup.
Now go enjoy yourself a 6-banner Sunday. If you'd like to receive this newsletter in your inbox each Sunday, please enter your email address below:
Filed to: