6-Banner Sunday: The latest on IU's top 2019 targets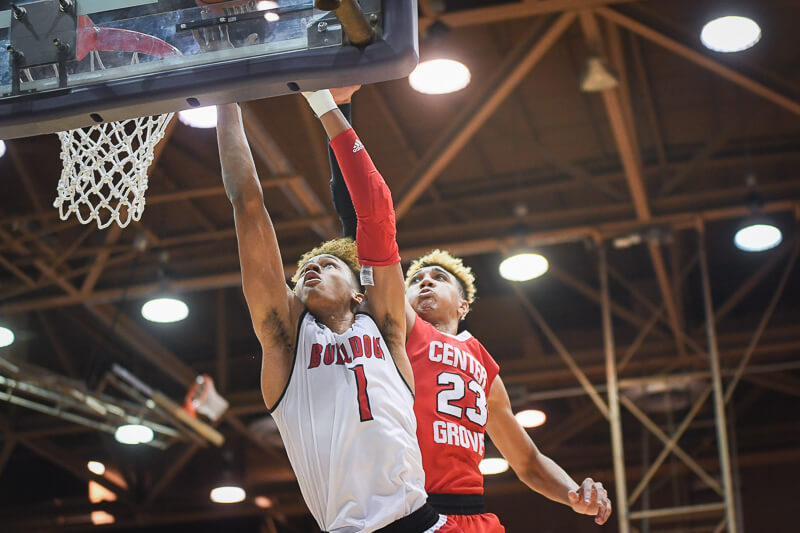 6-Banner Sunday is Inside the Hall's weekly newsletter in partnership with The Assembly Call. More than 5,000 Indiana fans receive the newsletter each week. In addition to appearing each week on the site, you can also opt to receive 6-Banner Sunday by email. A form to subscribe via email is available at the bottom of this week's 6-Banner Sunday.
Welcome to another edition of 6-Banner Sunday, a joint production between The Assembly Call and Inside the Hall where we highlight the six most essential IU basketball stories of the past week.
Gold medalist and five-star prospect Trayce Jackson-Davis is high on Indiana's radar for the class of 2019. But he's not the only 2019 player that Indiana is focused on. That and more in this week's 6-Banner Sunday.
In this week's edition:
· Q & A with Trayce Jackson-Davis
· 2019 recruiting class updates
· Oladipo takes home Most Improved Player
· Five Hoosiers in Summer League, Thomas Bryant waived by Lakers
· Zach McRoberts' role for 2018-19
· Lilly King named B1G Female Athlete of the Year
Banner #1
Q & A with Trayce Jackson-Davis
Fresh off earning a gold medal with Team USA at the FIBA U18 Americas Tournament, five-star big man Trayce Jackson-Davis took the time to speak with Inside The Hall for a Q & A.
Jackson-Davis touched on a variety of topics, from his time with Team USA to his relationship with AAU teammate Keion Brooks, Jr. to his recruitment. Jackson-Davis also spoke at length on how IU is aggressively pursuing in-state talent
"By getting Romeo (Langford), they're just showing that they want to keep the best in-state talent. They want to try to lock down the borders. Not just with Romeo, but with the others other players they got like Rob (Phinisee), Damezi (Anderson) and Jake (Forrester) and all of them, they're going to have a really good class coming in for the future. Those guys are going to develop for three or four years or for however long they stay, they're going to have a good class. I think last year, it was just getting their feet wet with the program. He (Archie Miller) didn't really have his players (last season), so you can't really judge that."
In addition, Jackson-Davis said Indiana is recruiting him harder than any other school. Although there is no firm timetable for a decision, but he said he is looking to cut his list after July. He is also planning on taking an official visit to Bloomington in the near future.
Wyandotte Safety Solutions is your one-stop shop for safety training and safety products. WSS offers CPR & First Aid training, fall protection, and lift training. We also sell PPE, AEDs, and First Aid supplies.
We are an Indiana company serving Indiana and all of North America. Check out our website for more information: ptsarcflash.com.
Banner #2
2019 Recruiting Class Updates
Although Trayce Jackson-Davis is priority No. 1 for Indiana, there are plenty of other targets the coaching staff is keeping their eyes on. The Hoosiers are guaranteed to have at least two open scholarships for 2019-20, and likely three if Romeo Langford is one-and-done.
So who could be headed to Bloomington in 2019? Here are some names to keep an eye on:
· Five-star point guard D.J. Carton has Indiana on his list of six schools and was on an official visit to the campus on Saturday. A fast-rising recruit, the last few months have been a whirlwind for Carton, as the Des Moines Register wrote:
"It's not easy. You've got a lot on your mind. You've got a lot of people wanting you to go places. And now that I've kind of gained a lot of popularity from this, there's a lot of people who look up to you and have high expectations for you. You don't want to let people down. You want to perform at their expectations that they set for you, so it's a lot of expectations on you."
· Four-star guard Brandon Newman visited IU earlier in the week and earned an offer from the program while in town
· Four-star guard Armaan Franklin picked up an IU offer several weeks ago and Inside The Hall has posted some of his EYBL highlights on Youtube
For a complete guide to the potential Class of 2019, check out Inside The Hall's Recruiting Board. For further recruiting updates, listen to the latest edition of Podcast on the Brink.
Banner #3
Victor Oladipo takes home Most Improved Player award
Former IU great Victor Oladipo was awarded for his breakout season with the Indiana Pacers by being named the Most Improved Player at the NBA Awards on Monday.
Oladipo put up career highs across the board, averaging over 23 points, five assists, and four rebounds per game. Oladipo led the Pacers to the No. 5 seed in the East and nearly took down LeBron in the first round of the playoffs.
During the award show, Oladipo showed off his other talent –- singing. After host Anthony Anderson pleaded with Oladipo, the All-Star sang to the crowd. Oladipo released an EP last year and is looking to drop an album in the near future. That's why he just signed with talent agency William Morris Endeavor. WME will represent Oladipo for his work off the court. Other athletes signed to WME include Serena Williams, Kobe Bryant, and Wayne Gretzky.
More on Oladipo:
· Videos: MIP acceptance speech, 2017-18 highlights
· Oladipo to LeBron "If you want to win, come to Indy" (TMZ Sports)
Banner #4
Five Hoosiers in NBA Summer League, Bryant waived by Lakers
There will be no shortage of former Hoosiers participating in the 2018 NBA Summer League, which begins this upcoming week.
In total there will be five Hoosiers taking the court throughout the multi-week event: James Blackmon Jr. (Bucks), OG Anunoby (Raptors), Troy Williams (Knicks), Robert Johnson (Hawks), and Christian Watford (Grizzlies).
Anunoby and Williams are both already signed to NBA contracts, although Williams' deal isn't guaranteed. As for the other three Hoosiers, they'll have to earn their way onto a training camp roster.
Johnson and Watford will begin their July in Utah for the Salt Lake City Summer League, which takes place July 2-5. After that, they'll join the other three Hoosiers in Las Vegas for the massive 30-team Summer League which runs July 6-17.
There were, however, supposed to be six Hoosiers playing in Summer League. But that changed when the Lakers decided to waive Thomas Bryant as a means to free cap space in their quest to sign LeBron James. Don't expect Bryant to be on the market for long, as he could quickly be scooped up off the waiver wire.
Banner #5
Zach McRoberts' role in 2018-19
As the 2017-18 IU season went along, walk-on junior Zach McRoberts role evolved from bit player off the bench to a crucial piece of the starting lineup. McRoberts started the final 17 games of the season and was a critical defender and scrapper for Archie Miller's squad. He may have only reached double-figures scoring once, but his true impact was impossible to quantify.
So now, with an influx of new players arriving for the 2018-19 season, what will be McRoberts' role look like? That's what the Assembly Call Radio crew discussed on their latest episode. Jerod Morris, Andy Bottoms, and Brian Tonsoni also debated who will win the Hoosier Hysteria dunk and three-point competitions and broached several other topics.
More IU sports podcasts worth a listen:
· TheHoosier.com podcast talked about the biggest takeaways from the IU team camp held last weekend
· Mind Your Banners discussed what's next for IU baseball after head coach Chris Lemonis took a job at Mississippi State
· And Ben Malcomson has had three recent episode of his Hoosier Heartland podcast: Kent Sterling | Drew Davis | Brian Tonsoni.
Banner #6
Lilly King named B1G Female Athlete of the Year
For the second consecutive year, IU swimmer Lilly King has been named the best female athlete in the Big Ten.
King is just the third person –- regardless of gender –- to win the award in consecutive seasons. In her junior year, King retained her crown as the world's best breaststroker, winning the NCAA Titles in the event at both 100 and 200 meters.
King also took home the Big Ten Swimmer of the Year award for the third time. King is now a 12-time Big Ten and six-time NCAA Champion.
Before you go:
· Don Fischer won the inaugural Woody Durham College Voice Award for his work broadcasting IU basketball and football
· IU football freshman and Indiana's 2017 Mr. Football, Reese Taylor, will play cornerback for Tom Allen's team
· Who will replace Chris Lemonis and become the next IU baseball head coach? For the Herald-Times, Mike Miller broke down some potential candidates
· IU Athletics declined to renew the contract of DJ Unique, who spent six seasons entertaining fans and players with his DJ skills
· IU target Isaiah Stewart, who plays for La Lumiere, is making his debut for the U17 team against Argentina.
And with that, the joy of hanging Banner #6 is now one week closer.
Thanks for your continued support for The Assembly Call and Inside the Hall. We'll be back next weekend with a new roundup.
Now go enjoy yourself a 6-banner Sunday. If you'd like to receive this newsletter in your inbox each Sunday, please enter your email address below:
Filed to: