Q & A: Five-star class of 2019 prospect Trayce Jackson-Davis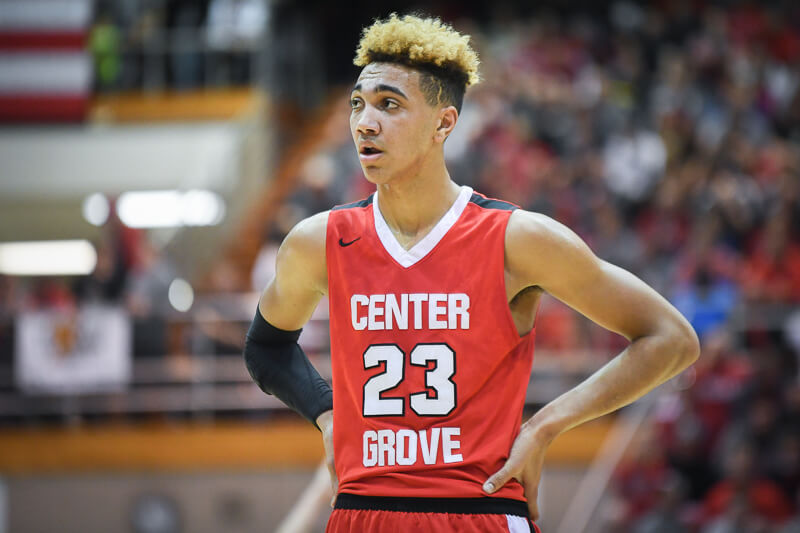 Center Grove five-star forward Trayce Jackson-Davis is a priority recruit for Indiana in the class of 2019.
The No. 18 player nationally, according to the 247Composite, was on campus over the weekend for Archie Miller's team camp at Simon Skjodt Assembly Hall and Cook Hall.
Inside the Hall caught up with Jackson-Davis for his thoughts on his recent experience at the FIBA U18 Americas Championship with USA Basketball, his recruitment, planned visits and much more. A full transcript of his comments is available below:
On what he took from his recent experience with USA Basketball:
"There's a lot of good competition out there. You always just have to play your hardest and try your best. I got the opportunity to play on the team and it was a really cool experience. Just to meet some of the other guys out there and compete against some of the other top countries out there, it was pretty cool."
On the practices, tryouts and how competitive the atmosphere was:
"It was probably the most competitive thing I've done, especially at the training camp. The training camp, it was everyone fending for themselves. You still try to make the right plays and do the right things, but everyone was going 100 percent at all times. And then going into the playing time, I think everyone was happy that they made the team and when they got out there, they did their thing. Whoever coach (Bill) Self thought did well, he would play."
On what his reaction was to being selected to the roster:
"I just felt really, really honored, honestly. It was just humbling that I got to wear USA across my chest. It was a great experience."
On the latest in terms of his recruitment:
"It's the same schools and then Wake Forest started to get involved with coach (Danny) Manning, who was on the USA staff. North Carolina, Roy Williams called me last night (Friday). He said he wants to start getting involved, too."
On where things stand with Indiana:
"They're really close to home. They've definitely been recruiting me the hardest … some other schools have also, but coach O (Tom Ostrom) calls almost every day. They're definitely there. They're recruiting me hard and I appreciate that."
On the other schools that are making him feel like a priority:
"Iowa, Purdue, Michigan State, Indiana, Memphis and Georgia are probably the schools that are calling me and reaching out almost every day. Ohio State has been, too."
On a timeframe for a decision:
"There's not really a timeframe for a decision. I'm just weighing out my options. I'm going to wait until after July to cut my list, just in case any schools come in and I want to see what they have to say. Then I'll probably take visits and after the visits, I'll decide."
On when he might schedule visits and the schools that could get official visits:
"Right now, I have two or three officials. I know IU, UCLA and Michigan State are all locked in. They're going to be officials. I know I'm taking my Indiana visit for Hoosier Hysteria. But other than that, I don't know when. I know Indiana will be Hoosier Hysteria."
On the vision Indiana is selling for the future:
"By getting Romeo (Langford), they're just showing that they want to keep the best in-state talent. They want to try to lock down the borders. Not just with Romeo, but with the others other players they got like Rob (Phinisee), Damezi (Anderson) and Jake (Forrester) and all of them, they're going to have a really good class coming in for the future. Those guys are going to develop for three or four years or for however long they stay, they're going to have a good class. I think last year, it was just getting their feet wet with the program. He (Archie Miller) didn't really have his players (last season), so you can't really judge that.
On whether he talks to Keion Brooks Jr. about playing together in college:
"I think he wouldn't mind it and some of the same schools are recruiting us, but we don't really talk about it that much."
On what it's been like playing with Brooks Jr. on Spiece Indy Heat:
"I love playing with Keion. He's a great player, he's really unselfish and he can put the ball in the hole. That's what our team needs. I think we complement each other well. He's a great wing. When we set screens and play a two-man game, it's really hard to stop."
On the most important factors when it comes to cutting his list and making a decision:
"Definitely the players that are coming in. The relationship with the head coach, the feeling of the atmosphere. I know that when I make my decision, it will be the right choice."
On whether he talks to DJ Carton about Indiana:
"DJ has talked to me about Indiana. I've talked to DJ about Indiana and Matt Hurt. I think they're both considering Indiana. I talk to them both. We don't really talk about playing together too much, but we talk about our schools and things like that."
Filed to: Trayce Jackson-Davis