6-Banner Sunday: IU targets help lead Team USA to gold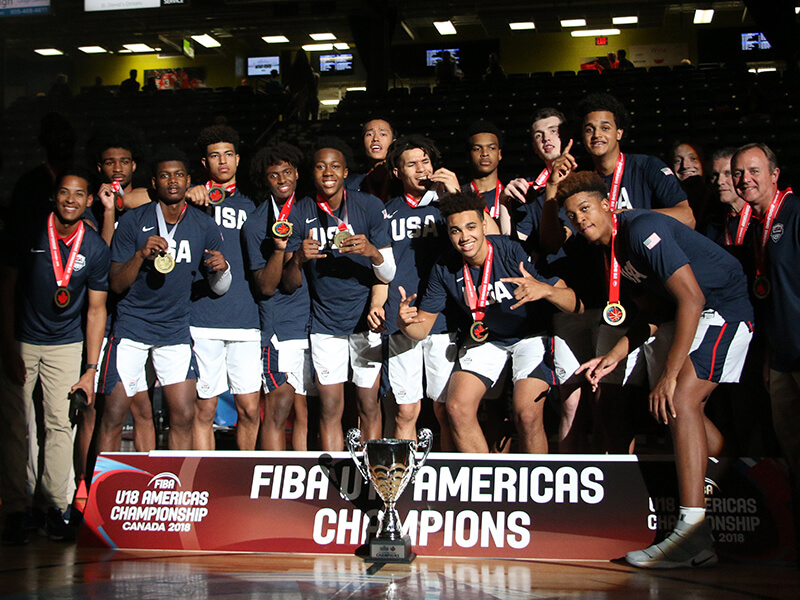 6-Banner Sunday is Inside the Hall's weekly newsletter in partnership with The Assembly Call. More than 5,000 Indiana fans receive the newsletter each week. In addition to appearing each week on the site, you can also opt to receive 6-Banner Sunday by email. A form to subscribe via email is available at the bottom of this week's 6-Banner Sunday.
Welcome to another edition of 6-Banner Sunday, a joint production between The Assembly Call and Inside the Hall where we highlight the six most essential IU basketball stories of the past week.
Two potential future Hoosiers spent the past week going for gold with U18 Team USA, while the current crop of freshmen arrived on campus.
In this week's edition:
· Trayce Jackson-Davis, Matthew Hurt march towards gold medal
· Recruiting notebook
· Early Big Ten Power Rankings
· Devonte Green seeks consistency
· The best and worst of IU draft picks since 1987
· After indecision, Mike Davis chooses Detroit
Banner #1
Trayce Jackson-Davis, Matthew Hurt march towards gold medal
The U18 Team USA team coached by Bill Self of Kansas and featuring IU targets Trayce Jackson-Davis and Matthew Hurt, waltzed their way through pool play and into the gold medal game of the U18 FIBA Americas tournament with a perfect 5-0 record.
[Editor's note: The gold medal game was Saturday night, but we had to get this edition of 6-Banner Sunday ready before the result was final. Click here to find out the result.]
The red, white and blue were not even challenged until the semi-finals when Argentina held their own before falling by 12 points. In pool play, the US demolished Panama by 92 points after leading 43-0 after the first quarter.
Both Jackson-Davis and Hurt have played sizable roles for Team USA in the tournament. Jackson-Davis averaged over eight points per game and saw his minutes steadily increase as the tournament went on, while Hurt was one of Team USA's leading scorers, averaging 13 points per game on 62 percent shooting.
In the beatdown of Panama, Jackson-Davis threw down a thunderous hammer in traffic that left the arena buzzing. Two days later, he recorded 20 points on a perfect 10-of-10 shooting in a blowout quarterfinal victory over Ecuador. Hurt scored a minimum of eight points in each of the first five games and hit on all four of his triples in the win over Ecuador.
While the U18 Team USA squad now done competing for the summer, the U17 team is just getting started:
· The training camp roster for the U17 team was revealed this week and includes IU targets Zeke Nnaji, Zion Harmon, Ethan Morton, Jahmius Ramsey, and Isaiah Stewart. Once cuts are made, they will head to Argentina to compete in the FIBA U17 World Cup, which takes place June 30-July 8.
Wyandotte Safety Solutions is your one-stop shop for safety training and safety products. WSS offers CPR & First Aid training, fall protection, and lift training. We also sell PPE, AEDs, and First Aid supplies.
We are an Indiana company serving Indiana and all of North America. Check out our website for more information: ptsarcflash.com.
Banner #2
Recruiting Notebook
With the summer now in full swing, the IU coaching staff is continuing its work on the recruiting trail. Not only have they been at several of the Team USA U18 games over the past week, they've also been busy awarding offers and setting up recruiting visits.
Inside the Hall has a roundup of the most important recruiting news from the past week. Here's a brief list of the most vital updates:
· Five-star 2019 guard DJ Carton will visit IU the weekend of June 30
· IU has offered four-star 2019 guard Anthony Harris of Paul VI Catholic High School in Virginia. Harris plays AAU ball for Team Takeover of the Nike EYBL Circuit, which ended the regular season 16-0 to earn a spot at Peach Jam
· All of the IU true freshmen reported to campus on Tuesday to begin summer workouts
· Inside the Hall also has complete highlights from Indiana All-Star Week of the in-state IU freshman trio as well as two 2019 targets that played on the junior squad. Click on the player to view their highlights: Romeo Langford, Rob Phinisee, Damezi Anderson, Brandon Newman, Armaan Franklin
Banner #3
Early Big Ten Power Rankings
There may still be four months until Hoosier Hysteria, but it's never too early to take a glimpse at what the Big Ten race will look like next season. And with the NBA Draft pool locked in, we now have a pretty clear picture of what each team's roster will look like.
That's why Inside the Hall released a special Post-NBA Draft early entry deadline edition of the Big Ten Power Rankings this week.
I know what you're thinking: where does IU stack up with the competition?
As it turns out, Alex Bozich placed the Hoosiers in the No. 4 spot in the Big Ten title race:
The Hoosiers return their best player and also welcome a recruiting class ranked in the top 10 nationally by many. There are questions to answer at point guard and in the post, but Morgan and Langford should immediately form one of the Big Ten's best 1-2 punches.
More on the 2018-19 Big Ten picture:
· Advanced stats guru Bart Torvik joined the latest Podcast on the Brink to discuss his stats website, T-Rank, chat about his Wisconsin Badgers, and preview the Big Ten Title race.
Banner #4
Devonte Green seeks consistency
After two years filled with enough ups and downs to construct a Six Flags theme park, Devonte Green is looking for more consistency as he heads into his junior campaign.
Green's freakish athleticism, flashy playmaking ability, and impressive ballhandling have allowed him to show glimpses of stardom. In back-to-back games against Ohio State and Michigan State late last season, Green totaled 27 points and eight assists without recording a turnover.
In a story for The Herald-Times this week, reporter Jeremy Price expanded on Green's polarizing underclassmen campaigns while noting Archie Miller's optimism for Green:
"He showed glimpses at times where he can really be one of the better guards in the league for how he did things. I thought toward the end of the season, he was our most consistent ball-handling guard, but he took a step back when the season ended and we got him to our spring program. I thought, in our conversations, he's starting to take his game a little bit more serious. He's starting to take the approach of (having) his own individual pride in what he is and how he does it and go up a level."

Although his decision-making still needs fine-tuning, Green has demonstrated natural flair for passing.

He was the only IU guard who could consistently feed the post, and he finished conference play ranked No. 13 in the Big Ten with an assist rate of 23.9. With freshman point guard Rob Phinisee and blue-chip shooting guard Romeo Langford set to join a backcourt that also includes Durham, Green will once have to compete for a role on the floor.
Banner #5
The best and worst of IU draft picks since 1987
The NBA Draft is taking place this upcoming Thursday, so the Assembly Call Radio crew decided to spend the majority of their last episode discussing IU draft picks over the last 30 years.
In total, 22 Hoosiers have heard their name called on NBA Draft night since 1987. The highest overall selection was Victor Oladipo, who was taken 2nd overall by the Orlando Magic back in 2013, although several other Hoosiers have been picked in the top 10.
The Assembly Call team ranks all 22 players on a scale from most to least valuable. While the names at the top won't surprise you, those on the other end might.
Also discussed in the episode: DJ Carton's upcoming visit, the freshmen's arrival on campus, and audience questions are answered.
Banner #6
After indecision, Mike Davis chooses Detroit Mercy
Last week, we wrote about the seemingly all-but-official hire by Detroit Mercy of former IU head coach Mike Davis. Both Detroit Mercy and Texas Southern, where Davis has spent the past several years, had made announcements on their site before the pages mysteriously vanished.
A week later, we finally have some clarity. Over the past week, Davis was officially announced as the 22nd head coach in Detroit Mercy program history. But as he told Perry A. Farrell of The Detroit Free Press, the decision to leave Texas Southern was a difficult one:
On June 4, (Davis) flew home to Houston after meeting with UDM athletic director Robert Vowels and president Antoine Garibaldi. He was ready to honor his commitment to Texas Southern. He and his family love Houston and in the six years at the school, his team had never finished lower than second in the Southwest Athletic Conference, where he first met Vowels.

"I told (Texas Southern) I would never leave," Davis said on Thursday at his introductory news conference.

By the next day, something changed.

"I didn't turn it down, I labored with it a lot,'' Davis said. "I thank Robert for his patience. Most ADs would've just moved on. He kept saying 'I understand, I understand, I understand.' I fell in love with Texas Southern. We won eight out of 11 championships (regular season and postseason tournament). The NCAA tournament was a routine thing for us.

"I made my mind up. I decided I wasn't going to come. … Some things happened. I changed my mind.
We wish Mike Davis the best of luck at his new job.
Before you go:
· Robert Johnson worked out for the Pacers this week (NBA.com)
· Freddie McSwain can still fly. On Instagram, he shared a photo of him with his head above the rim
· All four IU baseball players selected in the MLB Draft signed their professional contracts. It was an obvious decision for senior Logan Sowers, but for juniors Jonathan Stiever, Luke Miller and Tim Herrin, it meant passing on their senior seasons of collegiate ball (Hoosier Network)
And with that, the joy of hanging Banner #6 is now one week closer.
Thanks for your continued support for The Assembly Call and Inside the Hall. We'll be back next weekend with a new roundup.
Now go enjoy yourself a 6-banner Sunday. If you'd like to receive this newsletter in your inbox each Sunday, please enter your email address below:
Filed to: