With Morgan's return, IU will contend in wide open Big Ten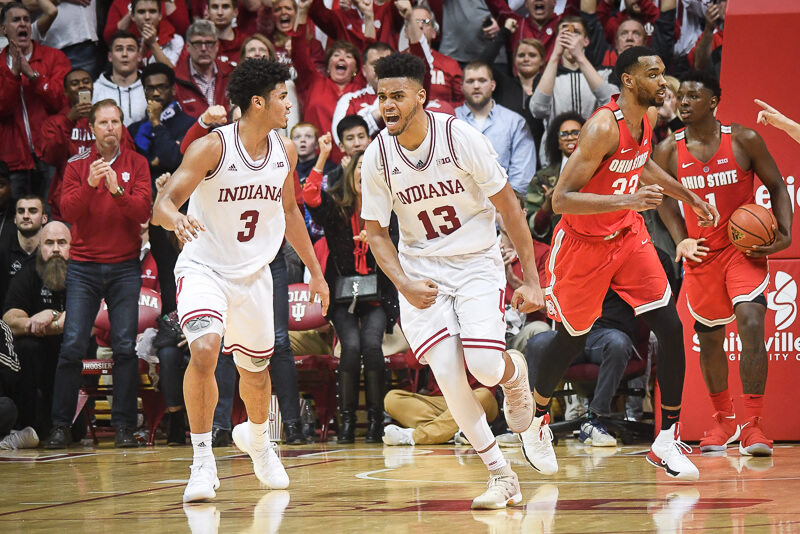 Archie Miller scored his second significant roster coup in 30 days on Tuesday night when Juwan Morgan announced that he will return to Bloomington for his senior season.
The first big offseason coup, of course, came back on April 30 when five-star guard and Mr. Basketball Romeo Langford committed to Miller and the Hoosiers following a 13-month courtship.
When you combine Morgan's return with Langford's commitment, the addition of Evan Fitzner, four incoming 4-star recruits and the return of every other underclassmen from last season's roster, you can reasonably conclude that the pieces are in place for a major step forward next winter.
Miller's first season in Bloomington wasn't without its share of growing pains and year two could have some similar moments. Indiana will have seven new players on next season's roster, including six freshmen.
But after being left with a roster in need of major retooling, particularly at guard, Miller has quickly started to upgrade the talent level in Simon Skjodt Assembly Hall. Miller never made excuses when Indiana suffered several close losses last season. He simply went back to work with his team and looked for the next opportunity for improvement on and off the court.
Indiana's 2017-18 roster was limited in terms of talent, so Miller signed a top 10 class in his first full recruiting cycle in Bloomington. He laid out his vision for an "inside-out" recruiting approach and it wasn't lip service as he signed three Indiana All-Stars.
And with the upgrade in talent, Indiana looks like a contender in next season's Big Ten race.
The headliners on the roster are Morgan and Langford, who should combine to form one of the league's best one-two combos. Morgan was a second team All-Big Ten selection as a junior and Langford is a projected lottery pick in the 2019 NBA draft.
The Hoosiers, however, won't just be a two-man show. Glance at next season's roster and you'll see at least 12 names with a legitimate chance to compete for rotation minutes. It'll be up to Miller and the IU coaching staff to figure out how all of the pieces fit together, but in a Big Ten very much in transition, the Hoosiers have the talent to contend.
Last year's regular season Big Ten champion – Michigan State – lost a pair of lottery picks. Michigan, which advanced to the national championship game, lost several of its key pieces. Purdue graduated four starters. Ohio State lost the league's player of the year in Keita Bates-Diop. Penn State's Tony Carr left for the NBA draft. Maryland will be talented again, but underachieved last season. Nebraska has a strong cast of returnees, but have the Huskers already hit their ceiling under Tim Miles? And Wisconsin will be much better, but has questions of its own to answer.
Where does Indiana fit into the league's hierarchy? It's still too early to say. The Hoosiers, like most of next season's Big Ten, also have questions to answer.
Point guard play is chief among them as returnee Devonte Green and newcomer Robert Phinisee will need to provide a major upgrade over Josh Newkirk's play the past two seasons. Indiana also needs a big man to pair with Morgan who can alter shots, rebound and defend the rim. Who will fill that role reliably? The Hoosiers will also need to make 3-pointers at a much better clip than last season's dismal 32.2 percent mark and shoot much better than 65.7 percent from the foul line.
But there's no denying that the ingredients are there for Indiana to make major noise in year two of Miller's tenure.
Morgan will be one of the Big Ten's top frontcourt players and there may not be a more dynamic scorer in the league than Langford. The wing should be loaded with talent as Justin Smith looks to take a major step forward and four-star forward Jerome Hunter arrives. In the post, a bevy of pieces like De'Ron Davis, Jake Forrester, Race Thompson and Fitzner will give the Hoosiers more depth and versatility than last season.
Year one of Miller's tenure offered glimpses of progress which encouraged fans that the program was headed in the right direction. Chief among them was Indiana's defense, which was the fourth best in the Big Ten. The Hoosiers competed with several of the nation's best teams and even beat a top 20 team in Notre Dame in December.
Year two should bring more of those encouraging moments and results more commensurate with what Indiana fans expect. To get the program back where he wants it to be nationally, Miller must first get it back to the top of the conference. That means competing for a Big Ten title. Tuesday's news should give the Hoosiers a major boost in doing just that.
Filed to: Archie Miller, Juwan Morgan